Ok, Would Like to Hear Stories of Your First Horse!
---
So, I'm still new here, and to owning my very own horse
. I'd like to share my story, (thus far) and hear (or read) about anyone else and their first horse!
My family has always had dealings with horses since I was small, but when we moved the first time, we fell out of it for 2 years. Then we moved again to horse country, and got back into it
(yay!). We had heard through a friend of ours that an older lady who had saved a 13 year old pony, was looking to give her away to someone who would take the time with her. She was horribly foundered.
Star was her name, and she was 11.5 hands, and my father would allow up to 12 hands.(what with our allowable space and all) She was left in a small 20x20 wet pen, since she was 2. She was bought by a lady for her 8 year old daughter, but the daughter didn't care that there was a horse awaiting her birthday morning, and the lady didn't want to take care of it. So she spent 11 years, hungry, and foundering worse everyday. The older lady saw her one day and paid $500 to get Star out of there.
She had her for a little while, but wasn't up to working on her feet herself (she was 87 after all) and didn't have the money to bring a ferrier out to often. So, we were told about her, and went to see her. She looked awfull! My father said "only if you will make a TRUE and HONEST go at fixing this horse, can we take her.... I don't entierly think she's beyond help....So, it's up to you." So I decided to bring her home. She was my first horse, and I wanted what I would have with her to be special. What better way to do that then to spend a year under her belly working on her feet?
So, she is much better now, and pushy and stubborn. So now we begin the ground work. We're taking life one step at a time....
What about you? What's you and your first horse's story?
So you want the tales of our first horses, eh? Well, if I'm offered the chance to tell mine I'll tell it again and again. So, prepare yourself!
The Tale of Acquiring, and my time of owning my first horse, Slim.
I was eighteen, I believe. I'd been browsing internet ads and came across one TB colt (3 or 4 year old) I liked. We called about him, but he was purchased. We checked on a horse near our home, but he was a stud colt, only a yearling, and had the longest, most slender pasterns I had ever seen. We turned him down.
My birthday came around so my bestie took me out for lunch and then we went riding. We both rode double on her delightful Mustang mare and went out for an hour just ambling along when My friend goes "Hey, let's look at Sparky!"
We head out to the larger, more open chunk of the property to a lone pony grazing by himself. She told me his story as we approached – rescued; traded for three /PIGS/ so that T could get him out of the situation he was in. Horribly emaciated.
All I could tell was that he was brilliantly white – it was January, a bright clear lovely cool day. And he just reflected the sun and was a white, horse-shaped.. well, shape. He perked up when he saw us and ambled over as we turned and headed back, "maybe he'll follow us," says my friend. I spied a speckledy pink nose, and big sad eyes and just knew I was being taken in by the pony.
We get back to the pasture she uses, and hop down. After about ten minutes, here comes the pony. Still ambling along at a walk (he was emaciated, so no wonder it was just an amble). He came right up to me. "He's kind of hard to lead" someone there said, but he followed me right along when I put my hand on his halter. He was SO bad off, my lord. Skin, bones, and a coat a muskox would be proud of. But so soft! I was his, instantly. He just looked so, so sad. And content with me. Worked well enough. T said he'd sell him to us (for the price of the pigs he traded). Jen told my mom about the pony, and she said she'd think about it. She came out with me one day, on Feb 1st, probably. February 10th, we owned an emaciated, grumpy pony.
He was so grumpy and ornery, and ill-mannered when I bought him! Only a few times did I bring him his feed without catching him before and tying him – he'd try to mug you and circle you like a hungry, skinny landshark trying to dive into the bucket. He'd blow through you if you tried to lead him and walk with feed. So he got to stand tied and wait on me. He'd scream and scream and paw and dance about, and then finally realized that made feed come slower, and would just whinny a few times but mostly be stilled. He wasn't a fan of being groomed, but I groomed him while he ate anyway through all the leg stomping, tail swishing and ear pinning (not pain, just didn't want anything living near him while he ate.)
He had turned into a very decent, lovely horse in-hand during his weight-rehab. I'd go out and catch him every day from a great big pasture (not 'big pasture at a barn' size, but a giant reported as into-the-hundreds of acres pasture xD) and we'd walk back to the paddock. Mom would watch and drive along slowly behind us. She noted from the beginning, his legs would wobble when he walked, and then he began to really shove off and make nice, smooth strides as he gained weight and strength back.
Many months into our relationship, he'd gained enough weight to ride. My friend would come out and ride her Mustang, and I'd borrow tack and ride my pony. Many rides of just walking and small bursts of trotting for just a few seconds at a time twice a ride, trying to build up his stamina and wind super slow.
I discovered bareback is best, even on narrow 13.2 slick-coated ponies. And he taught me what a Noodle Horse is. Never seen something who could bend like him! He taught me to have a good seat.
Alone he'd give me problems – simply didn't want to go out alone. He'd balk, back up to this side and that, half-pass the way he wanted to go while you tried to leg and bend him back your way.
After a while, we got to where we could go back to where I usually caught him in the mornings.
A trip to boarding at a barn briefly gave me much more confidence, and actually helped me figure out the CORRECT use of my legs (I turned out to, for never having actually rode a horse on my own, doing a smashing job having learned via many, many internet articles. Go me!). Once we both had confidence in each other, fully, we went anywhere and everywhere. Up anything, down anything, around/over/through, into lakes (unsurprising, that though. If he was in a pasture he didn't like, he'd just wade out and swim to the 'big open pasture' that was on the other side and find somewhere he DID want to be.) but no lake-swimming 'cause I can't swim xD
Occasionally he'd be a punk, but after a talk he'd be my star again.
Ofcourse, I foolishly thought after being able to canter bareback on him meant I could do so on the gelding we bought not long after. Not True, it turns out. Narrow-pony Canter is not the same as nearly 16.h Appendix Round-As-A-Barrel canter.
Slim (my first pony. I notice now I never used his name in this x.x) taught me a lot. Patience, determination, The light at the end of the tunnel Optimism. He showed me how good it felt to actually help someone/something (rehabbing him from skin and bones to a nice, working fit pony)
Unfortunately, finances at home got strained and he decided to drop weight on me during the winter. I had brain enough to know "Oh crap, he needs the vet." And "Oh crap, we haven't got the money right now" and gave him to my friend.
He's slowly gaining his weight back, and it seems the weight loss was due to his teeth. When I'd had them looked at while a dentist was visiting the barn a year before, they'd either gotten bad fast or the dentist didn't know what they were talking about. He has only SEVEN teeth left, and turns out to be in his early to mid
30s
. I thought he was at most 20, per the vet I'd had out who aged him for me. -facepalm-
I love that pony, and miss him every day.
Pictures, if y'all don't mind.
Two days before purchase which is a good photo of just how skinny he was
The day of purchase (oh sweet, lake-loving pony. Look at those mudstockings
)
Looking pretty for my friend – He decided to be a donkey for me so she hopped up and reminded him to be a good pony (the leadrope tied unsafely about her waist was used as a popper, like the long split reins western riders use with the poppers on the ends. I tried to wear it like that, and ofcourse the rope fell down and Slim stepped on it mid-trot. I nearly got pulled off him as it cinched itself around my waist, corset style x.x Thankfully one of my few asshat moments xD)
Upon introduction to a herd for his living situation. He hated the mini. He's the handsome round thang to the far right, in the blue halter
Cuteface:
And last one, I promise!
I'd love to know who he was before I got him. He was trained english (my friend who was at root a die-hard english girl LOVED him. He was a star for her and apparently did very 'english riding' things), neck reined like a dream and would try to work cows if you asked so did some western somewhere in his life. Would, if pestered enough, sidepass this way and that. LOVELY turns on the fore and hind quarter. Could roll back, auto-lead changes, slow-jog and 'fancy english pony trot'. But I doubt I'll ever find out. Anyway. Thanks for letting me tell the tale! It's probably too long.. Let me know if anything was 'too much' xD
Oh my god, that's so long! I'm sorry! x.x
---
Cursey
---
Last edited by Swift-Curse; 10-06-2012 at

10:01 PM

. Reason: Very long, making the text a good deal smaller for easier reading x.x
these are great stories my story about my horse is nothing like these just saw him and fell in love with him and that was it
---
ride a draft and see the world differently
I suppose I had a couple of horses before the horse I deem as being my first. The first was shared with another kid, and she showed up to ride every day, when it was my day to ride, I think that agreement lasted a month before we backed out of it.
The next horse, I had for just a few weeks before someone offered double the purchase price, so I sold her. She wasn't worth what we were offered, so we jumped at it.
So then I got Penny, who has long since passed away but still has my heart and soul.
I was 11 when I got her, and she was far too much horse for me at the time, but no one had any idea of that. I'd been riding since I was a toddler, so I could certainly ride at 11 years old - but not to Penny's level. Penny plodded around with me, and stepped it up when I stepped it up with my abilities.
It's hard for me to believe that she went from trotting around putting fake letters in fake mailboxes at little kids shows to jumping the way that she did, with the amount of energy and talent she had.
She looked after me ALL THE TIME. There was a time when I became unbalanced after landing a jump, I was for sure falling off, and she shifted her weight under me and righted me. If someone told me this without me having experienced it, I'd call BS, but I swear on my family - she did that, and it was quite a drastic deliberate move on her part.
She would do every single thing I asked of her, except for water. She would not even walk through a puddle, and as it was her only fault, I let her have it.
If we went to a show and there was water, we'd do the first part of the course for schooling purposes and retire at the jump before the water. Penny would have died for me, I feel sure of that so I wasn't going to whip the heck out of her to make her do the only thing she didn't want to do. She meant more to me than that.
I kept Pen at a self care barn, and I was still in school. I used to ride my bike there at 5-6am, feed, muck and turn out. Cycle home, shower go to school. My parents paid for me to go to a very nice private school - I spent the time watching the clock until I could go back to be with Penny again.
Weekends I was with her from sun up to sun down. I would take my homework and sit next to her in her pasture doing it.
When I was getting ready to leave home, I couldn't afford to keep Pen. With a very sad heart she was retired to a family friend who had adored her for years. He had several horses, but fenced in his front yard for Penny. She spent her last days with her nose through their kitchen window, over their sink.
And now, I am crying - so not sure I can share more of my experiences with her.
I have so few photos of her. I have plenty of silly things, that mean the world to me, like the tie I wore when we showed, the helmet, the studs that were in her shoes, and a few of her old shoes.
Here's some of the few photos I have.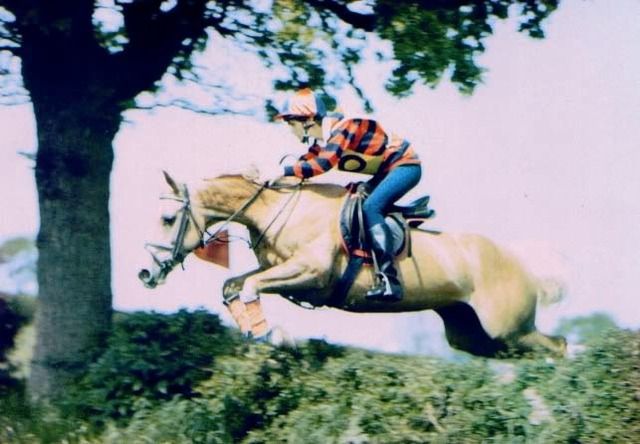 Gosh, I think I am about 14-15 in this one - laugh.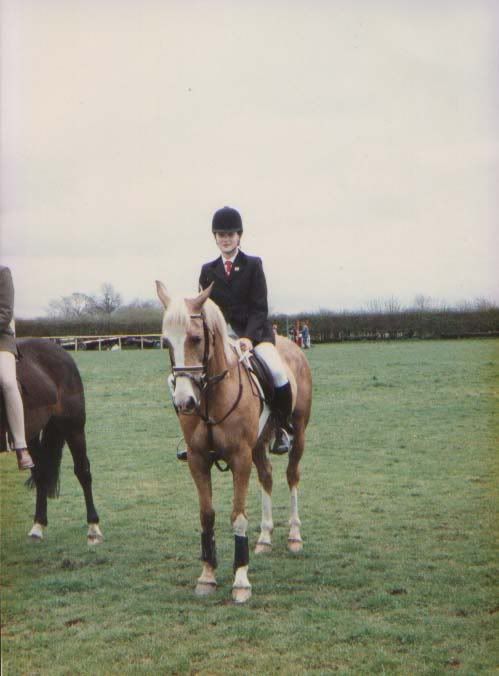 She had a favorite barn cat. There were lots of barn cats, but only this one made her approval list. The cat had claws, but she would let it jump up on her. They hung out together all the time.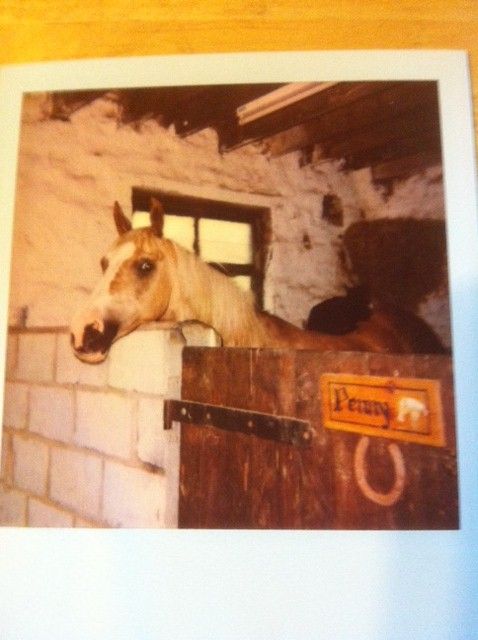 The crazy hot horse that waited until my abilities could cope with her as I grew up.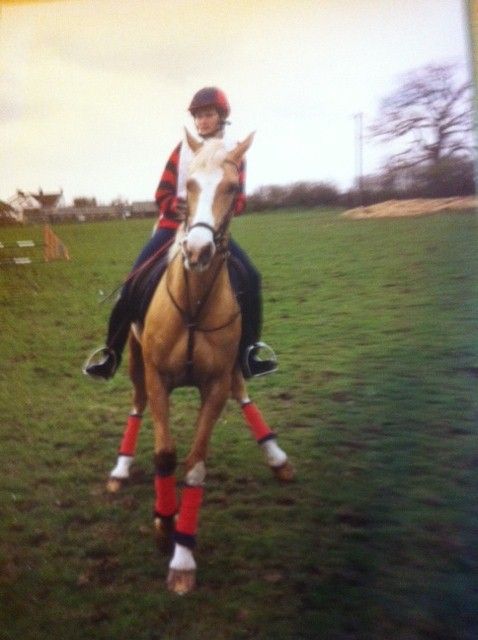 Thanks for giving me the opportunity to reminisce. I'll never find another Penny, but I will probably spend my life trying to.
Here goes a long post, but I love telling this story as it is a good one I hear -- When I first started riding, both me and my mother were stupid enough to buy a horse after 6 months of riding. Not just any lesson horse, a 3 year old abused & neglected mare. My previous boarding/lesson barn (FE) bought her from a broker. They didn't do anything with her for a year until we bought her. They orginally bought her as a lesson horse, but may I say, aren't they glad they didn't keep her as a lesson horse. When we bought her she was terrified of humans, if she was eating in front of her stall & someone would walk by and talk to her. She would jump up off all fours, slam herself into the back of her stall, fall on the ground and get back up shaking in a corner from fear. I can't explain how many cross ties, halters and lead roads she has busted from fear. Finally when we got her calm enough around humans and with a saddle and bit in her mouth, we got my trainer Guy to break her. Well was that an easy task? Of course not. She did anything to get Guy off her back. She flipped over rearing, she rammed herself into walls, jump over fences, full on broncing fits, ANYTHING. One day we went to visit and asked why she had a big cut on her chest (about the size of a pocket knife) Guy had told us that she ran herself through the outdoor fence and got a piece of wood into her chest and nose. It took us one year to get her to do walk/trot/canter decently. (average time is about 3 - 6 months.) Finally it was time for me to get on her, with the lunge line. It took a lot of time and practice but with patience, after one bolt after another, one buck and rear after another and of course one fall after another. I got her showing up to level 1 dressage. This was approximately 3 years after buying her. There was lots of times where I thought I should give up and buy another. But my mom would never let me and I thank her for that. As now, this very high spirited mare is winning me lots of ribbons and money at jumper shows. Next year I'll be showing her 3' - 3'6 jumpers. The only default she has, is it will take us hours and hours to catch her. She is willing to please and loves to win.
beautiful story!! she looked like a ton of fun to ride, such a nice jump!
Quote:
beautiful story!! she looked like a ton of fun to ride, such a nice jump!
I am assuming that you are talking about Pen. If so thanks, she was one in a million, I can only dream of owning another horse who comes half way to being the horse she was. There are no words that come close to describing how amazing she was, we were routinely jumping in the 4'9'' range, and yet she babied me when I was too young to cope with that.
My sister got her first horse when I was 6 - ever since I laid my eyes on that naughty stubborn grey Australian pony standing just 12hh, I wanted one for myself. 2 years it took to convince my parents for a pony. I looked through every newspaper and magazine - my dream pony was a appaloosa that could run really really fast.

So we found this little 13.1hh bay mare (in my eye's she was HUGE!) for $1200 and we went and saw her, she was under weight, grumpy, huge worm belly and scruffy. I had only ridden a handful of times on my sisters pony but I wanted to ride her first (at just 8yrs) I hopped on this "huge" horse the saddle was about 18.5" and I couldn't reach the stirrups. The ponies name was 'Little old lady' ... she was 4 years old and used for mustering up and down hills with a man about as wide as he was high. I asked her to walk forward with a squeeze and a click, she leap forward into a fast choppy trot and took me about 10m to stop her. Then she started to walk, we walked for a bit then my sister hopped on. She took her for a walk trot and told my parents that she was too fast and crazy.

We told the man we would think about it and started our 2 hour journey home... then in about 10mins I started to cry, and cry! I wanted her so bad Mum and dad kept trying to convince me that she wasn't right and we will see more - 1000 if it takes that many. But I wanted her. and only her. We turned around and put a $100 deposit on her and organised a pick up date.

I've been through hell and back with that pony - That I renamed 'Rains' - She's thrown me, bit me, kicked me and taken off on me. I couldn't pick up any of her feet as she would kick (and me being a 8yr old small girl I couldn't hold it) I've been kicked 5 times in my head, and could have been dead 20x times over. I didn't own a saddle, only a crappy bridle. Bareback was the way I learned to ride, gave me great balance and in 4 years I became fearless. Nothing was going to stop us.

We then began Pony Club - At 12 years old - She was still under weight and scruffy as I had no idea. I learned to jump and have some what control. I loved the sporting, barrels and bending.

At 13yrs (Rains 8yrs) We went to our first competition, we won by one point! I was over the moon and knew what I wanted to do with her. Sporting! Barrels and Bending! After a few years we discovered Mounted games (Gaming) - We love it!

4 years later we have competed at 4 State titles (Sporting, Formal and Mounted Games), we won our 3rd one, Formal and sporting gymkhana. and 2nd in our 4th. We've jumped 110cm Bareback bridleless. Been to the beach and a thousand trails and competitions. To this day I still have her, my first pony, Rains, she's down in the paddock atm, fit, healthy, fat and still grumpy (: but no more kicking biting bolting or bucking!

Love her like no tomorrow, 9 1/2 years I've had her, we know each other inside out. She taught me how to ride - how to stay on! She took care of me.

Pics - Mounted games, jumping; 90cm. and my DP (:
yes i was talking about her, and it looked like you guys had a great relationship :)
Seamus was my first horse. I was about 16 and 5'9" and he was an ex-racehorse who'd just come off the track at a whopping 17hh. I have so few photos of him, but so many memories that make up for that.

When I first started riding him he couldn't turn (it was sort of like sidepassing)... he just had no idea what he was doing. He never picked his feet up when he walked and tripped over everything... I swear it was like teaching a toddler how to walk!!!

Well, once he was going properly, we had loads of fun... well, I had never ridden a proper horse before (well, I'd ridden schooling ponies, but they were mostly just happy plodders and knew their job, etc) so it was mostly me who was having the fun XD Seamus tolerated everything so well.

On days where my mother wanted to hurry up and get home, I'd just take him into his stable and climb onto the stable wall so I could get onto his back and just flop over him and relax whilst he plodded around the stable nuzzling around. I would do this very often and just lean forward to feed him cut carrots and rub his ears, his neck and then lean back so my head was over his rump. I was a pretty silly kid, but Seamus was just cool like a cucumber :L

He really would never hurt a fly - even though it'd been less than a year since he'd come off the track, and that was proved when Michael, a complete novice to horses sat on his back and rode him around the yard like a sack of potatoes. Seamus was just plodding around contently, never spooking or breaking out of a walk.

I remember when I was doing some jumping, and he couldn't do the small jumps, yet he flew over the higher ones with miles to spare! He had a tendency to stop once he got over the jump and at one point took me by complete surprise. We both went over fine, and then when he stopped, I didn't. I did a perfect somersault and landed right on my bottom with a nosey Seamus looking over my shoulder as if to ask why I was on the floor!

Other times, I was feeling a bit more adventurous and made a large filler (about 4') and thought nothing of it - until I was on Seamus' back looking at the jump. Every time I approached it, I chickened out, and I am so pleased I had Seamus, as he was so forgiving... or at least, that's what I thought. On the final try, I hesitated, but Seamus just bunny hopped the entire thing with me quickly getting into the correct position. I really do love that horse, and miss him dearly - even though he was very heavy - which I realised when I was out to collect him from the field and my foot was in his way. It was agony!!! And he had no idea what he was doing... he was quite content leaning on it as I frantically tried to push him off... bloody horse!

This post is sort of all over the place and I apologise... I'm just trying to reel off some memories of the buffoon.

It was heartbreaking when, after two years, he came down with colic that was misdiagnosed by the vets. One thing led to another and by the time he got to the vet we discovered he had peritonitis and his gut was twisted. Although he survived the operation, he slowly went downhill again, and the decision was made to have him put to sleep.

he really was the best horse in the world, and for someone like me, who'd never really ridden a real horse before, I couldn't have asked for a better friend than Seamus Crimin. Despite my many flaws in riding, I'm glad he tolerated me, and taught me all the things I know today.

I doubt I'll ever find a horse like him. Early mornings in the field were spent laying down beside him, leaning against his chest and just talking about whatever popped into my mind. Even though the other horses had trotted off away from me, Seamus was happy to lay there with me. I could scramble onto his back every evening and just lay there whilst he did his thing. I could trust that he'd never do anything I couldn't handle - even when I stupidly asked him to canter in the open fields. Even when he spooked at cars, trains, and stupid dogs, he never tried to unseat me and no matter how much of a buffoon he was, he was my best friend and I only wish that I could have spent more time with him.