One of the hardest things I've ever done...
---
Kita went to her new home today
It was one of the hardest things I've ever done in my life. Before the people got her to pick her up and just went out to visit with her one more time. When she saw me coming she neighed and bobbed her head up and down in greeting. That was all it took and I was in tears. The owner pulled up 5 mins later and I was crying so hard I could hardly even speak.
I did get two not so good pictures of her before she left, but I will be going to visit her in January to get some more and visit with her. The people also bought Kita's baby from this year, Aden. They will both be going to a very good home. And the people that got her treat their horses like they are their childern.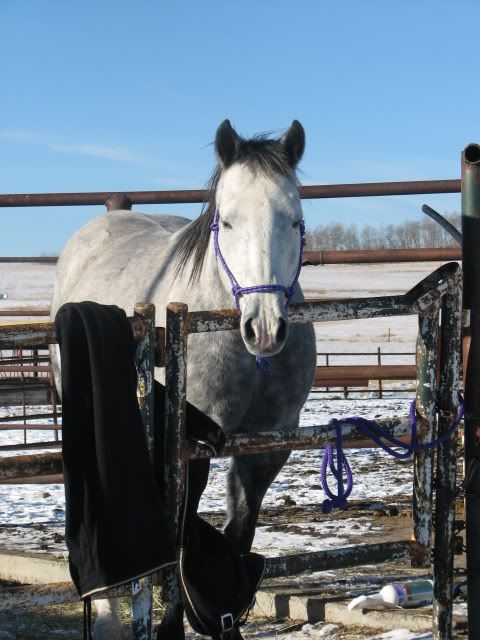 aw, don't feel sad. She's going to a good home and you'll be able to see her
was this your first time selling a horse?
---
IF YOU CAN THINK IF A NAME FOR THE HORSE TO THE LEFT PLEASE PM ME!!! (Barn name, but he's spanish so we want it very...spanishylol)
Aww, I can't even imagine how hard that is. :( She is off to a good home, so don't be too hard on yourself, & you'll still get to see her right?
*BIG HUGS* Take it easy FGR, you'll see her again.
---
Ride more, worry less.
SimbaKitten, no it wasn't my first time selling. Kita was just my girl. She was always there when I needed her. I rode her right thru my pregnancy and trusted her 100%. I just didn't have time for her and she deserved something better.

Thanks Pop, I'll be okay in a couple of days when I get used to her being gone.
Aww
(HUGS) *and hot chocolate with marshmellows*
Look on the bright side, you still get to see your baby
and, one less to pay for shoes
your other horsies will get you through
Thanks Moo!
Yeah less money to spend is always nice I guess.
It'll get easier. You know that. Just remind yourself why you've moved her. She will be very happy I'm sure. Sounds like she is going to a good home and you can follow up on her.
Thanks Northern! I just got an e-mail from them saying that they hauled like old pros and arrived at home safe and sound!
awwe Fehr, I'm so sorry to hear this. It must be really hard, but it will get easier in time.. and you know that your horse forum buddies are always here to talk to.. we'll get you through!
She's a beautiful horse, and she went to a great home! It's really hard at the moment, but she'll be happy there! Like I said, we're always here for you!