Only 2!!??
---
So we (my boss and I) bought Boomer back in December, a fugly 4 year old thoroughbred x gelding that had a bad start to life. The girl who had him before us saved him from some pretty bad conditions. When we went to see him he was fat (massive hay belly) and his coat was gross and dirty (winter = no bath) and his hooves were flaring and were all out of balance. So we bring him home and start working with him and figure, he's more like 3 turning 4. Well we get the dentist out and she said that 'he was definitly not even close to 4, and that he would likely be turning 3 this year'.
I dont understand how you can tell someone a horse is 4, when it is actually 2! We still would have brought him home, but we would have let him sit until the spring! Poor Boomy...
This is a couple weeks after we got him; he was put on a diet and got some vitamins (he didnt even know how to eat carrots!)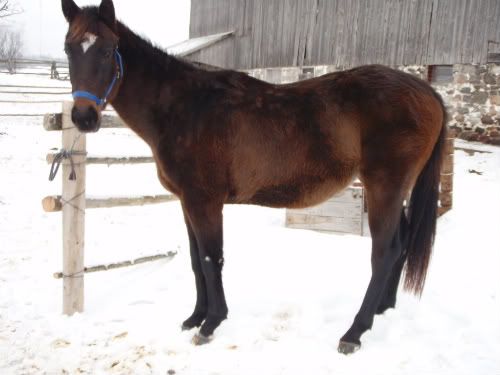 and this is him now: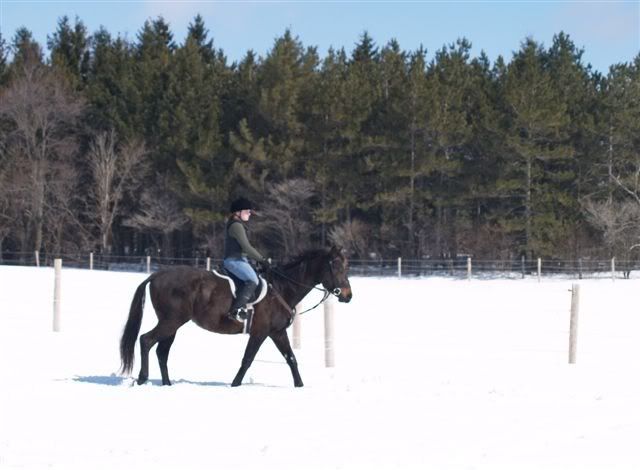 He's not as butt high now, and he is starting to fill out a bit
Haha...my horses don't eat carrots or apple and they are perfectly heatlhy and well loved..lol.

He does look way better! Kudos to you and your boss for saving him. So how old is he now?
He's 2ish.. the dentist was out on Monday. I feel so bad working him, but I think Im gonna start wrapping his legs, and just keep it light.
I thought he looked rather younge. It's not your fault though. I don't know why people feel the need to lie about stuff like that.
That happened to a friend of mine. He was horse shopping and he found this ad "15 3hh 5yr old Paint Mare, used for disabled kids. Easy going lead line horse."
So he went out and looked at the horse, rode her and really liked her. So he took her home and the next week took her to the mountians for 2 weeks.
When he came home from the mountians the mare had ticks. So he called the vet. Turns out the horse was full of worms, had ticks under her skin and was only coming two. Poor girl.
Anyways, she is now 17hh Paint/Perchron (not just paint) and healthy and happy!
Oh wow. I just dont understand people. We sticked Boomy today, 15.1 1/2. I think he's gonna be quite the tall boy when he finishes growing. Thats good though, because that boy is headed for the hunter ring!