Oso Lucky!
---
A horse of my own!!!!! I have wanted a horse since I was 3 or 4. I have been taking lessons 4 times weekly, and adore the lesson horses, but it is a bit different than having one of my own to love on. Well, I finally have a chance to work with, ride, and spoil a horse. This woman has offered me the chance to do odd barn chores in exchange for leasing her horse. I can go there whenever I want, and pretty much do whatever I want. (within reason). My trainer will be coming out with me once a week for one of my lessons to be taken there. Obviously, I am ecstatic. She wants me to treat this horse as my own, without the costs. Though I have already bought him a new halter, brushes, and treats.
His name is Oso.He is a Trahkener/Perch cross...17.1 hands...12 years old...He used to do hunter pace, and dressage.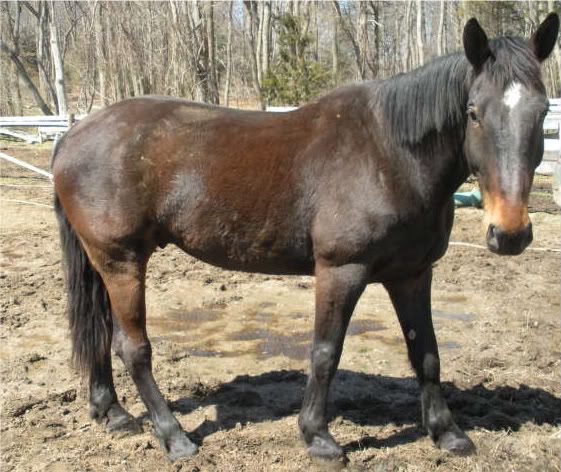 Expect lots of posts concerning me and this guy. I am a bit overzealous!
Thanks! I need to remember my photo taking skills and get some better pictures of him. I don't do him justice!
Wanderlust I'm so happy for you! You're in for a wonderful journey, enjoy every minute of it (even the frustrating ones)!
Congratulations. He is one big boy!
---
The horse...powerful, majestic, beautiful.
Quote:
Congratulations. He is one big boy!
I need a big boy for my big butt!
bwahaha, i just spent another $200 at Dover. Not actually owning my horse is still very expensive!