A question...critiques/equitation vs. "trainers"
---
Hi ya'll.

I think I have a good question and I'd love to hear everyone's opinions.

Whenever someone posts pictures and asks for a critique everyone points out almost every equitation flaw that the rider has (which is great, because sometimes we all forget things and need reminders). However, almost every "trainer" that I've seen ride has quite a few equitation flaws and even myself, being intermediate can pick out these flaws. The main thing that I've seen is trainers riding in a forward position and they most certainly do not have shoulders back, etc. Yet, their horses respond well to them and they seem to be able to get the horse to do whatever they ask of them! I know that proper equitation and position in the saddle helps the horse. But why is it that alot of trainers don't ride like were told we are supposed to? I mean in a sense we are all "training our horses" but we are not "trainers" (when you think about it). We are training our horses with the help of riding instructors and trainers.

This is just something that's always confused me lol. At one of my old boarding stables the barn owners told me..."when your training a horse, especially a young one...you don't have your mind on your own equitation...your mind is on the horse your training." Soooo how does it all add up lol? Do you guys know what I mean??
---
~Dressage~
Good Question!

When you're training a horse, or at least when I am, I'm looking to see how the horse responds to shifts in weight, leg accidentally tapping the side etc. So, in come cases I'm intentionally sloppy in the beginning stages when I'm teaching the horse to be ridden. Reality is, most horses are not only ridden by pros so they need to be able to tolerate sloppy equitation, getting jabbed with a heal...

On the other hand, when I'm teaching the horse dressage movements my equitation is very correct for the purpose of dressage and helping the horse move.

So I guess my answer to your question is "it depends on what you're teaching the horse to do."
I've noticed this too! My trainer has HORRIBLE equitation... Chair seat, slouching, heels up, long stirrups. But he doesn't care as long as the horse doesn't buck w/ the saddle and goes where he wants and slows down and turns (no matter how much energy it takes to do these things)

Anyway. It's weird how trainer's don't have that great of equitation. I think it's because they have more important things to worry about.
There is a huge difference between show eq and trainer eq. You have to remember, when you are showing, it's all about the over all picture, you have to look pretty while making the horse look pretty. A trainer is focusing only on the horse. They are worried about getting the horse up underneath itself, collected, on the bit, ect. They throw their equitation away in order to make the horse look good. You'll notice that it is very rare for a trainer to show in an equitation class, they are always in the open under saddle classes, which judges only the horse.
Our trainers want our EQ perfect because we are learning and need to have perfect eq before we can move on, muscle memory. So we need a strong foundation. Sure, your trainer may look sloppy, but they still have correct EQ, maybe not pretty, that lets them suceede. And I don't know about you guys, but my trainers EQ is gorgeous, even when schooling the young ones.
My short and sweet answer is that we all have faults in our eq... trainers aren't superhuman, and also have flaws. They shouldn't be bad flaws though!
Now, having said all this - a lot of people CAN teach better than they ride.. my friend is giving me mini-lessons and her teaching is much better than her riding for some reason.
---
The lovely images above provided by CVLC Photography cvlphotography.com
Nobody is perfect in their equitation. Not even those that have a world championship under their belt. But to me, in order to be a good rider you need good equitation skills. It's the foundation of riding - developing a responsive seat, balance, independent hands. Once you get to training horses, you should have the muscle memory down so that you only have to worry about the horse. Some things shift with your position from horse to horse, based on what the horse needs to get the best out of them. Personally, when training certain things for me go out the window. But the basics are always there.
it's been pretty well covered.
the younger, greener horses require more attention to the horse, which often results in uglier eq.
example:
Kovu and I just after I bought him...when he was still very forward, and liked to bolt and buck after the jumps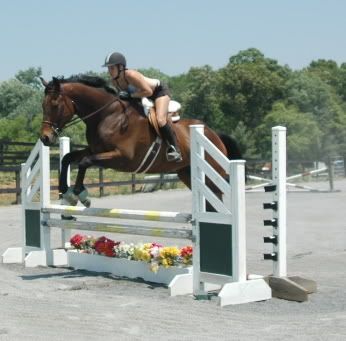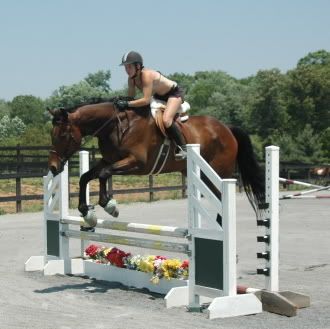 then Kovu and I over the summer. As he progressed, and I had to worry less about the 'bolt and buck', I could go back to focussing on me...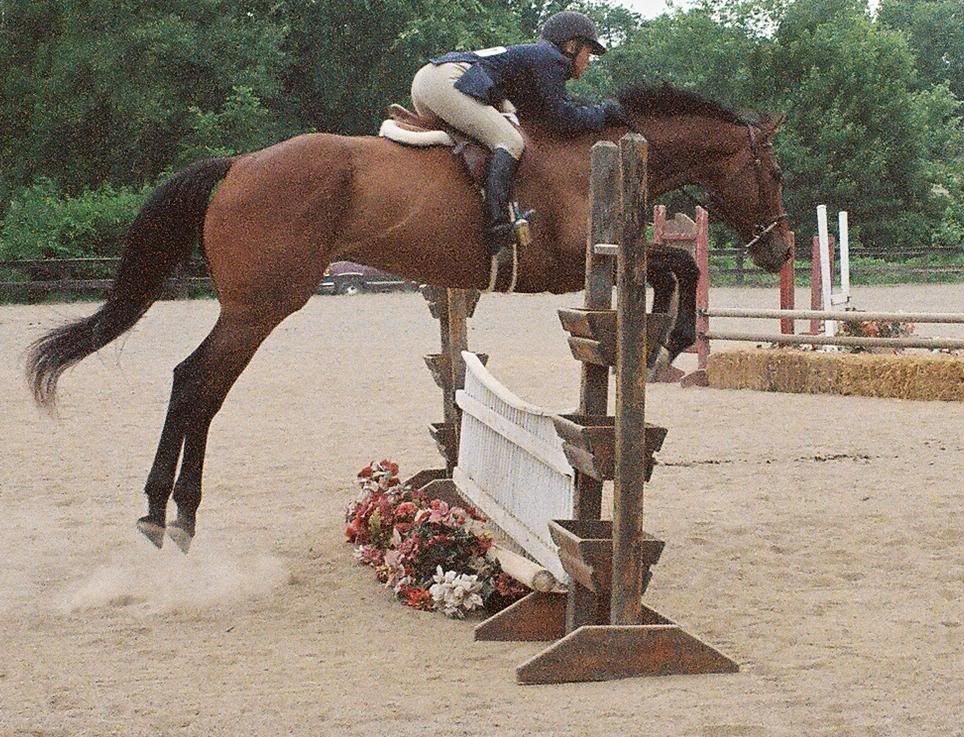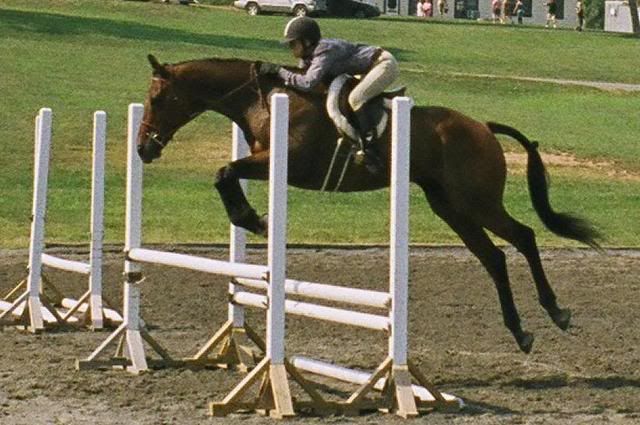 yay Kovu. good exampleponeh :)
There is a difference between a riding instructor and a horse trainer. These days the term 'trainer' is used very loosely to mean both. Many riding instructors send their equines to trainers to be, well, trained.
When training a green horse, exaggerated body position is normal. Especially hand position. When teaching a greenie about the bit the trainers hand position is often waaaay out to the side. This is a "big" cue, though still a gentle one. The hands are brought to mid-line as the horse "gets it" and response with less and less cue. Most of the trainers I know will break/train in a western saddle, then switch over to an English when the horse is working well. It gives the trainer more security ... to lean and such.
Same with body position - very exaggerated seat position for go and whoa. Not to mention big time leaning ,"one cheek sneaks" to drift the horse left/right. Often the trainer is working on one single aspect, not the over all.
There have been some very good points made here. One thing to really remember: Anyone can call themselves a trainer, whether they are training their own horses or others are paying them to train theirs. Most of us are self employed and the title is unfortunately used very freely, regardless of our own training, knowledge & experience.

A good trainer should be able to positively influence the horse for an improved performance or "stay out of the horse's way" and let the horse do what comes naturally to them. If the horse needs help to enhance what he does naturally, then the trainer should have the balance and timing to do as such.

I have known some brilliant trainers whose equitation is far from perfect, but their ability to center themselves with the horse and time their aids was impeccable. They would never win an equitation class, but they can still train and show top contenders because of their skill with "becoming one with the horse".

To me, absolutely proper equitation takes a backseat to learning to "feel" the horse and "stay out of his way". Once a rider can do this effectively, then we work harder on absolutely proper equitation, but still never interfering with the horse unless it is to enhance the horse's way of going in a positive way.