Any other updates? How's she doin? Maybe try panels instead of the wire? You can find some fairly cost effective yet barrier effective ones for the time being until you find a more permanent solution :) Heck if you were closer I'm always down for some fence buildin!
---
You have to learn how to fall before you can learn how to ride~

@Cowgirl928 Were looking at new fencing for when baby comes...and I'm excited because I will hopefully be able to design her new stall
...I think she's spoiled, haha.
Our updates aren't as exciting anymore since pretty much all I do is sit out in the feild and stare at her haha. Oh, but we did find out, that of ALL the things she could be scared of, it's trees. Shes fine with a few, but if we take her out to graze she freaks out...Thats a problem for us considering the fact WE LIVE IN THE WOODS. Lol, well I hope baby doesn't develop her fear. Went outside and got a BUNCH of pictures...of just me and her, haha. I'll upload a few :) Annie "saved" me from a terryfing hose yesterday! What a good girl :) lol. Grandma was down cleaning off her new car, and Annie was throwing a fit, wouldn't let me leave the fence until the scary hose was gone! She's my trusty pony :)
Someones extra nosey today!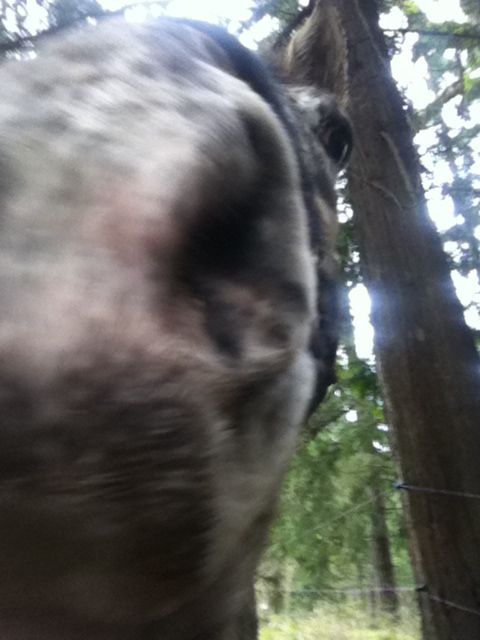 Look at the little turd smiling after she messed up my hair, haha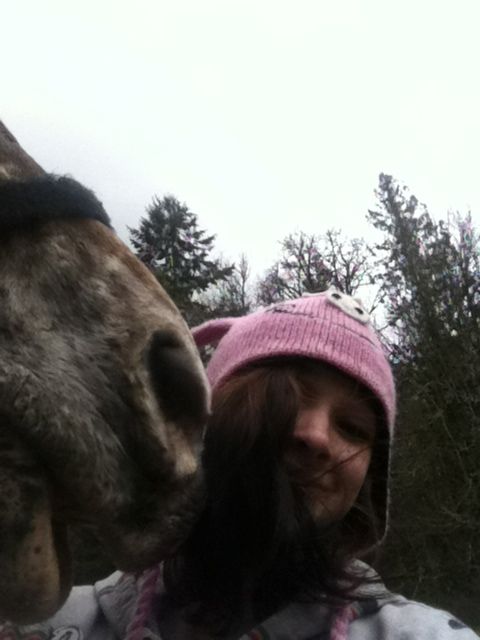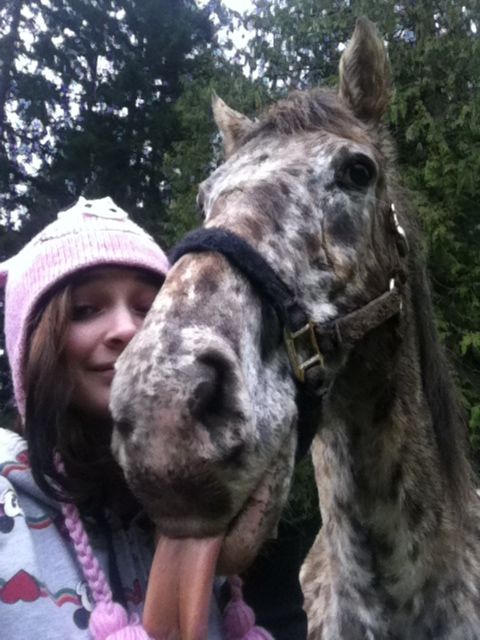 Baby belly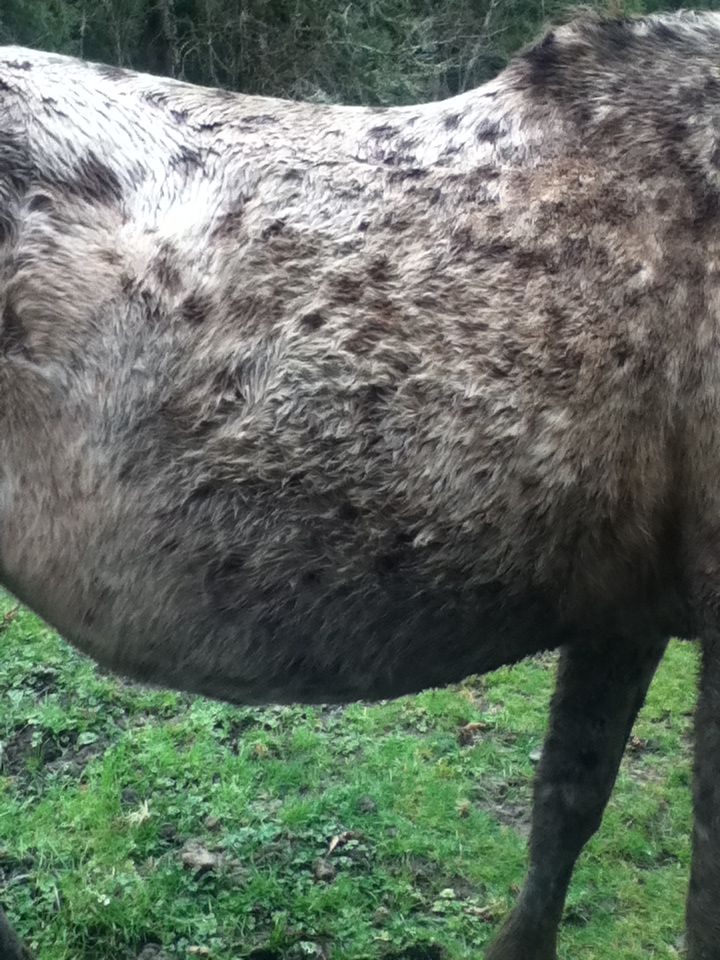 Thats all I can get without my camera :(
Showing
Join Date: Jun 2011
Location: Cariboo, British Columbia
Posts: 11,770
• Horses:
3
Wow, her belly is getting big! So what did vet and farrier say about her condition and rehab on her hooves?
Posted via Mobile Device
Mom said she will call him today...I keep harrasing her about it. I noticed that too! Her belly grows fast! And she gains weight fast, she's already gained some weight here! Now everyone at the barn is dreaming about her baby haha
are you taking her on some good short walks to keep her in a little shape? I bet she isn't scared of the trees, maybe what she associates with them. THink about it, the natural predator of the horse is a mountain lion. Mountain lions like to be in trees, therefore she is scared of trees lol Also she could have a problem with teh shadows of the trees. My friend owns a horse that does NOT like the shadow of a few of the trees in the area (odd i know...). Anywho, that is just my input!
---
You have to learn how to fall before you can learn how to ride~

Yea, we try to take her on walks, and if we can't I walk her around her feild and do a little trot for like 2 seconds (she's old and pregnant, she doesn't want to do much! Haha) Hmm...I've never thought of it like that..We are definatly going to try to work on that haha.
She's super cute!!

I just had a thought about another thing you probably want to talk to the vet about/have them check when they're out, that relates to the tree stuff as well. Her eyes. Make sure they take a good look into her eyes.

Since she's an Appaloosa, there's a chance (since Appies are more susceptible) she could have some vision changes due to Equine Recurrent Uvietis/ERU (commonly known as Moon Blindness).
It's just one of those things that if you catch it early, it's not hard to control but left untreated it can really cause issues.

She probably doesn't have it at all but since she's an older Appaloosa with no history, I would get those eyes checked.

My girl has it (she's not an Appy - it's not 100% breed specific, just much less common among other breeds) and if you have any questions, I would be more than happy to tell you what I know. :)
---
Fabio - 13 year old Arabian/Lipizzan gelding

~
Rest peacefully, Lacey.

Thats what it's called! I couldn't remember it but I remembered that there was something that they could get with their eyes.
---
You have to learn how to fall before you can learn how to ride~

Thanks for the suggestions, Wallaby! I never thought of her having eye troubles. We're about to email the guy who originally had her, so we'll see about her history, etc then..I hope nothing bad!
Anytime, Stichy!
I wouldn't count on the previous owner knowing about it, if she were to have it (Great that you might be able to get some history from him though!!) - like don't not get them checked because he had never noticed anything, you know what I mean? :)
I'm just a bit oversensitive about it because with my girl, she's 100% blind in one eye and has less than 50% vision in the other eye AND NO ONE KNEW (myself included+she was boarded for nearly 2 years under the daily care of a woman with over 40 years horse experience!) until she had a really serious flare up last spring, the vet suggested that ERU might be the cause, then I researched and found out what I know now.
I had had her for nearly 4 years (seeing her daily for most of that time) once she was finally diagnosed and with how bad her vision is now, she has to have had ERU for probably 10 years.
I've never seen her bump into anything, ever, she's not spooky - if anything, she's one of the least spooky horses I've met (once she knows what her surroundings are like - she can be pretty clingy+spooky during the initial "settling-in" phase), I can ride her at all gaits, she happily runs up and down hills+over uneven terrain... It's terrifying for me!
Anyway, I'll get off my soapbox but all I'm trying to get at is that a horse with vision issues does not necessarily act like what "we" expect an animal with vision issues to behave like. I had always thought that blind horses always act blind...turns out they don't necessarily have to! Whooooo knew. haha!
I don't mean to worry you or anything, it's just a topic very close to my heart!
---
Fabio - 13 year old Arabian/Lipizzan gelding

~
Rest peacefully, Lacey.

---
Last edited by Wallaby; 03-05-2013 at

09:21 PM

.