She is beautiful! !! Sweet eyes!
Posted via Mobile Device
So, I'm not sure how I missed this thread... O.o

Anyways, Annie is an adorable appy!
Do you know how old she is?

Thanks, kymo!
Wild hearts, we think she is in her 20s... We aren't sure.
We left for the barn and were gone about 3 hours, when we got back, Annie was limping ;( I reeeally hope she ok. We're going to call the farrier tomorrow, which will be hard considering she won't lift her feet.. Then again, this farrier tends to work some magic..
Thanks. Northern! Didn see your guys comments lol. We're gettin the farrier here as soon as we can, I'm reeeally worried about her leg :(
Pics from yesterday and the day before (:
My angel Annie <33
Oh! People! I love people!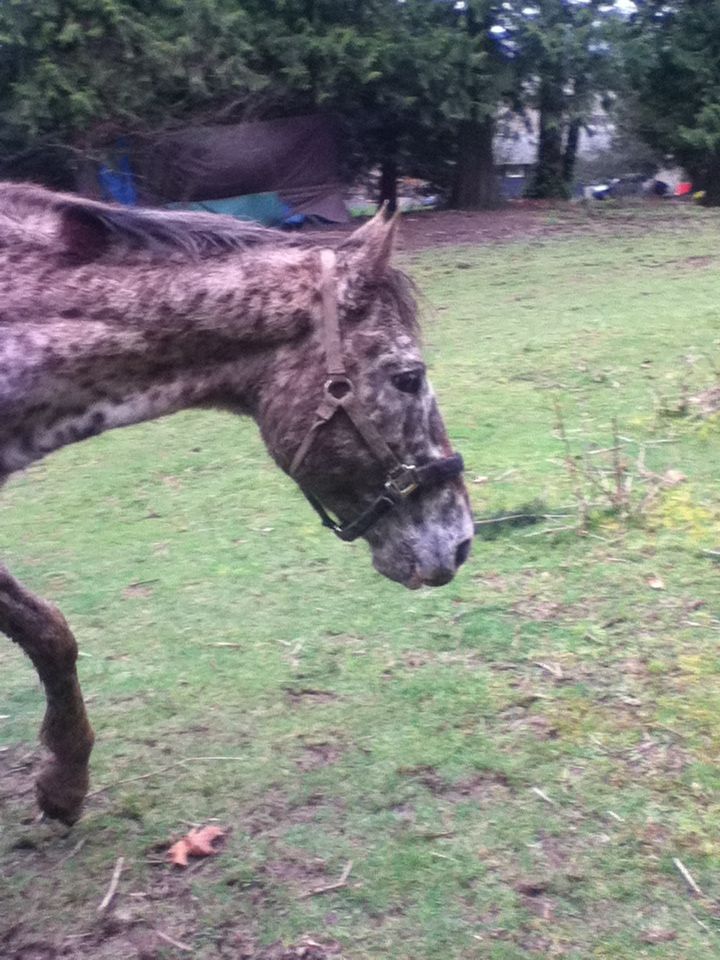 Annie loves....This sign!
My pretty baby <3
"What? Someone drew me?!? Awesome!"
Blurry, but I still like it!
I LOVE this picture of her!
When is she due for a bath?
---
I may seem small, but if you mess with my horse, I will break out a level of crazy that will make your nightmares seem like a happy place.
When it gets warm (: Hopefully soon!
Trained
Join Date: Sep 2011
Location: Hour and a Half from Town!
Posts: 6,324
• Horses:
2
Lookin great! You may want to douse her with fly spray, might have lice... Check first for lots of flaky white dandruff. And put a black t-shirt on her back in the sun for a couple minuets, the lice will cling to it. I know, ewwwwww!!!! But you don't want a lice ridden colt.

For sure get the vet out first. He will be able to better check her for abbesses and she needs her shots asap before foaling.
---
You can get a lot further with a ladder than you can with crutches!!
What do you mean what do I mean?
Yearling
Join Date: Feb 2012
Location: Wide Open North Dakota, USA
Posts: 977
• Horses:
2
haha I love the photo where she is obsessively scratching on the sign
---
You have to learn how to fall before you can learn how to ride~

Arghhh, I forgot that when you move pictures they disappear...I'll re-upload those quick..Thanks Flygap! We checked for lice, she doesn't have any (thank god!) I walked out today and she spilt her hoof really bad :( My poor baby! Off to give kisses, love, and get a vet number! I think mom has finally cracked...