I never thought you could build top line like that! I'll have to start with her. I woke up at 6:30 today, for whatever reason, and it was pretty bright out so I decided to let her out into the big field a bit early today, and she was already standing at the gate when I went out there! Is that all she ever does? Lol. Anyways, I let her in, and as I was turning to walk away, I kept hearing *thud thud thud*, so I turned back around and she's cantering through the field! She's a very noisy canterer lol.
Since I have nothing to do today until two, I'm going to go work on Annie's field...I've always been too scared to go in there alone (too close to the woods for me...), but since she's in there I feel a lot better about it! I'm going to give her stall a total makeover! There's actually trees starting to grow in there because it hasn't been used in so long!
Just a heads up, I won't be on very often this month, besides the short time I can sneak on while doing schoolwork...We have to finish our house because we have family coming in a month. We've been converting the downstairs into an apartment/gaming room...Which will soon be mine! Annie has been doing great, we switched her over to Senior grain, and she LOVES it! I got her a jolly ball and she seems to like it, just doesn't know what to do with it yet, lol.
Sorry if I missed it, but did you ever get a vet to come and check on your lovely lady? She's looking good, by the way!
Posted via Mobile Device
Not yet, but now that I have a job hopefully that will come soon! I need to earn about 300 dollars because we want to get her teeth done first, since she's missing a couple plus it might be easier for her to eat with that even with her nerve damage. I've also started coin collecting! And I have about two dollars right on me...
DOes anyone have any tips on how to teach her how to lift up her feet? Also, I can get her to smile on command now!!!
You mean to lift them on her own or for the farrier? as in she won't let you pick them up.
---
I am Second
Born Once, Die Twice. Born Twice, Die Once.
For the farrier, sorry I should have been more clear on that but I'm in a bit of a hurry. Also I've tried the rope around her hoof but that doesn't seem to be working
This pic is from a while ago
Trying to steal my cookies (:
A couple days ago...My dog absolutely LOVES her!...Probably because Annie "feeds" her (she shares her grain with my dog lol)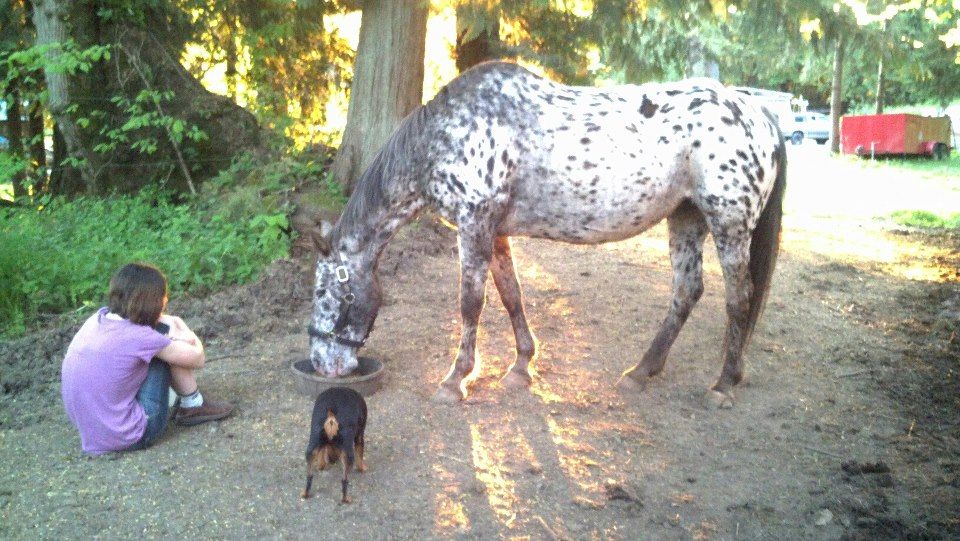 Not Annie, but it's my dog "helping" Annie find a better place to graze, lol.
Aaaand today!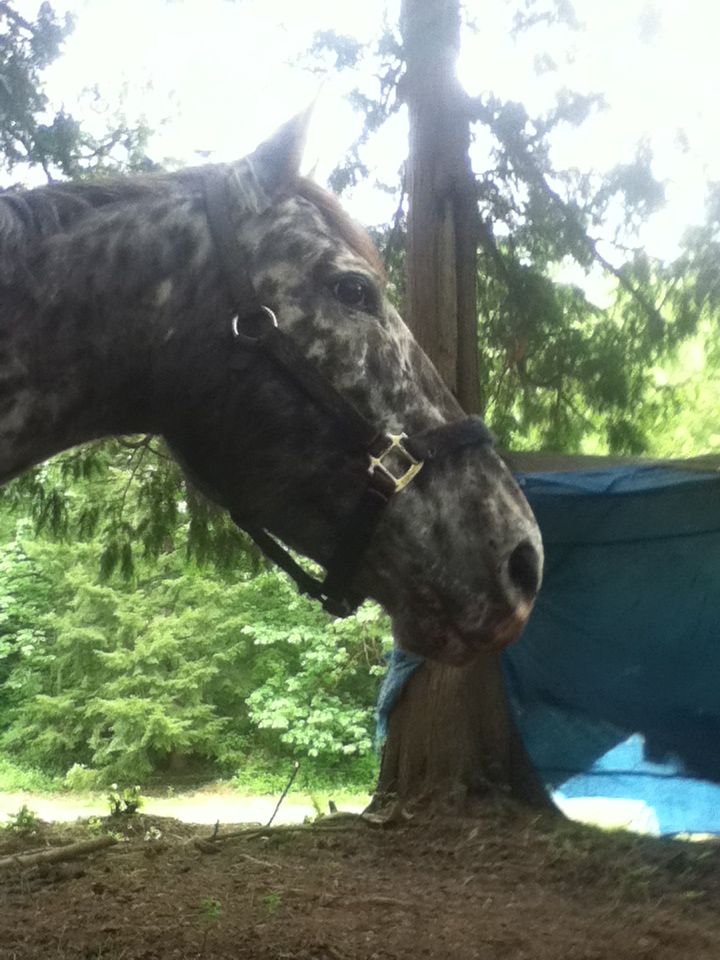 Nomming her old lady grain :)
O hai!
Annie has a very flexible tongue...Lol
Finally got a picture of her smiling! Except I couldn't get her whole head in the picture...Lol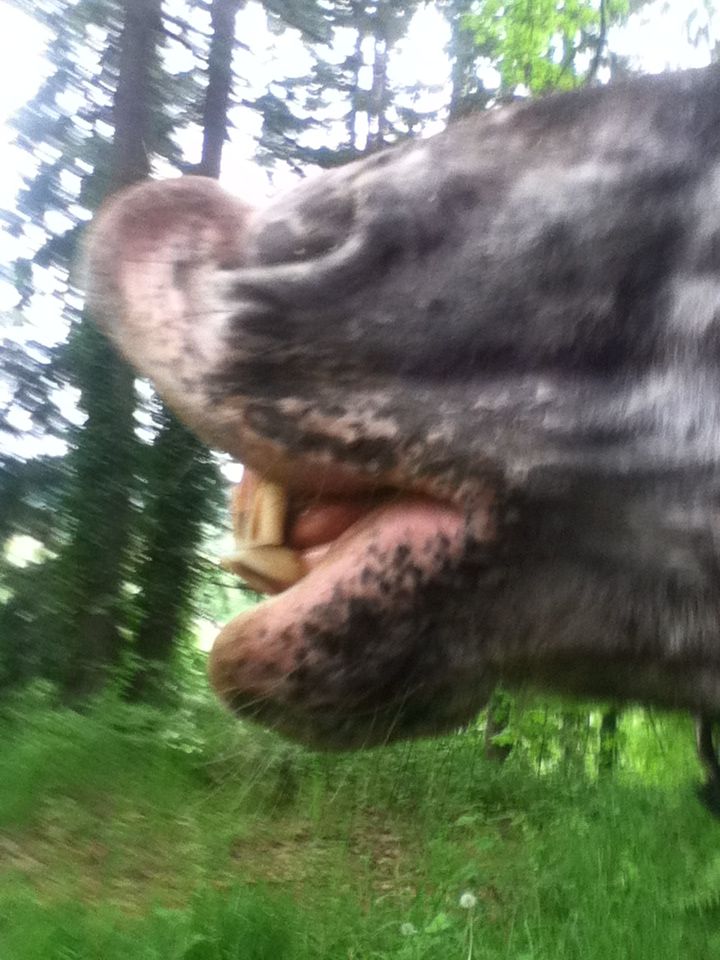 Now I'm teaching her how to pick up things, starting with her Jolly Ball! She actually smiled while she had the Jolly Ball in her mouth, it was hilarious!
How much will she let you do with her feet?
I have one now that would not let you get your hand within a foot of any hoof. Infact, he would move away just having your hands below the knee. We have been working on him for several weeks to get him where I can finally hold his front feet up for about 2 minutes before he starts trying to pull it away. The back feet are still at the point of lifting them for a couple of seconds and letting go just before he tries to kick out of your hand.

We started him off with running the lead rope down his leg and cupping the rear hooves and putting pressure on them. Once he picked his feet up to try to get away from the line them we help pressure on it to keep them up as long as possible. It depends on the horse and mine is taking longer due to my lack of experience with it and him having been cut up from some accident before I got him.

To start off you can just spend a lot of time just running your hands up and down her legs to get her used to being touched. Then run your hand down until she shows signs of being uncomfortable. Leave your hand there until she relaxes or stops squirming then move your hand off. Once you get too the point of being able to pick them up then hold them up the first few times as long as you safely can.

Hope this gets you started in the right direction. Be patient since you aren't anymore experienced at it than I was so you do not put yourself in a situation to be hurt.
---
I am Second
Born Once, Die Twice. Born Twice, Die Once.