The best ranch dog I ever had was Smokey, a heeler/border collie mix. I still miss him...
My sister made us a stained glass picture to remember him by - Mrs. Face has it hanging in her dressing room window...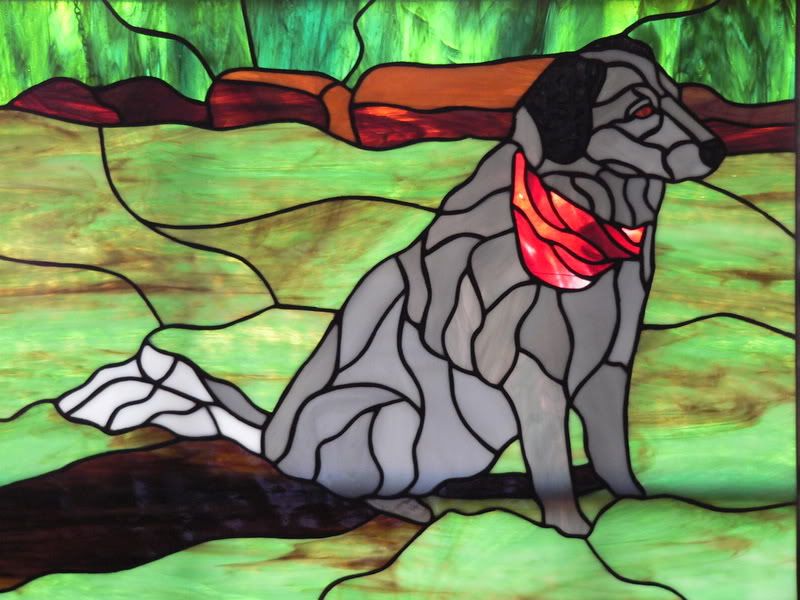 Individuals in each breed vary.
I've had two Border Collies in my lifetime. The first one was the usual active puppy, but grew into a very lazy adult. He was an outside dog though, so he could go where ever he wanted (though he never did, unless we went on a run, bike ride, etc.). The second (current) one is very energetic. He has to be tied to a chain outside all day, because he is too high energy, and will chase cars. We tried everything to get him to stop, but nothing worked. He has literally made a wide circular shaped depression around the tree that he's tied to, because he runs back and forth all day. I feel bad for him, but what can you do? I don't want him to get run over.
I did have a Border Collie/Australian Shepherd cross by the first Border Collie (he wasn't neutered; no reason to). New neighbors moved in a with an unspayed female. The resulting puppy that we got was very sweet, quiet laidback, and very smart. Oddly enough, she had doberman-like coloring, with longer hair. I could tell that she always wanted to be a bird dog. That was her chosen game, and she was very good at sniffing out quail.
clover.jpg
One of my favorite mixes was my Austrailian Shepherd/Basset Hound mix. I had two. I specifically went and found another dog of the same mixture just because I liked my first one so much. The first one was energetic, and very smart, but smaller. The second one was smart, but lazier like a basset hound.
Here's a picture of the first one. My second one had red coloring instead of blue. Very pretty coloring on both of them, though their intelligence is what drew me to the unusual cross. (Both of which were accidents!)
lucy.jpg
Whatever you choose, make sure you get it young. I got my second Border Collie as a 5 month old puppy, and that just seemed to be too late. He never really got attached to me, and doesn't listen as well as puppies that I've gotten earlier.
Quote:
My sister made us a stained glass picture to remember him by - Mrs. Face has it hanging in her dressing room window...
That is BEAUTIFUL, Faceman! She did an excellent job!!!
Quote:
I'm partial to Aussies and Border Collies. Do you have experience with herding dogs? They can be a handful for first time owners.
No, I have only owned Labs my whole life. That's why I was looking for something a little different and stronger.
---
Horses are scared of two things. Things that move and things that don't
I am a big Border Collie Fan myself, have a BC corss black lab. The perfect dog for me to come along on trail rides, easy to train, full of energy yet appreciates her time outs, very calm and respectful around livestock, actually she keeps other dogs away from us on trail rides, she is a tuff girl and is about 60 lbs, nice and compact. Just love everything about her! Like the Aussies too, but have no experience with them....
Here is my girl:
I don't think breed matters near as much as the dog's natural instinct to inneract with livestock.
Growing up on the dairy farm my
dad was insistent on German Shepherd/Collie mixes.
They were wonderful.
My three Rottweilers
were terrific as soon as they learned they weren't the boss of my alpha horse
They honestly tried to trump him and he honestly and gently placed a hind hoof alongside their heads and I mean gently. After that life was good.
I babysat the computer repair guy's purebred
Aussie
while he had shoulder surgery. He trained that dog. He trains like I do and lives pretty much the same horse lifestyle.
Cody slid ride into our home and barn routine as if he'd been visiting us his entire life -- including riding the 4-wheeler. When I gave him the commands his owner told me use on him, he minded perfectly.
I currently have two rescues
that are both excellent around the horses. By rescues I mean they were dumped at the end of my road
The
Dobe/Rott cross
has been here 9 years and is excellent with the horses.
The
Catahoula Leopard Cur/Fox Terrier
has only been here 2+ years but he is extremely intelligent and very eager to please. He has only been coming to the barn in the last few months and is doing wonderfully with his next level training.
I honestly hope you consider rescuing a dog and tell the Kennel what your needs are, so they can help you find either a pure bred or mixed breed suitable for your family.
Also, it is best to find a dog before your Labs go on to meet their ancestors. Believe me a hundred times over, the senior dogs can take half the training off the weight of your shoulders, if they're still able to get around
Don't look for a dog "just like them" because it's not out there. While breeds do posses like qualities with the breed, the defining personality is a finger print that can't be duplicated
---
A Good Horseman Doesn't Have To Tell Anyone; The Horse Already Knows.
Trained
Join Date: Sep 2011
Location: Hour and a Half from Town!
Posts: 6,324
• Horses:
2
Wow, great advice here guys!
I've had several other breeds and mixes of herding dogs but I love love love Aussies. I bred them for a few years when in college for money.
I do not recommend them for people with low activity lifestyles or very busy working schedules. They do not do well on their own, for sure not a dog (in the general sense) that you can leave alone for long periods of time. They tend to develop bad behaviors, anxiety, and can become really destructive. They DO need a job. Also be ready to deal with a lot of shedding in the spring and consistent grooming, their bums get matted easily. Puppies ARE a handful, Chev in particular would NOT kennel. He screamed bloody murder for weeks before I let him sleep by my bed, good ones NEED to be around their human. The ones I've had and bred tend to be very territorial too. Chev chased a 500 pound black bear out of the yard, they are fearless!
My dogs main jobs are to keep rabbits out of the yard, to stick by my side, and be my protector. His "working job" is to sit and stay for as long as I want, especially to "guard" the gate when I'm with the horses. You have to have an Alpha dog mentality and nix any bad behavior immediately. My Aussies have always been good members of society, but I always made sure they went to farm homes and to people that could be with them most of the day.
Be sure to become well acquainted with the breeder. Too many Aussie puppies are being pumped out for agility and have had terrible consequences for the breed. Be sure to look for a breeder that breeds FAMILY dogs. I can PM you an excellent source, but the good ones don't come cheap. I wouldn't look at dogs that average less than 60/70 lbs. The good Aussies are the large ones, IMHO. With emphasis on temperament and trainability.
Here is my boy Chevy. I bought him thinking I would get back into breeding but haven't yet. He is LARGE (100 lbs), intelligent, a loyal protector, and 100% a mommas boy! He was bred to do
some
work but mainly for a family dog (he's pretty good at herding my chickens, only when I ask, horses are OFF LIMITS!). He is by my side 24/7.
Me on the balcony, told him to stay, the other dog in the background is a Golden Retriever, Derp derp derp!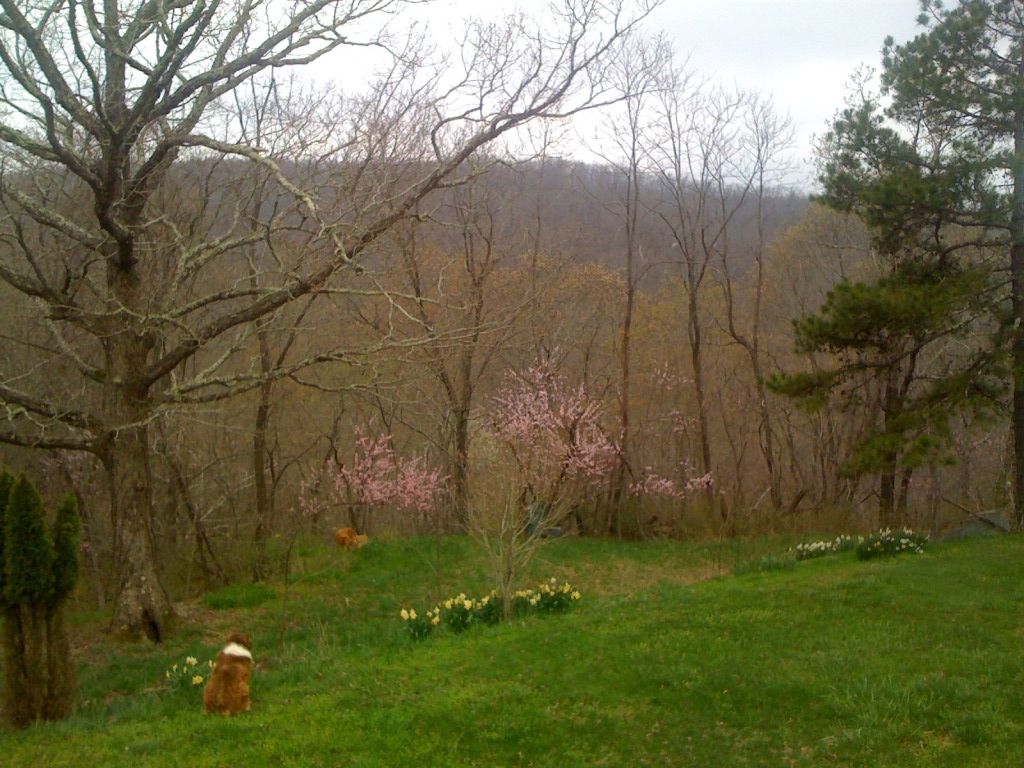 He's always got his eyes on me.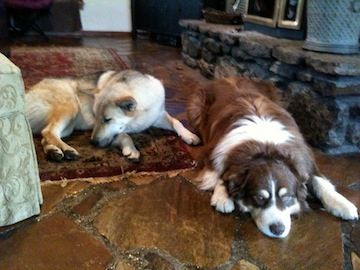 He was so cute!
Now my big boy!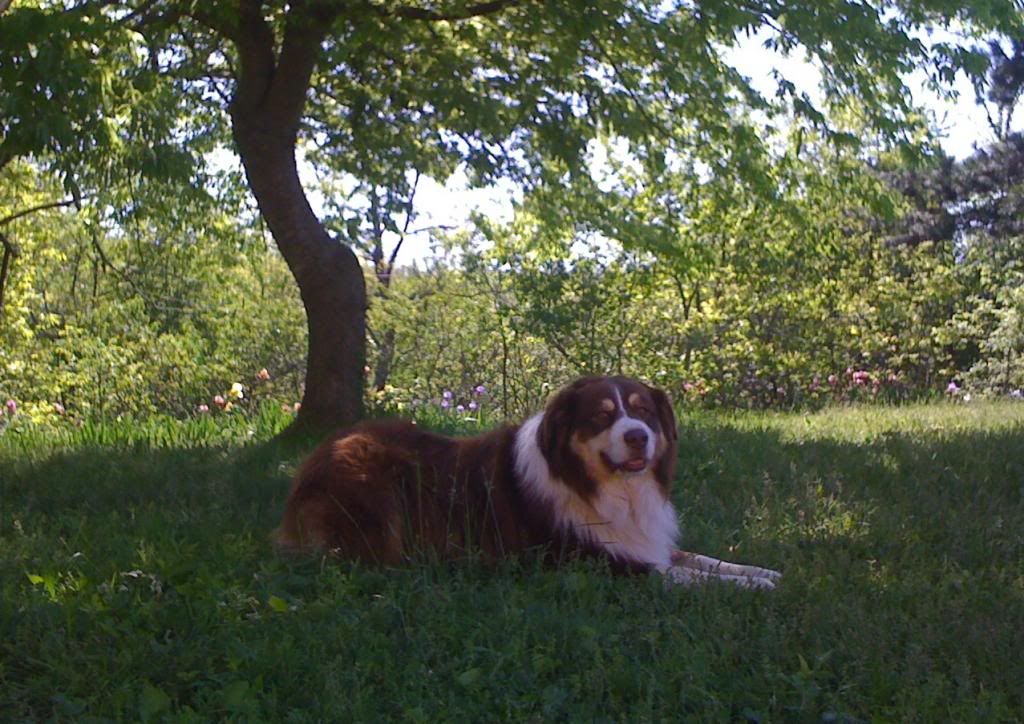 ---
You can get a lot further with a ladder than you can with crutches!!
What do you mean what do I mean?
Trained
Join Date: Sep 2011
Location: Hour and a Half from Town!
Posts: 6,324
• Horses:
2
Oh, one tip.
When choosing an Aussie or herding dog puppy I always look/ask for the loudest one. The one that squeals the most when mom walks off, or throws a fit when squished by the others, NOT the most independent one. The louder they are the more they tend to be the clingiest and well behaved.
---
You can get a lot further with a ladder than you can with crutches!!
What do you mean what do I mean?
I love Aussies, I've had two. They're excellent dogs on the farm, on the trail, in the bush, whatever.

The downsides:

- they herd. even your horses.
- they can tend to be quite protective of the property and family. I actually had quite bad aggression issues with my male, and my female is enough to scare people from getting out of their vehicles sometimes. From what I've heard from other Aussie owners this is not uncommon.
- they NEED to be kept active and have a job or they can be a pain in the ass lol
Oh my god Flygap your boys face is like my old boy's face but he was a black tri. A great dog, got him out of a stock trailer at 6 months of age. Sweetest thing, if I could get another like him I would, but the breed has changed so much in the 14 years since I got him. A lot of small, high energy, wispy looking dogs with just bad temper are becoming the norm.

I currently have a lab and he is a laugh and half.