Registered names
---
So I finally have to admit it, I need help. I've been trying to come up with a registered name for my colt, and it's clear I'm not going to come up with anything on my own.
Barn name is Quest, his name does not need to have anything to do with either parents name (SBR Formula One x Tahquechi Blue), but if possibly would love something to do w/ his barn name, so anyone want to take a stab at it?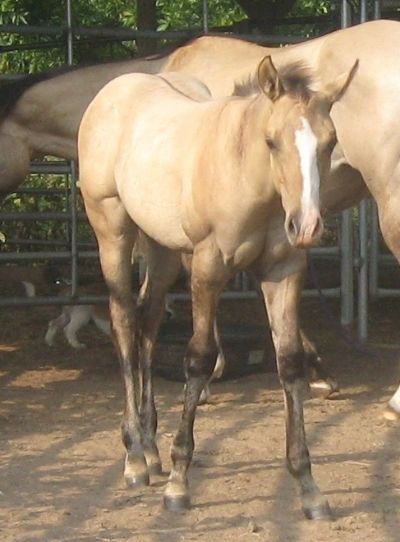 I also have this grade red dun colt, and I'm thinking about registering him with the American Buckskin Registry Association, so if anyone could think of a good one for him that would be great to! I've bounced around a bit on barn names, but I think we're going to call him Harley,
Quest for Victory
Quest for Gold

Thought I had more but the creative juices just arent flowing lol Ill keep thinking :)
Posted via Mobile Device
Ok I'll Try some
Just one request
Just one Question
One Formal request
Quest for the Blue
Can I just have him? SBR Formula One is stunning and your colt looks like he has a pretty big booty already.
Both colts are absolutely adorable!

Names for Quest
One Dun Quest
Questin' On
Last Request
Final Request
Quest 'n Go
Blues Not Requestin'
IM Not Requestin'

For Harley
Dun Gotta Harley
Shine On Harley
Red's Revvin' Up
Just for Show
CantYouSeeIMDun
Here Comes Harley

That's all I could think of right now.
Showing
Join Date: Jun 2011
Location: Cariboo, British Columbia
Posts: 11,777
• Horses:
3
The last colt there you call Harley is compact little dude, quite like a "Harley Sportster". Both are nice babies!
Posted via Mobile Device
One Blue Quest...?
He's soo stinking cute!
Thank you! Very helpful! Quest does have quite the booty, no plans on letting him go anywhere!

I picked up Harley (and his half brother) to keep Quest company during weaning (only went to get one, but ended up taking both). I'm told he comes from registered stock (AQHA), but the breeder didn't register him. I'm wishing I had gotten more info about his pedigree, the guy I got him from (not his breeder) had his half sister, so I could have gotten his dam's name, not sure he had the sire's name, but the half sister and a gelding he had were by their grandsire. But I didn't, and I figure it will be nice if he has some papers to go with him when I get ready to sell him.
For Quest:
Just One Blue
Questin(g) for Blue
Formula Blue
Questionable Formula
One Questionable Blue
On A Blue Quest

For the Harley:
Harlequin's Code Red
On A Red Harley
Smokin Hot Harley