My friend and me, was doin volunteering at a barn for therapeutic riding-- this really snobby chick come in and started telling us we didnt know anything about horses, and said the most rude thing to us 'if you want to volunteer here you have to clean ALL the saddles in the barn'

she was so rude with us throughout the whole day-- sayin things like 'it was her barn' etcetera. i asked to speak with the BO and she tried to say she was the BO.. i know who the BO actually was, and it aint no 14 year old girl.. lol.

anywho; she was really snotty the whole day and when i did get a chance to speak with the BO she told us that she was jealous because we were really knowledgeable and did really well with the people and horses.

i ended up not goin back to that particular barn for volunteer work again. i really liked it and helping the people, and bein able to work with the horses too. :(

it's really discouraging when someone is rude to you in the horse world, but don't let it ruin what you love doing. i regret letting someone run me off like that with their horrible attitude.
Posted via Mobile Device
God! I hate that! At my barn, I always catch so much crap about what I wear, what put on my horse, and how much I spend on all of it. I board at a barn with a bunch of natural horsemanship disciples/speed eventers/barrel racers. They are great horse people, very laid back and down to earth, but the second I put on my half chaps, tack up with my English saddle and my bridle with a nose band... I hear all kinds of jokes. They may not be serious, but I still think it's rude.
I don't want to feel ashamed about how I ride, especially if I'm not doing anything wrong. I have studied Natural Horsemanship too, and from what I understand, those techniques are pretty much how I have been approaching horses my entire life. I'm sorry I didn't buy out the Parelli store. I don't need all those high priced training tools to work with my horse. I can't even use a leather halter without getting a sideways look from my barn owner. All of her horses have rope halters and apparently it's just wrong to use anything else. My horse is well behaved, he will follow me anywhere without a halter so I don't even need one, really. I bought him a leather one because I think they look nice.
Plus, I am the only person who blankets my horse all winter. Every quarter horse and mustang on the property grows a long, thick winter coat. My horse is a thoroughbred, he just doesn't get as woolly. I made an even bigger "mistake" by buying a nice burgundy and green plaid blanket this year. My horse is a dark bay and he looks so handsome in it, but the first day he had it on, one of the other boarders made a joke about how it made him look prissy. Then he went on to say "Maybe that's why he is at the bottom of the heard, the horses think he's a wuss!" I was so mad.
I'm at the point now where I just don't give a **** about what anyone else thinks about me and my horse. I love him so much, I would never do anything to make him uncomfortable for my own personal satisfaction. I may be the odd duck at my barn, but they will have to get used to it. I'm not changing the way I ride or the things I do for my horse to make them happy.
So there! Rant over. Lol
---
"A rider who would trade partnership for obedience
will have to settle for neither."
Quote:
LMAO your horse's expression!!!!
---
"Strength is the ability to use a muscle without tension"

Yearling
Join Date: Feb 2012
Location: Wide Open North Dakota, USA
Posts: 977
• Horses:
2
I have encountered a large stereotype in my area of owning a gaited horse. All the people at my old stable gave me a lot of crap because she wasn't a "real western horse". Explain to me what a "real western horse" is..? She and I rode in western tack that fit us both and that allowed her to gait very comfortably, and unlike most people down there I actually took care of her by keeping her groomed and on a strict feeding schedule (she can get very, very, very bad hay belly from bad hay). This was off the wall to them. When I would try to feed her by measuring out how much to give her by weight instead of amount I caught hell for it. Quite frankly to them she was just a horse with a pretty mane and tail and nothing else. Just because she wasn't a quarter horse, an appendix, or a paint she wasn't worthy of western tack or their time. I got out of there as quickly as I could and now am somewhere that I feel good about and can have the freedom to do with my horse and treat my horse as I please. That is my little rant haha
---
You have to learn how to fall before you can learn how to ride~

I used to be judged as "stupid", "poor", and a few other degrading things because I rode Western at a mainly dressage/saddleseat barn. And when I finally did switch to dressage, when I was riding at the barn, I was in jeans and cowboy boots. I was comfortable and fine with what I was wearing, and it didn't bother me or my horse. And when I lugged the big Western saddle out and practiced barrel racing or pole bending, you woulda thought they were gonna have a hard attack.
---
To see the wind's power, the rain's cleansing, and the sun's radiant life, one need only to look at the horse.
I get crap from my BO all the time about not cleaning all 16 hooves everyday, but then she catches it when dinner isn't on the table when I get home so I reckon it balances out well. lol
Hmm.. I have seen quite a few interesting ones.. a lot of "Barbies" I call them... blonde hair, blue eyes, pink everything, big expensive horses... nice enough people though.
Got told on this forum that because I do Hunter's it's for "prissy girls"... honestly I am far from "prissy". I hate shopping, unless it's in a tack store. I would rather be around a bon fire then a club any day. My SIL calls me a "Hick" all the time lol...I used to get shot down a lot when I rode at show barns, my saddle wasn't the nicest, I like my conservative Grey Hunter Jacket & my Field Boots that are both 40 + years old, they were my Mom's at my age... I will never ever get rid of them, ok, maybe I am a bit of a hoarder lol, hey, if it's not broken, why get rid of it right? I've been asked so many times why I am wearing "Out-dated" things, but, any judge has always complimented!
Me & My Brother at our second show!!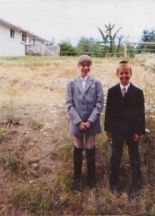 13 years later... same jacket LOL!!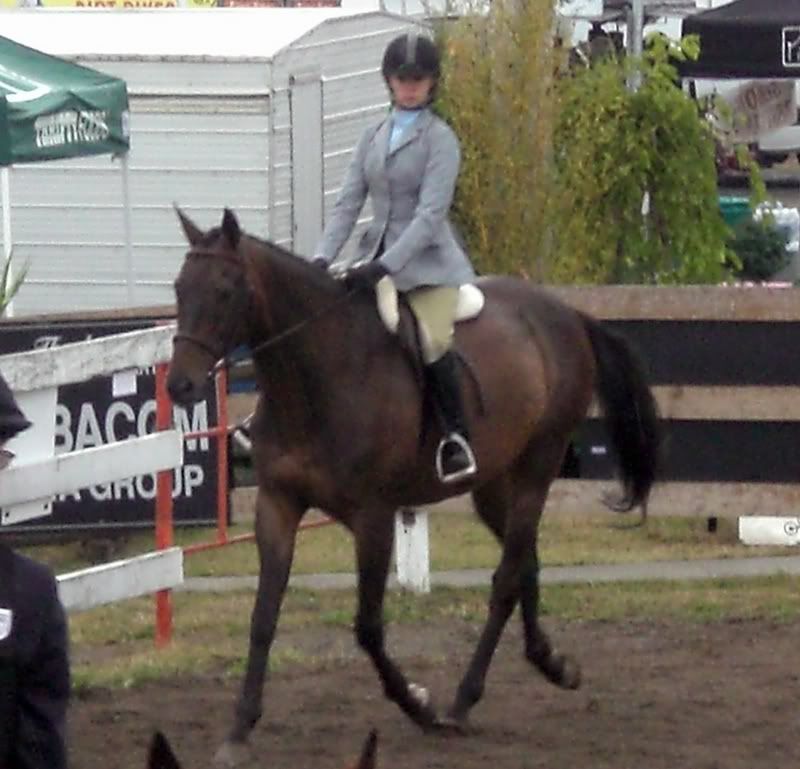 ---
~A Cowboy's Chance~
1977-2011
Rest in Peace
I don't think it matters what you are- girly or tom boyish- as long as you are loving what you're doing.
I have encountered sooo many stereotypes that I started to fall back on the old- "be yourself and the ones that are important will be themselves with you".
Love your horses and ride- they love you no matter what.
So long as you can "rough it" when you need to-strap on those gums and wade through the mud to catch and groom your made caked pig pen pony-I don't really care how posh you dress. I just don't want to hear any whining if you rip your $300 breeches on a stick on a trail ride, or because your leather boots got muddy. At the same time, I don't want to be judged for NOT having as fancy turn out around the barn. Similarly, I think the opposite is true. There's a time and a place to dress nicely. For example if you're riding in a clinic, I think it's a little rude showing up to ride with your tack dirty, wearing your PJs instead of breeches. So I think there's a time and a place for both, and a lot of middle ground in between.
Quote:
Originally Posted by
Skyseternalangel
View Post
LMAO your horse's expression!!!!
LOL He was speshul <3
---
And those who were seen dancing were thought to be insane by those who could not hear the music