Ridiculous "Equestrian" Fashions
---
Sheesh, people – just get regular breeches! xD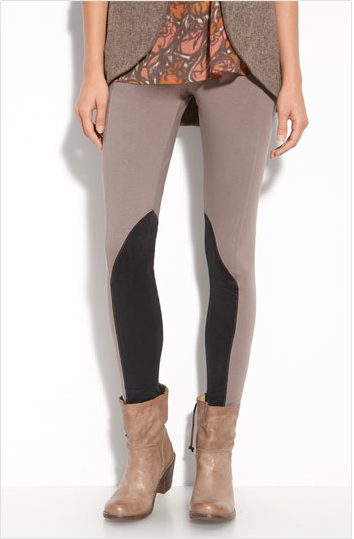 Nordstrom 'I Want a Pony' Leggings | Nordstrom
Have you come across any ridiculous "Equestrian" fashions? xD
---
The hills were bathed in moonlight, the shadows not so stark;
Silver light reflected off his brown hide as he held me in the dark
– I love you, Mudpie!
I live in Wyoming so our fashions are different. :P western to the extreme. My favorite is cowboy boots with just about any sort of dress. With some dresses it works but with others...................
I TOTALLY dislike some of the new style hunt coats. I like the Butt to be covered and find it very unflattering to have the butt sticking out from under a too short coat. It isn't just about tradition. It is about what makes a rider look good, IMO.
I think this is unattractive, personally.

How is this flattering? Where are the graceful lines? Look, I understand getting bored with the same 'ole same 'ole....But change, just for change, is not necessarily good.
I HATE the new zip-up hunt coats.I saw someone at a recognized Event wearing one for dressage and it looked so unprofessional.

Here's a picture. YUCKY!
---
I was a dreamer
Before you went and let me down.
VB, I was going to mention the zip coats! I think they're hideous.
Posted via Mobile Device
The upside is now I feel less weird in the supermarket with my riding gear on! Heck, I'm going shopping at the chinook centre now rocking my kerrits!!
Why do they have to be all bright and fancy, there breeches!
---
Quote:
Originally Posted by
VT Trail Trotters
View Post
Why do they have to be all bright and fancy, there breeches!
Those are actually just fashion "leggings." xD
---
The hills were bathed in moonlight, the shadows not so stark;
Silver light reflected off his brown hide as he held me in the dark
– I love you, Mudpie!