Yearling
Join Date: Feb 2012
Location: Wide Open North Dakota, USA
Posts: 977
• Horses:
2
Riding Withdrawals
---
Alright everyone, so going to drop a small bomb here. My man and I are expecting and I'm going through serious riding withdrawals. My doctor has said ABSOLUTELY NO RIDING. However, there is this physical itch in my bones to go for a ride. Granted I won't for the sake of the baby and I, but any of you other ladies that were pregnant or are or any of you gentlemen that dealt with a riding withdrawal stricken lady how do you or did you cope? This is the hardest thing I have ever had to abstain from. Ever. Some helpful ideas are seriously needed before I go into riding withdrawal shock or detox
(those of you that work in a hospital may understand that little detox note ha...especially when its around the full moon and everyone is out drinking)
---
You have to learn how to fall before you can learn how to ride~

Congratulations.

Are there complications or would your Dr tell any pregnant lady not to ride?
If there's no complications, I would still ride, but that's me.

As far as the withdrawals, I live in a cold part of the world, and don't ride in winter. There's no indoor where I board, and I detest the cold.
Yearling
Join Date: Feb 2012
Location: Wide Open North Dakota, USA
Posts: 977
• Horses:
2
As of now there are no complications, the only thing is that I may be re-evaluated as a high risk pregnancy because I'm only 4 foot 10 however I don't see how that effects my riding.

I live in ND and usually in winter it is so cold that you never want to leave your house, however today it jumped into the high 30s and my cabin fever is at an all time high. One of the reasons that I'm not riding is that I am already showing a fair amount of belly. Granted if you couldn't tell right now that I was pregnant I would be riding today (that and if I had all my homework done...ick college...)
---
You have to learn how to fall before you can learn how to ride~

It's totally your decision, and whatever you want to do is right for you. But if it were me, I'd ride.
Congrats! Thats always exciting news! I personally rode during both my pregnancies and with Dr approval. Only at a walk, in an enclosed area with supervision by someone with lots of experience. Another important factor is the bombproof horse and those are hard to find. I got lucky with my gelding. I did break the enclosed area rule and went on a few small, very easy trail rides too. And as soon as my daughter could support her own head she was in a front pack on trail rides with me. I'm a bit old fashioned when it comes to all these overly paranoid pregnancy recommendations. Once upon a time, horses were the only transportation other than your own 2 feet. I highly doubt pregnant ladies with the option would choose to walk. Just got to be smart about the horse and the surroundings and once your big enough that you start losing your equilibrium stop riding because that is just asking for a fall. But if your doctor has a good reason then listen to your doctor, he will have the best advice 99% of time and always follow your gut, mommys have a way of knowing.
Posted via Mobile Device
Congratulations! :)

I'd wait it out personally. I am very passionate about riding but hey you can wait till after your babycake and then ride all you want without having to worry about affecting your little child.

That's just my opinion, though.
---
"Strength is the ability to use a muscle without tension"

Congrats on the baby!
I think the last time I rode was when I was 4 months along with my pregnancy. I got away with it because I wasn't really showing. I went from riding 8 horses a day as a trainer to riding nothing, so I was itching pretty badly. I went horse shopping and rode some prospects before finally settling on a little black unbroken mare.
This kept me occupied through the winter, since she was untouched and basically just needed fed and cuddled and ground mannered. I fed all through winter (which was harder and harder seeing the grain was kept in a huge freezer and after a while I couldn't bend down into it!). I also did a lot of problem solving when I had to move grain and hay since I wasn't able to do it the way I was used to (you know, carrying it!)
When I was around 8 months I started her on the lunge and just did a lot of ground work with her, getting her ready for a rider.
Within a week after I delivered, I hopped on her for the first time.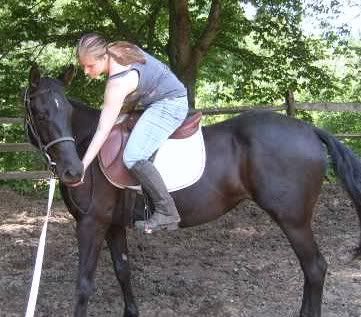 I got through it by setting a goal through my pregnancy and working on it. I also wrote a blog during this time to show her progress and was able to log the things I did.
You have to be very careful though and use common sense when dealing with a large animal while pregnant, however. If she hadn't had such a sound mind, I would have never been around her. Accidents do happen though. She gave me a black eye during feeding time once because I couldn't move fast enough and we knocked heads. She got a lesson in patience after that and I got a lesson in caution.
Maybe you could set some goals to do while you're pregnant. One that you can only achieve after baby is born, and work towards your goal at a slow, steady pace. Thats what got me through it :)
---
And those who were seen dancing were thought to be insane by those who could not hear the music
I don't have any advice, but CONGRATS!!!
---
"There's nothing more humbling on the planet than horses." --Sean Crocker
Hey congrats!!! I don't have kids, and probably won't for a while yet, but I know that if I had a pretty calm horse and was able to be in a fairly controlled environment I wouldn't let a Doctor tell me that I couldn't ride unless there was complications that might put the baby at risk. I agree with countrylove and say follow your gut. If it feels okay, go for it; if not don't try
---
The only view I want to see is the landscape between my horse's ears <3
i rode up until i was t months but i also was diagnosed with complications that could severly hurt my daughter. i had to put him down because of a broken leg at 23 weeks pregnant. i was a mess. congrats on the baby!!!
Posted via Mobile Device