Royal Casanova
---
So as some of you know I bought a stud at auction for $41 a while back. Today I was out on the property and working with him, picking up his feet, leading without a lead (mind you never done a join up with him or any for of training similar, respecting personal space while still paying attention, etc (just little basic things). Well I wanted to see how he would react with me being above him so I walked him over to something I could stand on and had my novice friend hold his halter (still no lead rope at this time). I, of course, told her that is he got to spooky or tried to move off to step behind the object I was standing on and let him go and only after she said she was comfortable with it. I have laid my arms over his back and rubbed him around his girth line and put a little bit of weight on him from the ground while I have been working with him so I knew he would stand to let me rub his back. So I put my hand on his back and leaned on him a little, he stood. I laid my arm on him and tapped his other side with my hand, again he stood. Laid on him, slowly enough that he wouldnt spook to quickly and try to run my friend over and so I could watch his reaction, he barely flicked his ears back. So my friend asked me if I was going to try to sit on him I said "no but I'l flip my leg over his side (I was on his 'off side' at this point because I didnt expect to get on) again he just stood, still no lead rope. So she said "you should try to sit on him! I want to see what happens" I said 'ok but if he even looks like he is going to take off you move out of the way' So I slowly slide the rest of the way onto his back and he just munched on alfalfa packs.
So out of curiosity (I know "killed the cat") I brought out tack to see what he would do with it. Rubbed the blanket down his side and laid it on him slowly pulling his mane out and rubbing his shoulder...nothing. The first attempt to put the saddle on he stepped off to the side the second he just stood there. He let me drop the girth and stirrup and barely flinched. Then I started to slowly cinch him up and he was fine. At this point he did fuss a little and buck a little but it was my fault I cinched it up to quickly, however, He would not buck near me or my friend he pulled back and when I let go went to the other side of the pen to buck. When he got it out of his system he walked right back over to me. Slowly because he was unsure of the saddle but he figured it out. After that I would tug the cinch tighter just a little bit and then release before he could step back or take off. We gave him a bath and came back later and he stood fairly calm for a bath (I dont know if he ever had one before) and then when we came back stood perfectly still for the saddle.
He did take a bit today but he is really fussy with his mouth so I think someone ruined him with a bit and it was a little big but he played with it in his mouth trying to figure out what it is and then let me take it back out without trying to jerk his head around.
I saddled him with the lead wrapped around a rail once the second time and he stood perfectly!!!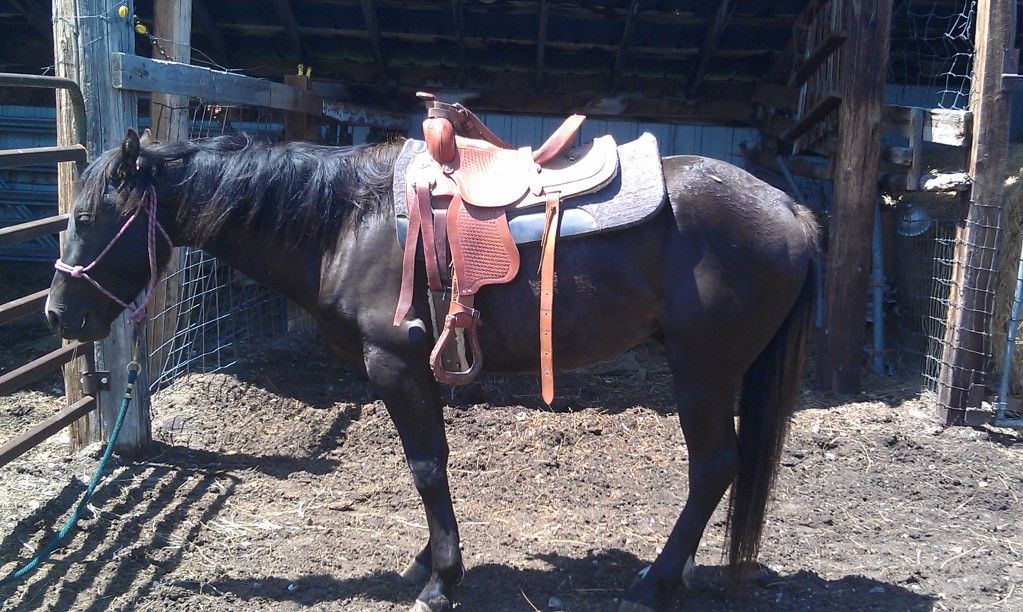 Third time sitting in the saddle
Ironically I am told that he is aggressive and tries to tear down the fences. An aggressive stud wouldn't let me on his back, on from the off side, with now bridle and no lead. Just saying
---
~Set Your Heart Free on the Wings of a Horse~
Mr. Sunshine
That 's so great that things went so well for you. So , just out of curiousity, why are you keeping him a stud? Do you have plans?
Well I cant get him gelded until he is healthy again but I do plan to geld him soon now that his weight is getting back up and he is less spooky. Although if I cant get him gelded before I leave then he will probably come with me as a stud. He is only 14h so I still have to decide if he will work for me.
---
~Set Your Heart Free on the Wings of a Horse~
Mr. Sunshine
So for a collection of updates on my stud. Yesterday I went out and someone had messed with him enough to spook him into something and he now has a huge chunk of missing skin on his chest. However he is doing a LOT better in general.
The day we got him
The first week with us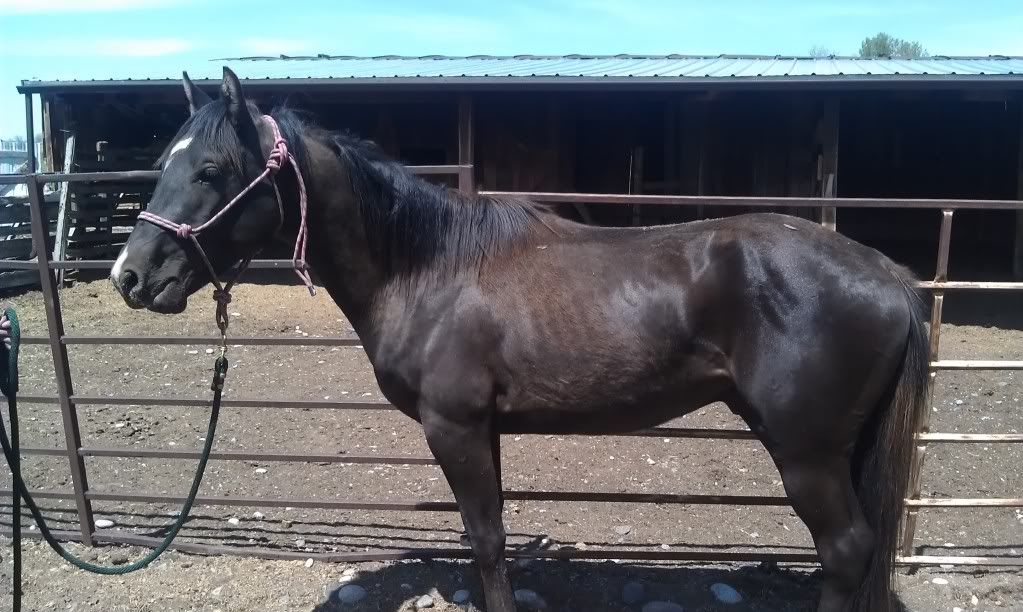 Two weeks ago
Three days ago
---
~Set Your Heart Free on the Wings of a Horse~
Mr. Sunshine