Rumor: 1 year later, From Deaths-Door to Thriving
---
I signed the Bill of Sale for Rumor on July 31st, 2012. A 5 year old Appendix QH, bred for the race track. She had minimal training, was basically broke to trail ride. She was meant to be my up-and-coming barrel horse. I sent her off to my trainer for a month to work on her w/t/c/whoa, leads and leg cues. She was there for 2-1/2 weeks and was doing extremely well in her training.
And then I got the call. On a Sunday morning, Rumor was 3-legged lame. I immediately went out to look at her. By the time I got there, she was walking, there was heat in her hock and she had some swelling. I figured she sprained or twisted it somehow. Possibly kicked by another horse? We will never know for sure. But to be safe, I had the vet come out. We XRayed it, and everything looked fine. The vet told me to take her home, let her rest for a month or so, and then bring her back into work. Okay. Picked her up Monday and took her home. She was pastured by herself to recover. She was walking, but limping pretty severely. I was told not to stall her, but to keep her in a smaller turnout.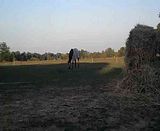 (Before all hell broke loose...Video)
Tuesday Morning comes around, I'm at work, and at 5am, I get a phone call from my mom saying that this is really bad. Her leg is horribly swollen. I said, yes, mom, I know. She said "No Chelsea, this is bad" She had to be to work at 6am, there wasnt anything we could do. I was able to get out of work early. And then I got home, I see this...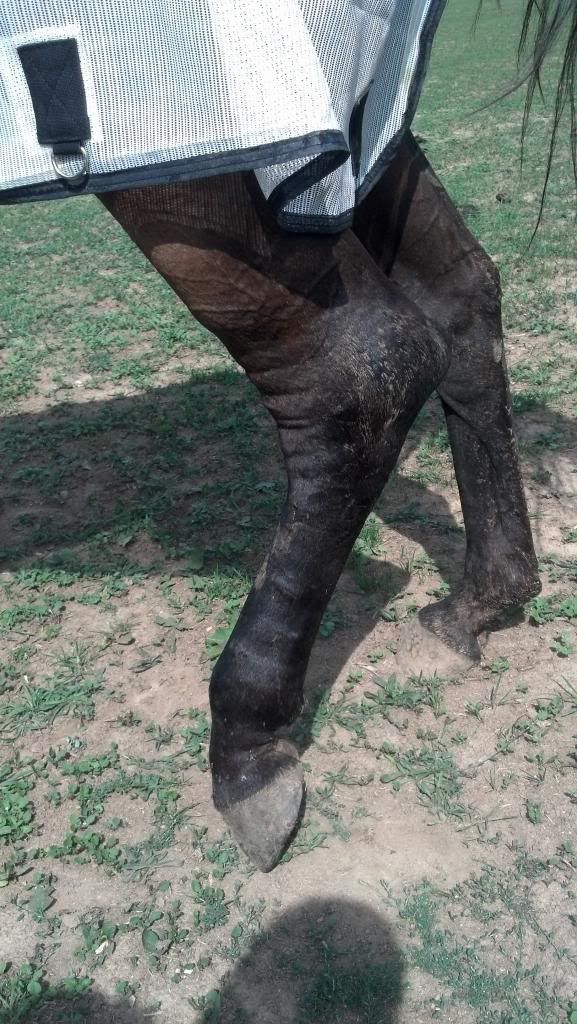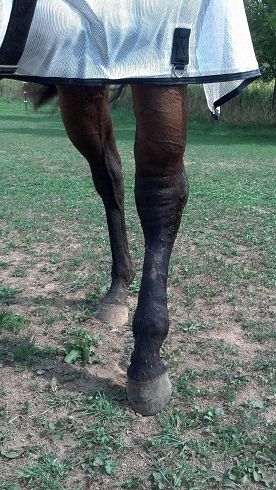 I immediately started crying, called my vet and told her she needed to come out immediately. The whole leg from groin to hoof was HUGE. It was HOT to touch, and she was not placing any weight on the leg at all. Flies covered her leg, she was absolutely, utterly miserable. It took by 45 minutes to get her up to the barn, which was a 100 foot walk at most. I couldn't even reach the hose to start cold hosing her leg.
The vet finally showed up and said we have a severe infection going on and she has contracted cellulitis. Whoa. That quickly? Yep! Vet placed a catheter in her neck, and we immediately started pumping antibiotics into her. IV Gentamycin. We also started her on IM Penicillin, 30 cc's twice a day.
It took forever to get her into a stall, but we finally managed. Bedded her down in some THICK shavings and she almost immediately laid down to take the weight off her good leg. Vet prescribed 30cc's Gent a day, and 60cc's Penicillin a day (morning and night) Both her IM, so she was getting 5 shots a day. She was also on bute. I wrapped her leg in a Hot Epsom Salt wraps multiples times a day to draw out whatever I could.
(Day 3, swelling decreased)
(Day 3)
Vet did not give a good outcome for us. Rumor couldn't bear any weight on the leg, the amount of pressure her good leg could take was only so much. We had no idea what bacteria we were dealing with, nor did we know how she contracted the infection in the first place. Her skin wasn't broken anywhere, no puncture wound in site, there was no scrape from a hoof from another horse...Nothing.
I was put on the spot about what to do. I couldn't spend $5000-$8000 on her if she required surgery. I couldn't stand to see her in so much pain. If she didn't get better quickly, I'd have to make the tough decision to put her to sleep and ease her suffering.
Rumor ended up being on stall rest for 5 days total. Day 1-3, she didn't put weight on the leg. Then at the end of the 3rd day, I saw her use it to shift her weight. I cried. And videotaped it. By the 4th day, she would stand on it some to relieve weight from her good leg. And the 5th day, I was able to hand walk her slowly and let her graze outside. The 6th day, I was able to place her in a small turnout and let her move about freely. I cried again.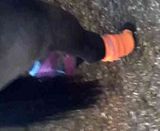 (Placing weight on leg for the first time...Video)
(First day in a small turnout...Video)
By day 5, she was HATING us for all the shots. She was getting downright nasty about it. So we ended up having to switch to oral antibiotics. (SMZ Tablets) 9 pills twice a day. We continued to give bute to help with the pain and swelling. The swelling did go down some over the few days, But it took awhile. Like months. After she was moving okay, I was able to put her back into a small turnout to graze. And then when Chilly came back home from the trainers, I was able to put those two together and Rumor seemed to continue to improve. Still a major limp, a 4/5 on the lameness scale. We continued with the SMZ tablets for 5 weeks. The swelling was still moderate and she was feeling much better. Her eyes were clear and perky and she would even attempt to trot in the pasture. She had lost a lot of weight with the stress she was under.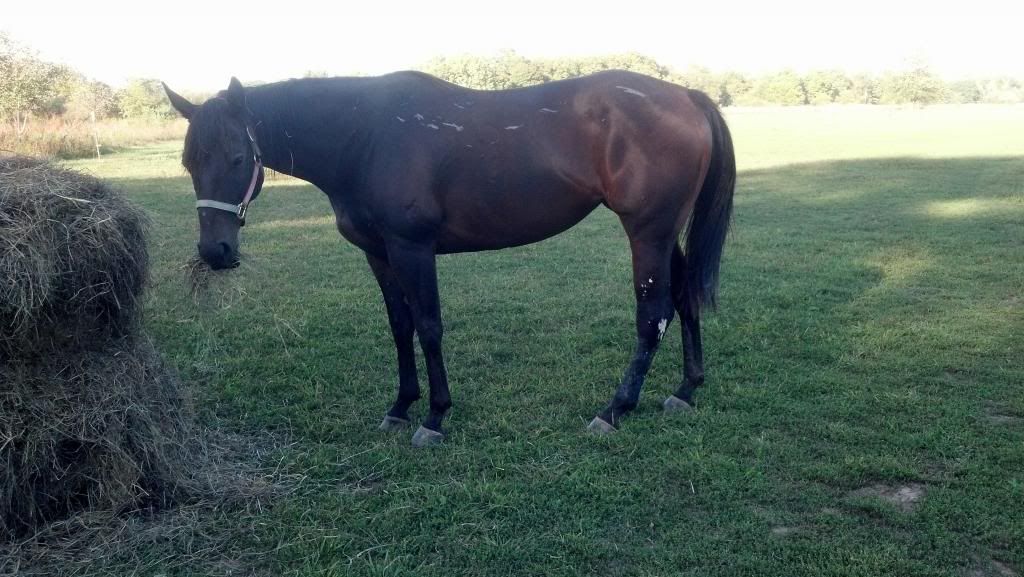 ---
"The greatest pleasure of a dog is that you may make a fool of yourself with
him and not only will he not scold you, but he will make a fool of himself too."
-Samuel Butler
I had the vet out multiple times to look at her. And finally she decided to see if the infection had traveled into the joint. We took a culture and sure enough, her joint fluid was like water. Clear and super thin. It should be sticky like syrup. We ended up doing 2 joint flushes (1 week apart) to flush out the infection. Again, with Gentamycin. The 3rd joint culture came back negative of any bacteria growth, so we were finally on the right track. We were 6-7 weeks into this injury/illness by now. Way too long...
(Awaiting her first joint flush in October)
(Before Joint Flush)
October came around, and we decided to have a XRay of the leg/hock to see what type of damage that the infection did. Our initial XRay indicated a dark spot on the big rocker bone in the hock. My vet is not experienced in that area, and she referred us onto a lameness specialist. So off we went. Come to find out, that dark area was missing bone. The infection ate away and destroyed a chunk of her bone. It was just, gone. This vet gave us a 10% chance of her even being able to be a barrel horse. Less then 10% actually. He said to give her 6 months off and start trail riding her if she seems okay.
He said that she will ride, but probably only be a trail horse. The bone would re-grow, but, it was either going to heal okay (highly unlikely) or it would take a honey-comb effect, be brittle, weak and sharp and cause problems eventually. Leading to her having to have surgery to round out the rough edges.
You can see that her weight was much better and she was doing well!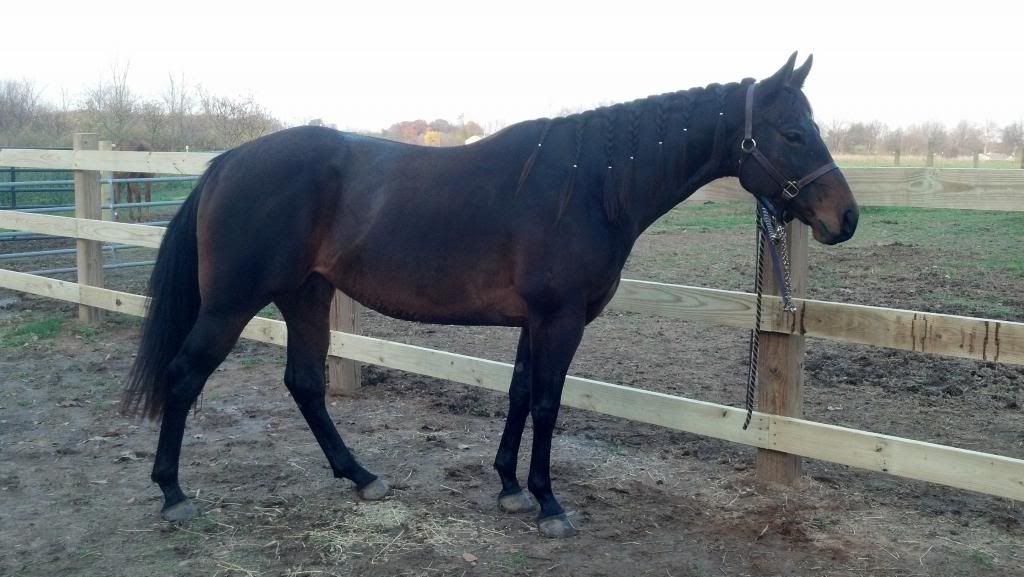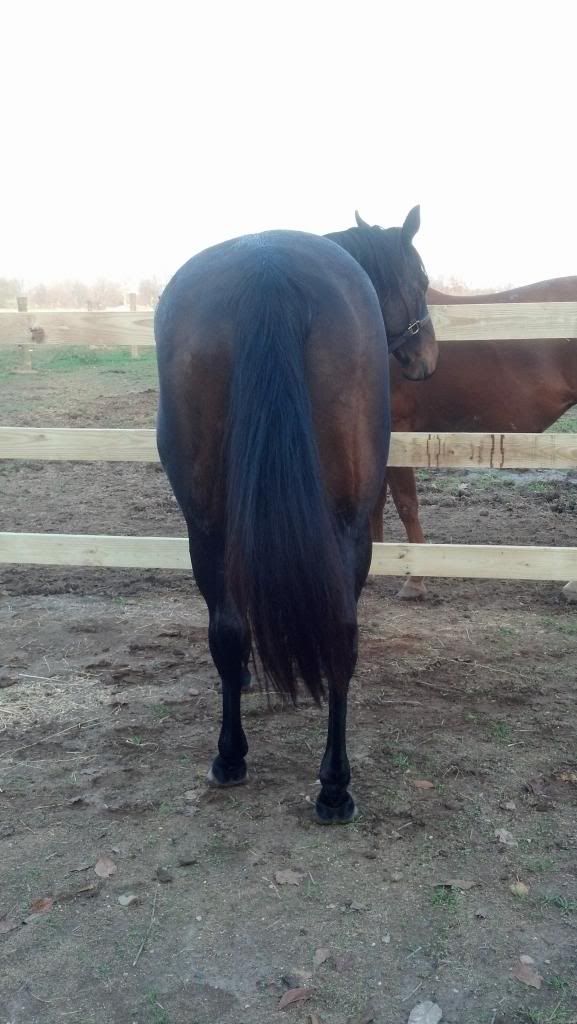 (Hip out of alignment)
(Leg Looking Better!)
She continued to progress in her healing over the course of Fall/Winter.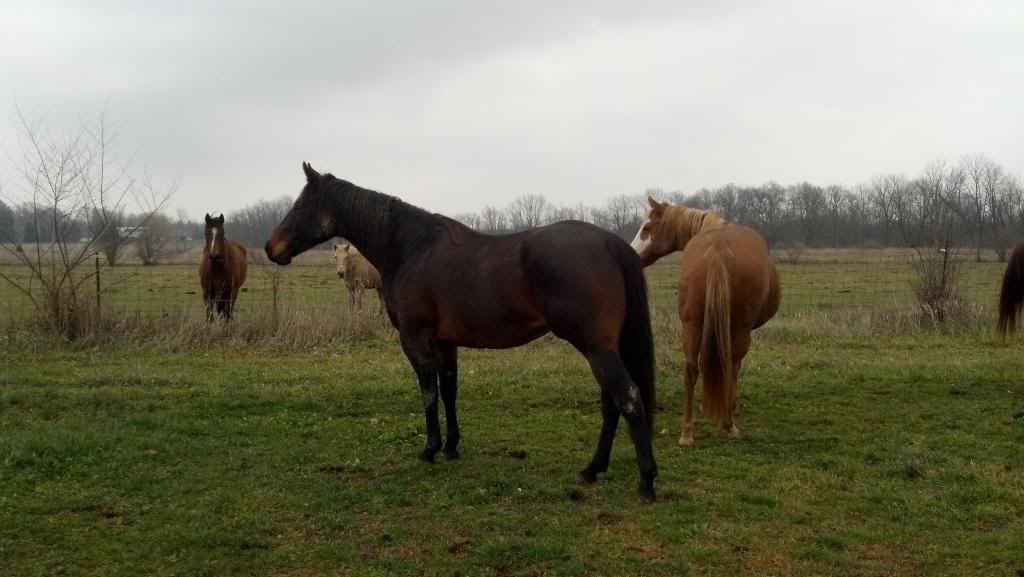 (December)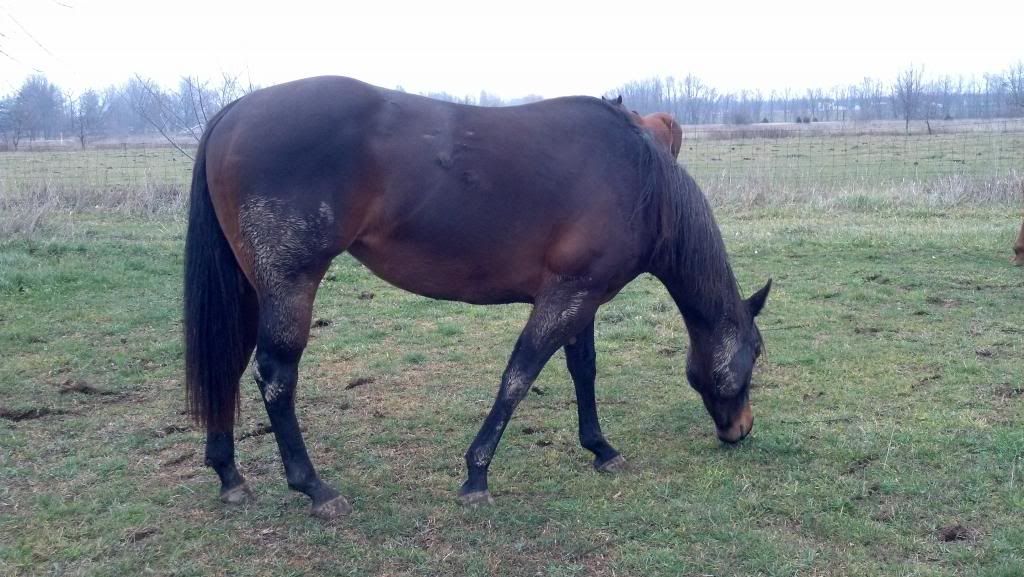 (December)
(December)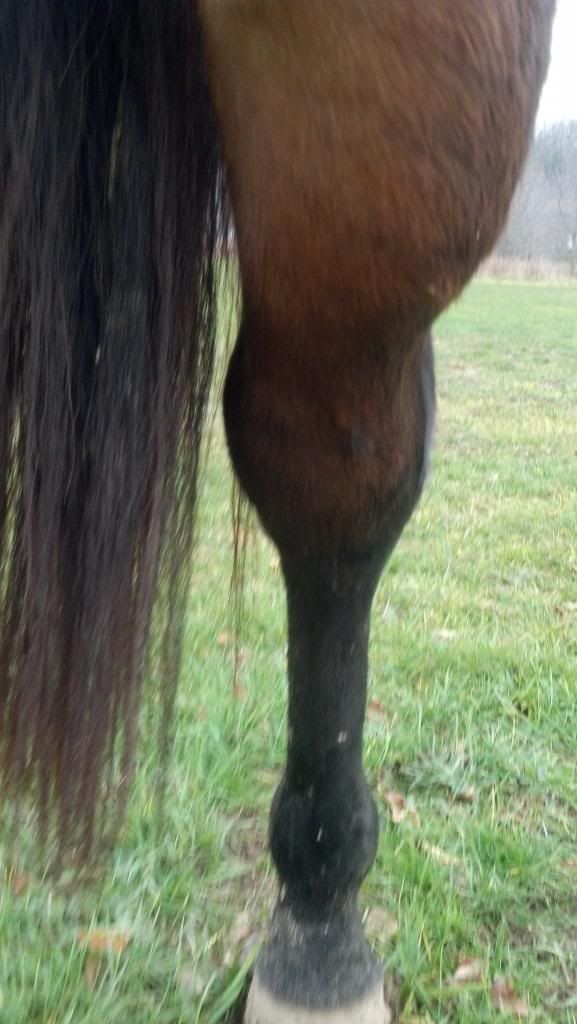 (December)
---
"The greatest pleasure of a dog is that you may make a fool of yourself with
him and not only will he not scold you, but he will make a fool of himself too."
-Samuel Butler
In March of 2013, We took her back to the lameness specialist for another set of XRays. She no longer appeared to have a limp. Still had minimal swelling, but in the cold weather of Michigan, It was to be expected. I anxiously awaiting the XRay results, and when they finally came out, I couldn't breathe. Then he said the words I hadn't expected to hear. Her bone regrew, perfectly. It was smooth and rounded and thick. You couldn't even tell she had ever had a problem. He did say she now has minimal arthritis in her hock now, and she does have a loss of flexion in the hock, but long-trotting her and slowing bringing her back into work would help with that. Overall, No-one could believe it.
(Mid-March 2013)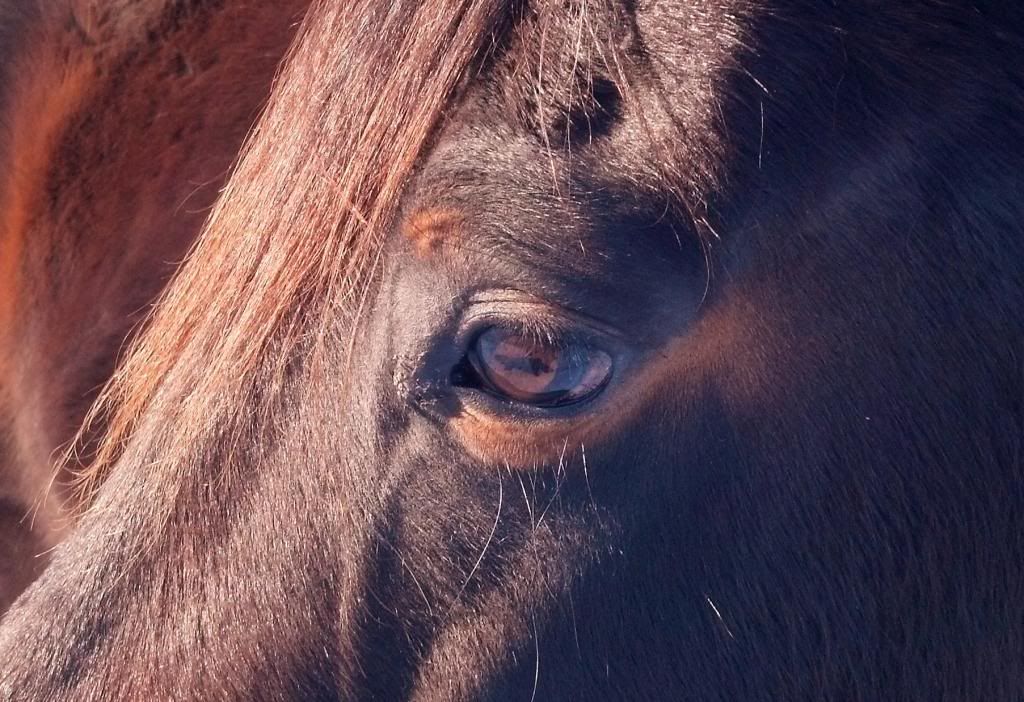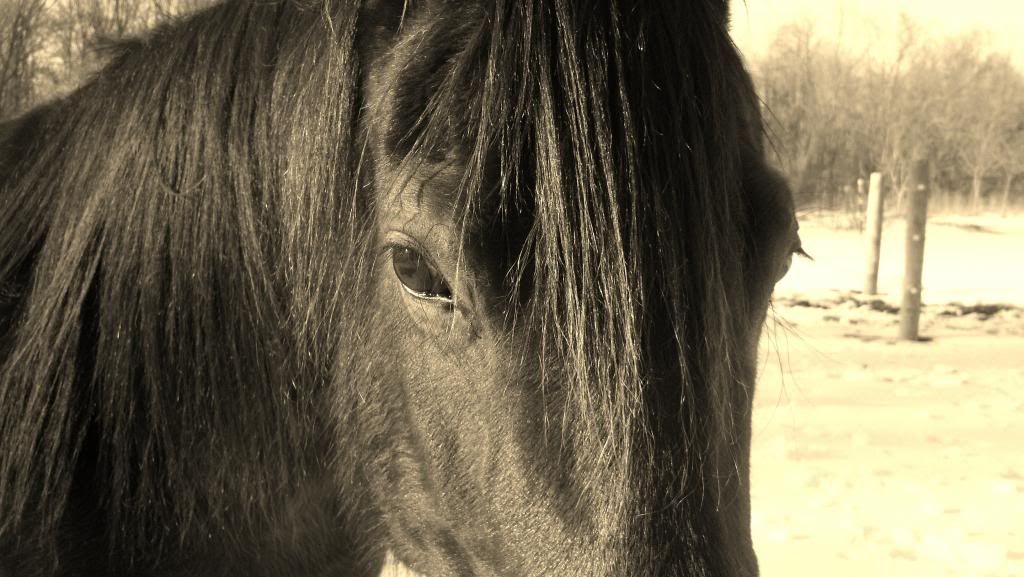 He said to bring her back into work slowly, and work your way up into barrel training. If she does okay, increase her workload, if she doesn't, slow back down. He said you won't know if she'll make it until you try. And from the looks of this, there is nothing holding her back anymore. Night and Day difference in the XRays.
I had a chiropractor out to adjust her. Her hip was out, as well as her back and neck. The hip was drastically lower on her left side due to her dragging the leg for so long. So I slowly started riding her.
And now we are here. After everything that we have been through, It's flat out amazing. I never believed we'd be here. I am astounded and so impressed with how far she has come.
These videos are from last night 9/7/13. Just over 1 year since the injury. (It was actually Labor Day Weekend 2012 that the injury happened and our initial vet visit)
(First show of the year)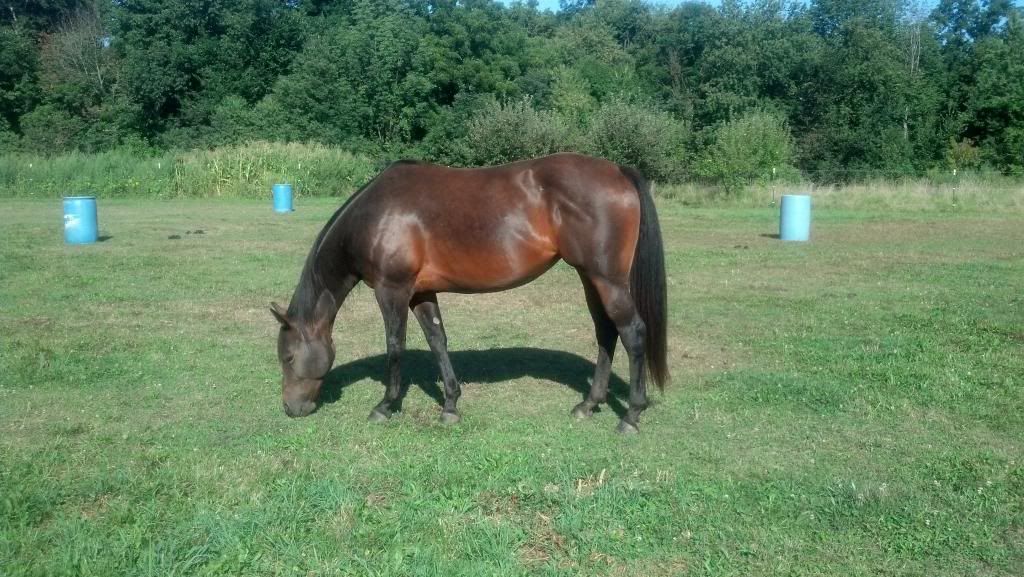 (Out to pasture last week!)
It has been a ridicliously crazy first year with Rumor. I can't believe what we have gone though. Getting up between 2am-4am to go medicate her and feed her before work. Spending all evening with her wrapping her leg, cleaning her stall and just spending time with her to make her feel better. I'm so emotionally attached to this horse now. We were so close to losing her, it's unreal. It was all worth it though. To be able to ride her in the arena (even though it's not perfect and she needs ALOT of work) It's all been worth it. I'll never take advantage of one second that I'm able to spend in the saddle on her. One day she will not be able to ride, as she ages, the minimal arthritis she has now is going to increase and get worse. But I'm going to enjoy every second I can with her.
This is my favorite video of her having a good time in December 2012. She was cracking me up and I love her floaty trot at the end. That right there is what has made this whole long expensive process worth-while.
---
"The greatest pleasure of a dog is that you may make a fool of yourself with
him and not only will he not scold you, but he will make a fool of himself too."
-Samuel Butler
Yay what a great result!!!! Happy healthy horse + rider = wooo!!
---
"Strength is the ability to use a muscle without tension"

Awesome story! Pretty cool that you never gave up on her. Good for you.
Green Broke
Join Date: Jan 2010
Location: south of nowhere, north of nothing
Posts: 4,643
• Horses:
6
wow dedication! kudos to you for never giving up on her and glad it worked out so well for you both!
I can't believe it's been a year ...
Your show videos are set to private. :(

I am so glad she is doing well!
---
Celeste
Carpe Diem!
Wow, amazing story. Very inspiring!!!
I know it! I was typing this thread and trying to think of a title for it! And I just realized...Holy crap...It's been a year!
The really nice thing about having her around, and being young. Is right now I can ride her and continue my dream of running barrels with her. (Although its hard to work with her because I don't have an arena with good footing and I won't do any canter work with her on the hard packed ground...So I'm only doing my canter work at shows and boy-oh-boy is it ROUGH! I feel like she's cross-firing and it's just NOT comfortable to sit. She doesn't know what she's doing with her legs and her balance is off. And ontop of it, I can't lunge her because of the repetition of going in circles. LoL. So...Continuing her training is going to be a...challenge to say the least. But...When she can no long run, she'll be retired to a trail horse and a broodmare. Her pedigree has some great names in it, plus she's a nicely conformed horse. Crossing her to the right stallion will make one incredible barrel horse. Her lines are quite sought after in the barrel industry.
She is just such a great horse. I am so happy to have her!
---
"The greatest pleasure of a dog is that you may make a fool of yourself with
him and not only will he not scold you, but he will make a fool of himself too."
-Samuel Butler