Sadie situation
---
All I have to say is.... YIKES!!!
When we got Sadie from the rescue back in February she was bones. She put on weight rather fast and looked great. But then she started getting bigger and bigger. We had a dreaded feeling that something wasnt right.
My farrier was in agreement with us.......... we had a bad feeling that she is pregnant.
Had the vet out to do a blood test last week and the results are in. She is gonna be a mom.
Not good.
She's over 20 yrs old. We dont have a barn, just a shelter. If she was exposed to a stallion (and we think she was exposed there at the rescue) then she got pregnant late Jan/early Feb. Which means a winter foal.
I am freaking out and dont know what to do.
Sadie, this past April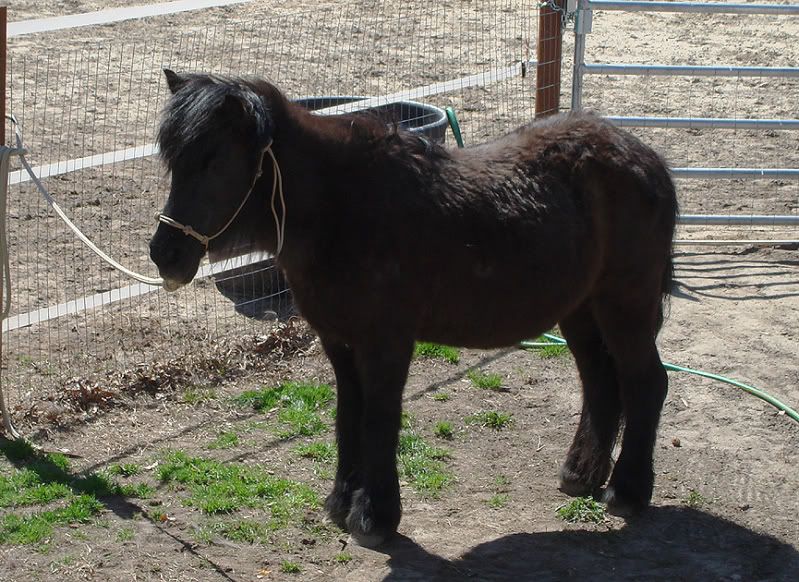 ---
Cocoa - 32 yr old QH, Cherokee - 8 yr old TWH & Toby - 16 yr old QH
R.I.P. Cocoa 4/13/78 - 2/9/11
Is your shelter one that could be fairly easily converted to a more substantial (fully enclosed) housing unit for her? Do you have any friends or neighbors with a better setup who might help you out with housing her?
Did you discuss your specific concerns with the vet to get a better idea of what his/her suggestions are?
Are you new to foaling?
Haha i'll take her on for you. ;D
---
"A good rider can hear his horse speak to him. A great rider can hear his horse whisper."
well it's a good thing that she's in a loving and caring home who are doing their best to make her comfortable and have brought her back from being a bag full of bones.
And since you got her around when you think she was bred, I would think the foal would be healthy since it started getting all the proper nutrition. (I'm just taking a guess here. I really don't know)

I would see if a. someone could take her in where there is proper shelter, or b. since you have a bit of time, see if you could make a quick shelter for her.
Yep, might have to just make a part of the shelter into a stall for her and the baby. Of course I have never taken care of a pregnant equine before so this will all be new to me.

I'm just sad that now there will be one more equine in an already over populated equine world. =/
---
Cocoa - 32 yr old QH, Cherokee - 8 yr old TWH & Toby - 16 yr old QH
R.I.P. Cocoa 4/13/78 - 2/9/11
Green Broke
Join Date: Apr 2009
Location: Queensland, Australia.
Posts: 4,488
• Horses:
1
Hmm I'm sure everything will turn out fine. I hope everything goes smoothly and goodluck.
---
Sir Success. Eventer.
2000 - 2013,