SENIOR HORSES - 20+ years
---
So perhaps your horse is past the 'good' years or so other like to think, hopefully here we can get members to talk about their golden oldies in regards to their general health, if in light exercise, any issues they have faced along the way, all things one can share really. Some of us get an old horse, some of us grow old with them, either way they are special in every way and should not be forgotten!!! Lets hope we can get your personal stories and all share your lessons and gain inspiration to the golden years!!!
My mare is smack in the middle of her "good" years, at 27 years old.
I got her when she was 23, nearly 4 years ago, so I'm getting the pleasure of sharing her golden years.
She's still in relatively hard work for a horse her age. We go on 45 minute-hour long trail rides, w/t/c/g, about 2-3 times a week and she (with a little help from me, haha) gives w/t lessons to a couple kids a few days a week.
I think part of why she's so sound and everything (never had a lame day, she's had days where she got trimmed too short n' such but nothing structural) is that she nearly killed a guy when she was 10 (he was being stupid and Lacey doesn't like stupid) so she was retired from that day on until I bought her. Of course, they didn't tell me about that until I had put a lot of work into her.
She needed A LOT of training when I got her, and luckily I was able to train her, so I'm just now starting to reap the benefits of having a really reliable older horse. She's still very opinionated and I feel like she'll always be that way, but it makes her fun.
The things I'm extra careful to do due to her age are keeping her as fit as I can and I give her a really long warm up before I ask her to gallop or doing anything unduly stressful on her body. I also make sure to not let her get too tired. I worry that she'll get too tired one day and end up injuring herself because of fatigued joints. I guess you could say I'm just a bit overprotective. haha
I also make sure to blanket her all winter. I feel like it's a kindness to her because, although she'd survive being unblanketed, she's happier blanketed.
Basically, my motto with her is: after she's gone, am I going to be happier knowing that I stuck to my guns about not blanketing if shelter is available, or that she was always clean becuase I never let her roll in mud, or whatever, OR am I going to be happier knowing that she was snuggly in her blanket all winter, or had a great time rubbing the mud into her fur after a ride, or whatever else makes her happy.
I choose the second option, so basically I go out of my way to create Lacey's life in a way perfect to her. For her, that means being blanketed all winter, living alone with 2 llamas for a little companionship (she gets shoved around by other horses and then she gets depressed), having little kids come see her all the time, getting to roll after every ride with me, and just being loved.
I figure that she's lived this long, she deserves it!
She's a real sweetie... I hope you won't mind me attaching a picture... :)
---
Fabio - 13 year old Arabian/Lipizzan gelding

~
Rest peacefully, Lacey.

---
Last edited by Wallaby; 03-23-2012 at

01:16 AM

.
The girl I lease is in her early 20s. I love her. No spooking, bucking, anything. She does get a bit lazy though xD
Keep the stories coming and pics too!!
---
I have just purchased a old horse what I was told was 23, my dentist did his teeth the other week and said more like 28! He has a skin condition and that is getting sorted to, have a post on here looking for ideas.

He is so beautiful a soul and I don't think he is ready to stop yet. I have been doing some natural horsemanship with him and he is still listening and responding, he is getting a kick out of it! I have been on him once around the rural area we are and he had a spring in his step like a younger horse. Think that is my greatest concern that I am going to be asking too much of him in some peoples eyes, all I am wanting and was my plan before buying him was something gentle and slow what would not fuss around other horses at the horse club. Just a walk and trot to do the events is all I am wanting, not hard and fast, have two other horses that are brilliant at that!

For now we are working on put weight on (he was poor when I got him) and his spots, the pic is of him after his bath so not normally so dark.

I figure by keeping his mind and body healthy then he may just be around for a lot more years.

He is an old mustering horse who would have been bushed when not in use so thinking all the good food, tlc and anything else he needs is his right as he has put in the hard yards earlier.
I have a 22 year old QH gelding..He is a fat spoiled brat..Hickory is in semi-retirement right now while I'm focusing on showing my two mares but I still ride him around the house and work him every so often..He still bucks when he feels good and acts like a 5 year old instead of a 22 year old..I have people all the time tell me they don't believe his age by his looks and his attitude..I've had him for 7 years now and I don't know what I'd do without him..even if he is a pain some days..
Last September at State Championships with my little sister.
SO cute in his pink blanket..
---
I am Sparkly Meanie Doodie Head and I approve this message!
Here's my 25 y/o Paso Fino Arthur. I still have to order pictures of him at fair last summer, but here's a few pictures from the last two years. My parents have had him since he was three, and I inherited him when I was old enough to ride. The past few years we've cleaned up at fair and 4-H shows, doing gaited classes, gymkhana, reining, jumping, showanship, and bareback classes.
This thread couldn't have appeared at a more perfect time! I am considering buying a horse who is 22 years old. I used to lease him and I know he's a wonderful horse, very friendly and broke. But I'm worried about purchasing him since he is so old. Should I expect problems with him? Like more vet bills? What should I expect with a horse at that age?
I have a wonderful 23 year old Standardbred gelding. Kody is completely retired as a pasture puff as his hindquarters are riddled with arthritis. Having said that he can still run with the best of them when he feels like it.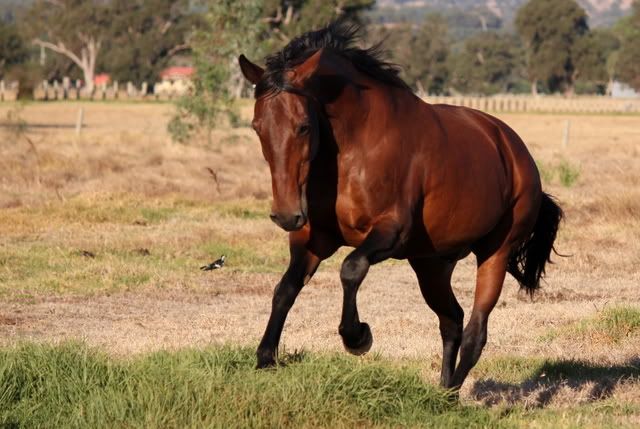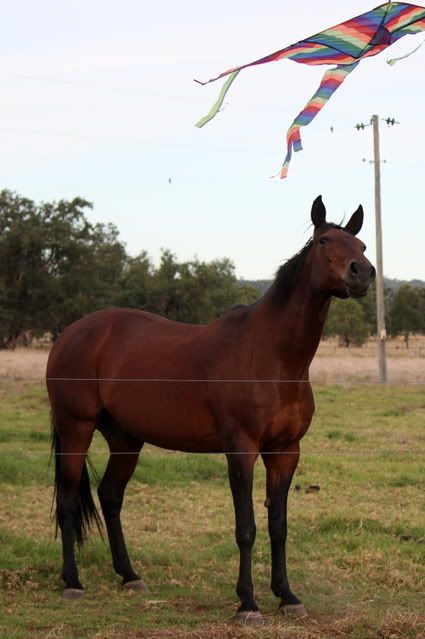 ---
Flirt-Hugo-Phoenix-Romance-Fanta-Nippa-Shiloh

Trojan 09.11.02 - 26.10.10 // Kody 01.09.89-25.06.12 // Rex 05.11.95-21.12.12

I have a Grade mare i bought for my father to ride she was older then 20 when i got her 4 years ago. She is hard to put weight on and keep it on but the best cattle horse i have ever seen. I only compete on her a few times a year, But she loves it and tryed to eat the cows.
My old guy of 29 buckskin, is my best friend. He is fully retired and currently on my cousin's pasture - he is happy picking away. Its kind of hard to see him "old", he was once a super proud cow horse...and he would have assumed die as to back down to anything. When I ride my mare, I sometimes worry about dogs - although one has never "come to get us", if they did I don't know what her response would be. I would have never worried w my buckskin - there would have been no contest. My cousin put out multiple mineral blocks, and the buckskin decided one in particular was his - and decided a bull that wanted it, too, could just bug off. when my cousin told me, I thought, "omg...he is old, what is he thinking!!!!". Well, the little guy didn't back down and the bull didn't either which I am sure shocked the buckskin...instead no one was hurt, a lot of posturing, and they became pasture buddies!
He doesn't hold weight like he use to, but he's in great shape for his age.
---
There is just as much horse sense as ever, but the horses have most of it.