A shameless brag and why you may just need a trainer
---
Today was going to be a good day, the first intro test for Ben, but I knew we were no where near ready
Rather than staying away I hauled him over yesterday and today, and had a lesson after classes each day, ad gave the boy a chance to look around. We had been having trouble getting him loaded, so I was very pleased with the fact that he loaded with very very little trouble each time.
Now why do you need a trainer, well I was honestly thinking that Ben and I weren't getting on so well, he was so great when he came back from trainer, but things were falling apart so quickly I was getting discouraged. Well a couple of lessons, and I feel so much better, there wasn't actually a lot wrong, a couple of problems with my body language on the ground, and a couple of basic mistakes in the riding. I really hope I have gained the knowledge I needed to turn this all around, as I say, it scared me how quickly things were going south. I know that trainers are expensive etc etc, well some times they are invaluable, with the money I spent on Ben, and then putting 60 days on him, it would be foolish not to have lessons with him. Again, if your horse is smart, like Ben, he will get the upper hand and a few short days if you are not consistent and knowledgeable in your approach, so seek help sooner rather than later.
Oh the shameless brag, Mr G and I were high point champs at our club for the second year in a row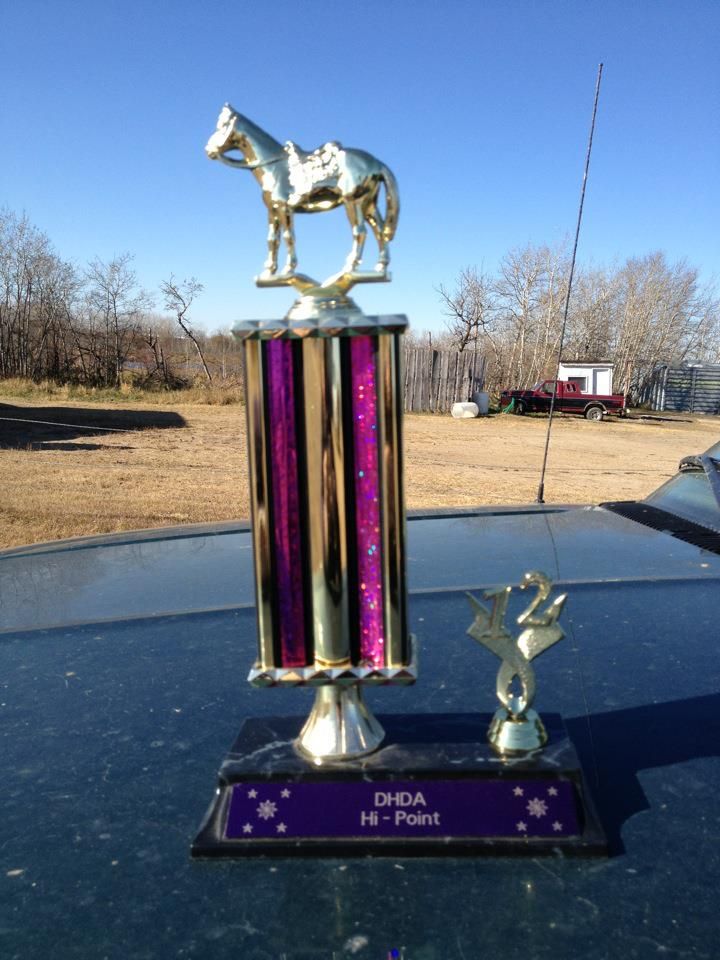 Ben and Willow have big hoof prints to fill.
Good for you!

Yes, I am in the midst of having things fall apart.....maybe calling the trainer very soon!!!!!!
Congratulations GH, I know how hard you have worked for this, and you totally deserve it.
Showing
Join Date: Jun 2011
Location: Cariboo, British Columbia
Posts: 11,779
• Horses:
3
Congrats, sorry no Like option on iPhone. Couldn't agree more with about a trainer/coach! Without mine, I would've stopped competing a long time ago.
Posted via Mobile Device
Even if I can't afford weekly lessons all the time I try to go down at least once a month for a lesson or go to her and ask my trainer's opinion on things as much as possible. Sometimes you just get bad habits without noticing. Like for me, it's always opening up my outside hand in a haunch turn. With Selena I get away with it because she's forgiving, finished, and good at reading bad signals. But with Ruger, I had a good month of fighting before finally just getting a lesson and the first thing she said was, "Look at where your outside hand is."

Sure enough, it was blocking his shoulder from moving the direction I was asking. I moved it and suddenly he was back to spinning like a green reiner. I'm proud to say that lesson was the total turnaround point for all of us.
---
Pssh.I didn't pick up the wrong lead
It's called a counter canter...
...A very advanced maneuver.
Yup I wish I had some more eyes on the ground while I was riding....I'm taking my camcorder to the barn this week and am going to record myself doing numerous things.....it seems me just corrects nor issue and something else falls apart!!!!
I like riding alone, then I'm not interrupted, but boy sometimes I wish someone was there to yell at me - 'YOUR FOUR BEATING'!!!! Haha it's like my head is on a swivel trying to see what the heck is going on when I can feel something is not right!!!
I will just keep working hard, and one day I may be able to claim a prize of my own
. Right now they just sit on the imaginary shelf in my brain
There have even been times when the biggest thing I needed was to have eyes on the ground telling me I wasn't doing it wrong, but that I needed to be stronger. I like my time riding alone to narrow my focus to me and the horse, but sometimes I need to be brought back out of that, too. I admit to having an advantage in that my trainer costs me either gas or cupcakes. ;) Gas if I go to her place, cupcakes if she comes to mine.
My biggest take from the weekend is to stop saying and thinking

"Good brave boy Ben I'm here for you"

and substitute

"For *insert expletive of choice* sake Ben GROW A PAIR"

and keep him going forward, if he sticks just turn, stop worrying about getting from A to B, or for dressage riders A to C (via X) but just keep him forward.
Yup, I'm very excited to be taking Red to the trainer in February. I only wish winter hadn't hit and I could afford to take him sooner!

I'm hoping to learn lots and get us both on the right track.

Good post!!
---
∞•*˚ Βгįťţαňγ ˚*•∞
It is not enough to know how to ride; one must know how to fall.
what!!!! no pictures of you and your horse ..tisk tisk tisk lol

congrats on your accomplishment :)