Should I retire him or hope for the best?
---
My current horse injured his suspensory so he will be out of work for quite a while. And because of his poor leg conformation, it is likely it will be a continuing problem when ridden frequently/hard...
The thing that makes the most sense to me is to move him somewhere and have him pasture boarded and pay less than half of what I'm paying to have him where he is currently, and let him heal there for the next few months and/or buy a more useable horse (though still ride him lightly on occasion) and retire him. Or if he heals well enough I may be able to lease him out to someone who is just looking for a pleasure horse to enjoy a slow ride once or twice a week...I could never imagine selling him.
My heart is just aching though because he is my first horse and I love him to pieces. I have done all of his training myself and we have come so far...basically through hell and back. I had so much planned for us, and with how things are going now, they are likely to never happen. We click so well, I'm scared I will never find another horse to fit that expectation.
What should I do? Continue waiting on him to see if he makes a full recovery (and pay a ton of money to keep him at a nice riding barn that I cant use), or retire him out to the fields? I don't want to give up on him, I'm honestly just afraid permanent damage will be done and I will ruin him for the rest of his life.
And just as a reference for his legs...an old photo from last fall. I will have to take a more recent one. They are far from correct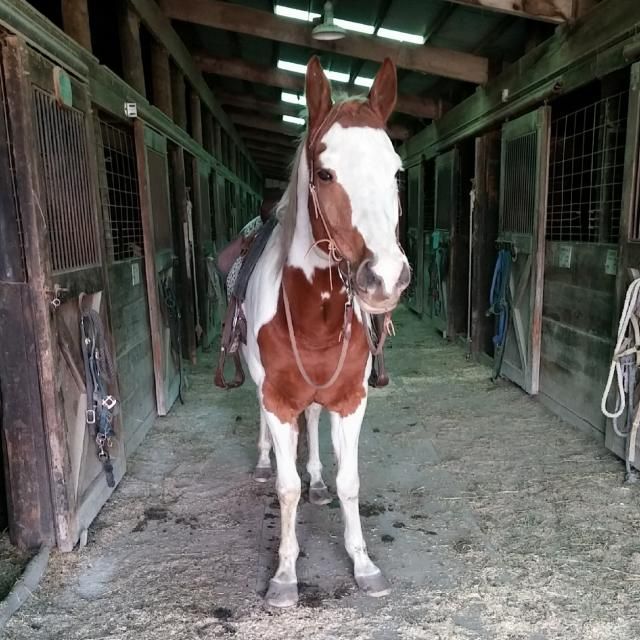 Oh man. That's a shame.

What you do is certainly your decision, and I don't think there is a wrong answer from the choices you stated.

Personally, if he would be usable by a beginning rider I'd either keep him for guests or sell (or give) him to someone who would really enjoy him. There is always a risk if you let him go to someone else, they may not keep him or pass him on with the care you did.
I worry he would get tossed around if I were to sell him, but I think thats my only option right now. It brings me to tears thinking of selling him, but he will not be able to hold up to the amount of riding I want to do. If things were perfect I would be able to keep him AND get another riding horse, but I can not afford that right now.

I just made a for sale ad for him, and I'm so depressed/anxious. Is it normal to have this feeling? I'm just so attached to him I cry at the thought of him leaving.
If he can be made sound enough for light riding could you lease him out to someone who may only want a light ride. Move him to a cheaper barn and just have the leasor cover costs?

I'd be very hesitant to sell him on. I'd worry he'd be filled up wi bute and ridden anyway.
Is he a quiet sensible horse? If he is, maybe you could donate him to a therapy riding establishment. You could have an agreement that if they couldn't keep him, he comes back to you. I don't think the work load would be too heavy for him there and they usually provide good care for their horses.
I agree, check out all the options before you sell him. Maybe move him to a cheaper field and see how he heals, and then lease him out to someone who is an easy rider, or as Woodhaven mentioned, check into a therapy riding place and write up a contract with them.
Its proving to be a challenge to find pasture board in my area. I'm searching though! That would be the ideal choice for me...to let him heal in pasture and free lease him to a light rider or donate him to a program. I'm terrified to sell him...I took down the ad an hour after I posted it.
I would be very hesitant to sell him. With his conformation and possible lameness issues it would be highly likely he will end up in a bad place, shuffled around or end up at auction. I would keep looking and exploring options. Try to find a cheaper place to pasture his and see how he heals, you really have no idea yet just how much he will or will not heal.
I don't see why you can't do all the riding you want doing a pasture board? I'm currently at a "nice" barn with a lit arena, big stalls, round pen paddocks etc etc but I would much prefer field board as horses are way happier outside and I wouldn't have a stall to clean or shavings to buy. But mostly because he would have total access to forage and overall be healthier. Could you do two horses on a field board situation? Something to consider. In his state he is a dime a dozen and most of those dozen don't end up in a good place.
I don't mean to sound callous, but if he means that much to you, I'd keep him. This is part of horse ownership... They get old. It's something that everyone needs to be prepared for.
---
The sensitivity of the internet baffles me.