Quote:
Originally Posted by
GallopingGuitarist
View Post
I have two.
My 14 year old grade gelding, Coyote.
And his first time herding cows. He has lived with cows for years, but never had it as a job! We were trailing 1100 head. Talk about a blast!
My other horse is a 5 year old paint cross mare that I bought through a rescue last March. I was gone for 10 months to British Columbia so I haven't done any training on her yet. I look forward to training her this summer!
I also don't have any good pictures of her.
I know she has filled out some since I got her. I'll try and get some good pics now that I'll be closer to them. (also in this picture she had a sore on her jaw, hence her halter be loose)
I haven't seen these two for about a year. My brother is hauling them to my friends' place that is about 30 minutes from where I live. I'll be boarding them there. I am so excited to see them!
Your mare looks like mine! Gorg!
Here's our three: Summer AKA Trip Or Treat. 10 YO OTTB. She's come a long way since I first got her!

Lightning: 13 YO Appy. He's the one that will go through, over or under anything and never bat an eyelash, super smart with a lot of goofy personality!

Thunder: 25 Y0 QH. One word sums him up, SWEET!
---
Last edited by dkb811; 04-18-2014 at

10:45 PM

.
Well.. here are my girls.Ms.Pig is the appy and Sunny is the bay mustang cross. I really have no major plans for them. Ms.Pig is currently very pregnant with who knows what.I cannot even begin to guess what the sire is. I purchased both back in November and only received Ms.Pig on Christmas eve after much hassle. She came in skin and bones and is slowly getting up there. She is bagged up like mad and due at any time. I ride Sunny occasionally but for the most part they are getting some retirement time in. Hrmm let me add in those pics lol. Both are in there 20's. I really do not know much about their backgrounds.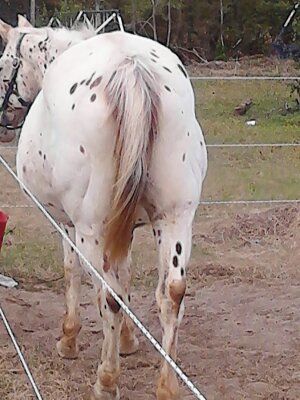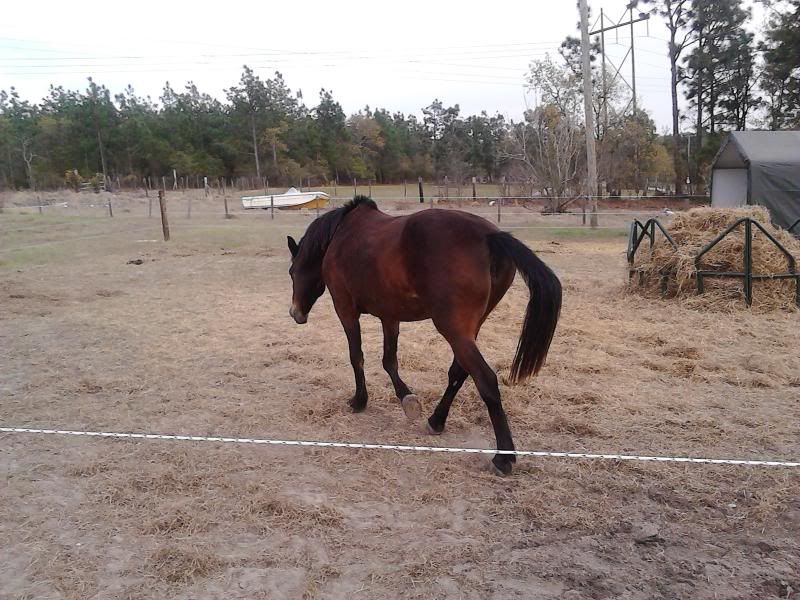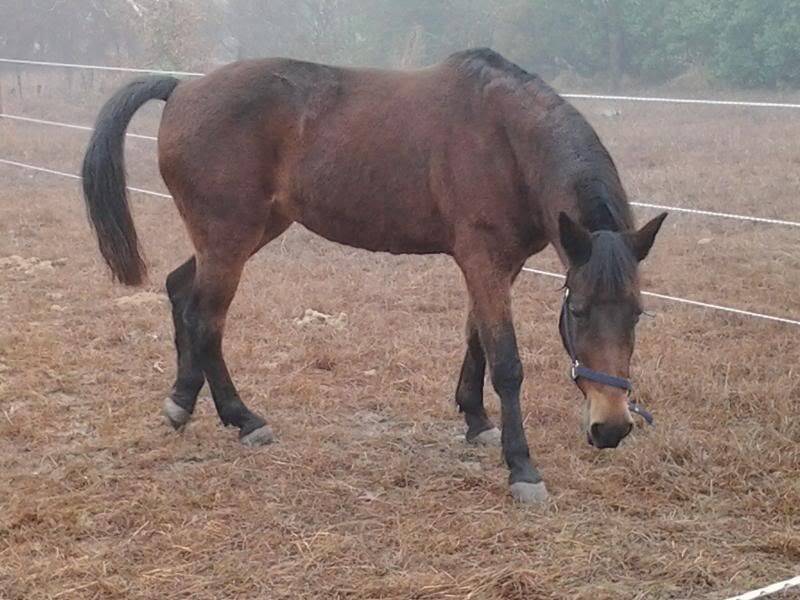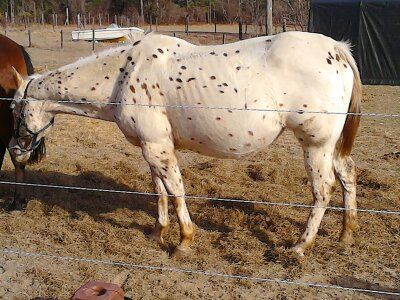 Ms Pig is beautiful. Maybe u might get a spotted baby too.
Posted via Mobile Device
This is the first horse I bought with my own money, Apollo. So far we've just trail rode, but I want to try barrels and jumping on him. He's a very affectionate and cuddly guy and I'll never sell him for anything :)
Then there's Rosie my quarter horse mare who I got after Apollo. I told myself when I got back into horses that I would never buy another bay again since that was all I had as a child XD well when I first saw her I fell in love with her. I want to continue training her on barrels this summer.
And here's Zoey, a half sister to Apollo and my little project. She'll be the first horse I train, of course not alone I have a trainer helping me along the way. She's like her brother, and likes to be around people. She'll turn 1 next month. I want to trail ride her mostly and maybe do barrels with her.
Hehehe. First up is Boomer my darling 9 year old paint gelding. I am hoping to do western pleasure with him next year as this year is super training year :)
And now for Abduls Joker aka AJ My super sweetheart 14 year old appy gelding. Also hoping to show western pleasure next year.. He is my making brother a horse person horse lol. Maybe my bro will end up showing him next year who knows!?
Last but not least, My problem child. Lighting, a 10 year old Quarab who i got from relatives. Shes had a very troubled past.
Now for group pictures:
And just for laughs: My dog when he wants in...
IMG_5124.jpg
Started
Join Date: Mar 2009
Location: Middle-of-Nowhere, Illinois
Posts: 2,225
• Horses:
1
My sweet Victor, otherwise known as "CALMDOWNYOUGREATBUFFOON". He's a 14yo Thoroughbred, and an extraordinary pain in the neck. I can't help but love him, though. He's my buddy.
And Norman (on the left). He's a 10yo American Cream, but his off-color made him undesirable to breeders. We've had him since he was a year and a half old, and he could try the patience of a saint. At least he's kind of cute.
---
"A musician must make music, an artist must paint, a poet must write, if he is ultimately to be at peace with himself.
What a man can be, he must be." Abraham Maslow, 1968

Quote:
Ms Pig is beautiful. Maybe u might get a spotted baby too.
Posted via Mobile Device
Awe, thank you! She just foaled this morning. No appy spots but already looks as if it will roan out at the very least. I will post pics when the hubby gets home later.