Show off your horses Sire :)
---
I thought it would be fun to show off your horses sire or dam either one :) If you would like to post pics of your horse and then sire/dam :)
My mare
Classical Romantic
her Daddy :)
Romeo Rascal
back in his showing days!
I cant post the newer pics of him because they are on flash player but here is the website...I can see where Classy gets her neck from
www.lazyjpaints.com
MS Twilight
Her sire Baybarich
My horse: Vienna, Dutch warmblood mare
Her Dad Osmium (also dutch warmblood)
Father of Osmium, Olympic Ferro: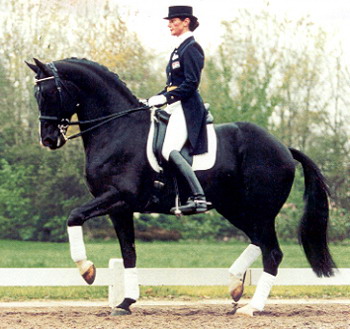 I dont have a Picture of Vienna's Mother, but I do have a Picture of the Father of the Mother of Vienna...
Donnerhall:
---
"Be a best friend, tell the truth, and overuse I love you
Go to work, do your best, don't outsmart your common sense
Never let your prayin knees get lazy
And love like crazy"
Green Broke
Join Date: Mar 2009
Location: Kansas in the summer, Kentucky most of the time
Posts: 3,028
• Horses:
3
---
Look like a SUPERSTAR, Ride like a FOUR STAR, Win like a ROCKSTAR
Eventers: Making BAD Dressage look GOOD!
Farmpony, not to sound creepy or anything but you look so familiar to me......
I think you might look like a girl that I saw in a movie but I cannot put a name to her. }:( So frustrating.
Anyway, Here is Dandy Flash Dancer
His sire: Impressive Dandy
His Dam: April Carrousel (and older sister Impress me April: from same stud)
Barron Von John: (Buck)
His sire: Perfection John
Pokey: (Jake Fajita)
His Dam's Sire: Lena Fajita
Sis: Peppy Smackers
Her Grand-sire: Mr. San Peppy
I put this one on here just for fun as he cannot be registered.
Rafe (QHxBelgian) and his dam Bessie. I am told that his sire is a Mr. San Peppy stud but I can't be sure. I need to talk to the guy we got Bessie from.
---
Jackie's Sonny Daze
Haflinger Gelding
Here is Rem's sire and her grandsire. Her sire is the one doing reining and her grandsire is Reminic, the one cutting.
This is the only pic of Justice's sire I could find
Sis- I've never located a pic of her sire He Hota
---
Courage is being scared to death but saddling up anyway~~John Wayne