Show off your tack!
---
Wasn't sure where to put this so I put it here! Lol. Title says it all, show off your tack! Tack your proud of, show tack, tack you got for a bargain, etc! I want to see it! Here's stuff we've gotten from a tack auction before:
Two eared show bridle with real silver, $25 (can you believe we were the only ones bidding on it?!?) It has silver on the side too.
The most beautiful saddle I will ever own...Unfortunatly I had to get rid of it. The guy selling it said it had QH bars, but when we put it on it was really tight on her. There was a saddle that looked identical to it, which is the one we were planning on bidding on, but we ended up with this one..A saddle that could only fit a man with very long legs and was built for an arab...*sigh* We ended up trading it for another bridle and saddle.
Anyways, $100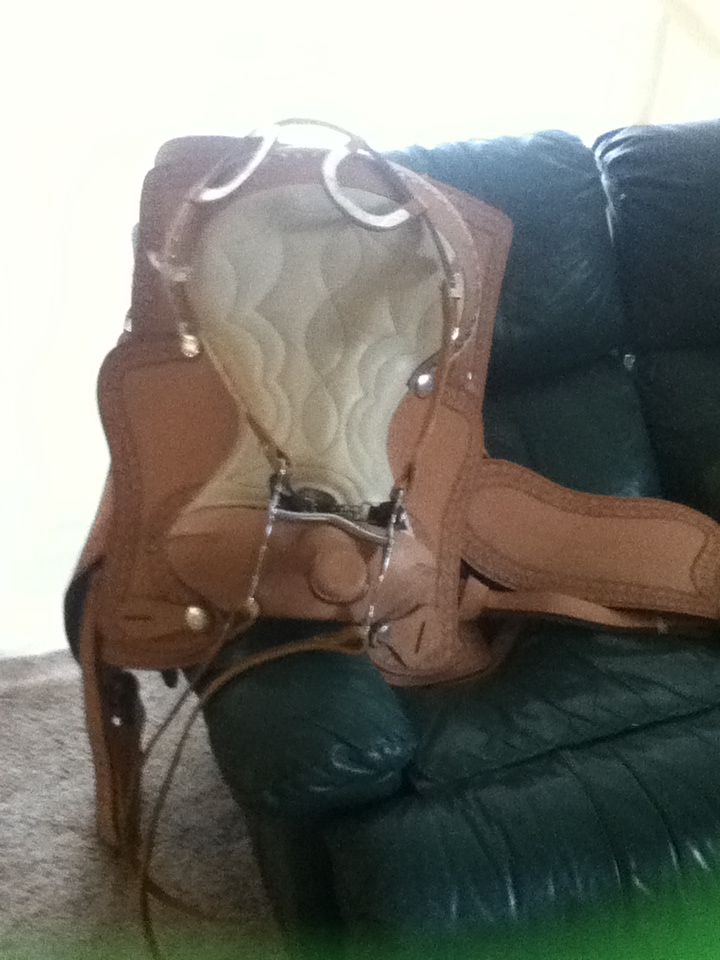 And Brandy wearing her fancy tack!
Don't mind extremley pale me and the bad lighting...mom is not a photographer! Lol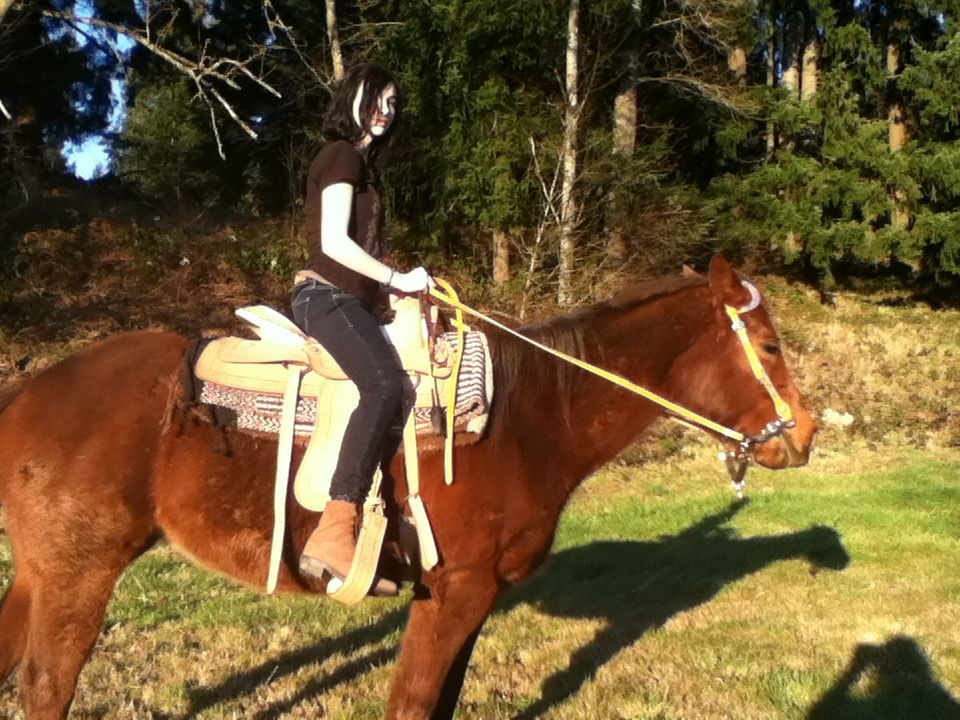 Little Miss Brandy, looking as hateful as ever!
I still need to take pictures of my English saddle, my other western, and my other bridles...But for now, it's your turn!
My fully-fitted out Stubben Siegfried that I got for $275 (came with saddle, leathers, irons, leather girth, one real sheepskin half pad, one fleece half pad, and a canvas saddle cover):
And my Aussie saddle I paid $125 for. I also made the saddle blanket for under $15.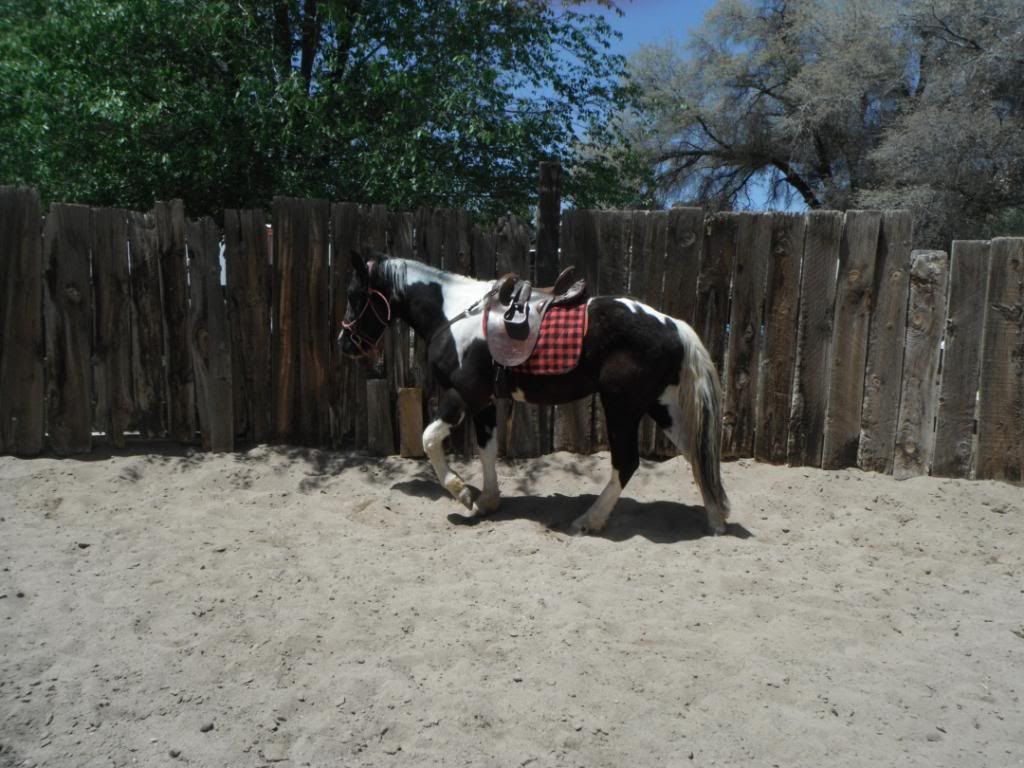 Posted via Mobile Device
The best part about having a yearling, no tack!
But this is Lily's show/hunter halter from Perri's leather.
I am so in love with it!
I only wish I didn't have to show in a lead shank :/ So annoying.
Oh vair oh, your baby is a cutie! I'm such a sucker for chestnuts! Loooveee her halter! I'm trying to get a leather show halter, but the ones I find are expensive!
My custom saddle... My pride and joy.
---
The lovely images above provided by CVLC Photography cvlphotography.com
Ro showing off his CWD bridle :)
---
The lovely images above provided by CVLC Photography cvlphotography.com
Oooh...Loving the bridle! Your saddle looks sooo comfy!
Subbing! But , uhh, this is going to be diffucult for me since I have 7 saddles, 7 bridles, far too many extra pairs of reins, several western pads (of different thickness' of course ;)), several english pads, riser pads, 3 harness', a lot of bits, martingales, and breastcollars that I do not want to count! :P I'll try and upload some later... If I can remember!
---
His feet are as swift as rolling thunder, as he carries me away from all my fears, and when the world threatens to throw asunder, his mane is there to wipe away my tears <3
Well now I'm curious! Lol. I never thought I'd have more than one saddle and bridle...I'm very proud of my "collection" so far, haha. My riding instructor has sooo much tack! Over 14 saddles, a bunch of halters,LOTS bailing twine (I consider it tack since we all us it to bring our horses in and out of pasture lol), and a few saddle pads...She is my idol! Lol
I lovelovelove my saddle...2009 Collegiate Diploma that I got about 2 years ago in barely broken in condition with a complete gullet kit for $400. BARGAIN. Fits everything from my 14.1hh paint x Arab to a 15hh saddlebred x appy to a 13.1hh Welsh pony cross. It fits me a treat and is pretty comfy as well! I like that it's not a saddle that holds you in position - makes me work for it. ;) The pictures are from the original sale ad!
I also just bought this Vespucci hunter bridle that's in great shape for $75 + shipping...I can't wait to get it and try it on my dude!