Show us those "diamonds in the rough" thread!
---
So as the title states. Let's see those diamonds in the rough -before and after photos !

I will post pictures once I get on my computer but also include there story if you can.

I'll start -

Moose went to New Holland, then Camelot, then to a broker up here in NY and that is how I ended up with him. His feet were nasty, he was atleast 200 pounds underweight and totally lifeless and depressed. Now he is currently in training and doing well! We are battling a back/stifle issue (which is why he probably ended up at auction) but he is totally my little diamond in the rough!

Pics soon to come!
Posted via Mobile Device
I will post some more of Sasha when she sheds out a little more, it's hard to appreciate the difference in her winter woolies...here she is the day we brought her home....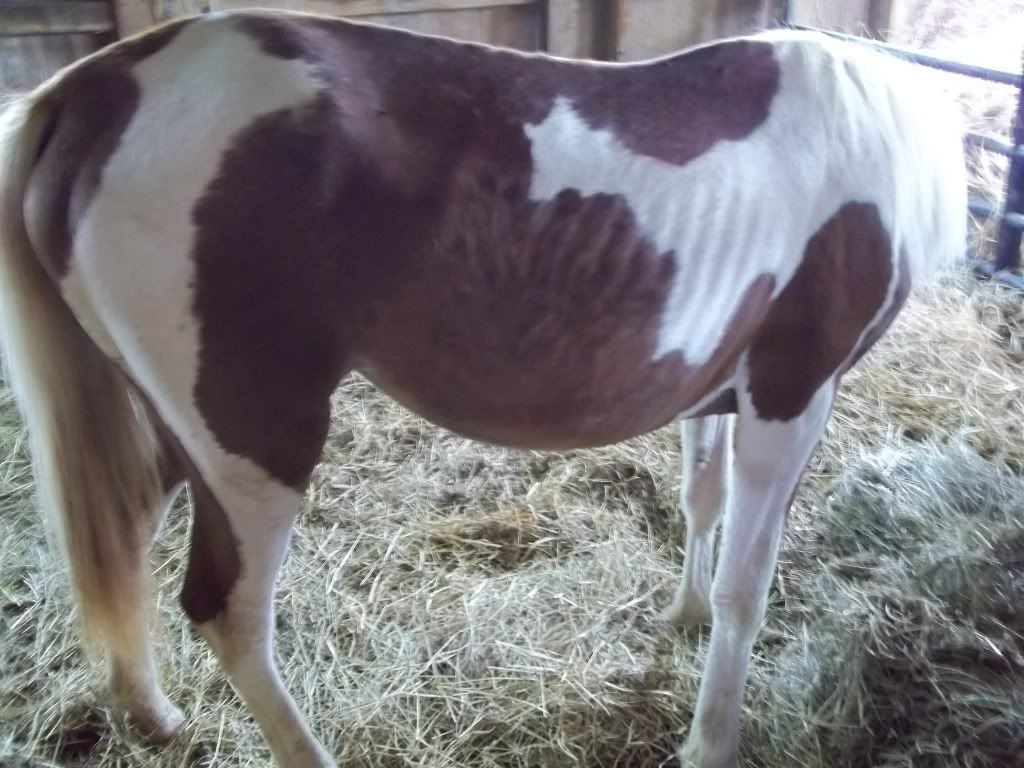 Having some fun....
And her second ride....
---
Horses are proof that God love's us and wants us to be happy!
---
Last edited by Susan Crumrine; 03-13-2012 at

07:10 AM

.
Don't have any pictures of photobucket at the moment, will look to getting some soon.

Jaxxon, I was given him two year ago as a skinny, short little thing who had been kept in a round pen with no grass, only a bit of hay... He was timid (and still is a bit timid), untrained (he was two), and nervous.

Now he's a coming four year old, greenbroke cryptorchid stallion (going to be gelded as soon as I get the money). He's the calmest boy except for his timidness around fast moving vehicles. He's gentle enough for my younger cousin's to ride bareback with a halter around his pasture and I can ride him in groups with mares without any problems. He's super willing and trusts his handler enough to give anything a try.

Pictures coming as soon as I can find some.
---
Horseshoe Loop Farm: Home of Gypsie (22 y/o TWH mare), Dakota (10 y/o TWH gelding), Codie (18 y/o Walkaloosa gelding) & Harlow (9 y/o APHA mare)
Got Pictures!
---
Had to go through my albums on Facebook to find some good pictures...
Jaxxon the day I got him:
His first saddling:
His first ride:
Growth spurt:
Waiting to go riding:
We finally got his weight figured out:
My 12 year old cousin playing with him:
At the vet's (he hasn't been gelded yet, I don't have the money right now):
And most recently (as in about two days ago), my 15 year old cousin riding him:
---
Horseshoe Loop Farm: Home of Gypsie (22 y/o TWH mare), Dakota (10 y/o TWH gelding), Codie (18 y/o Walkaloosa gelding) & Harlow (9 y/o APHA mare)
---
Last edited by Britt; 03-13-2012 at

10:22 AM

.
Toothless in January, waiting for his ride home: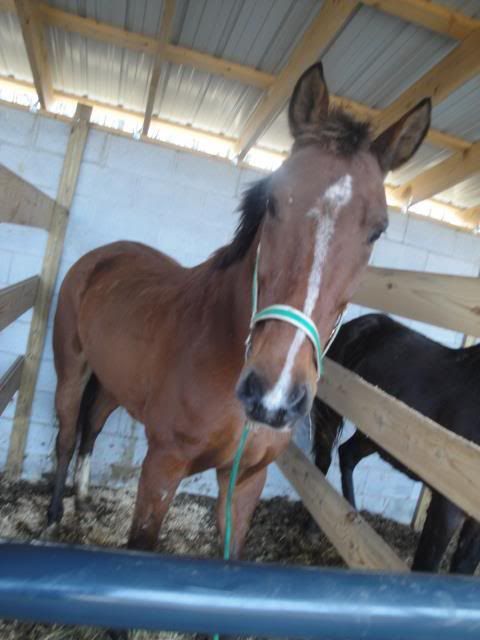 And Toothless a couple of weeks ago, dozing in the sun: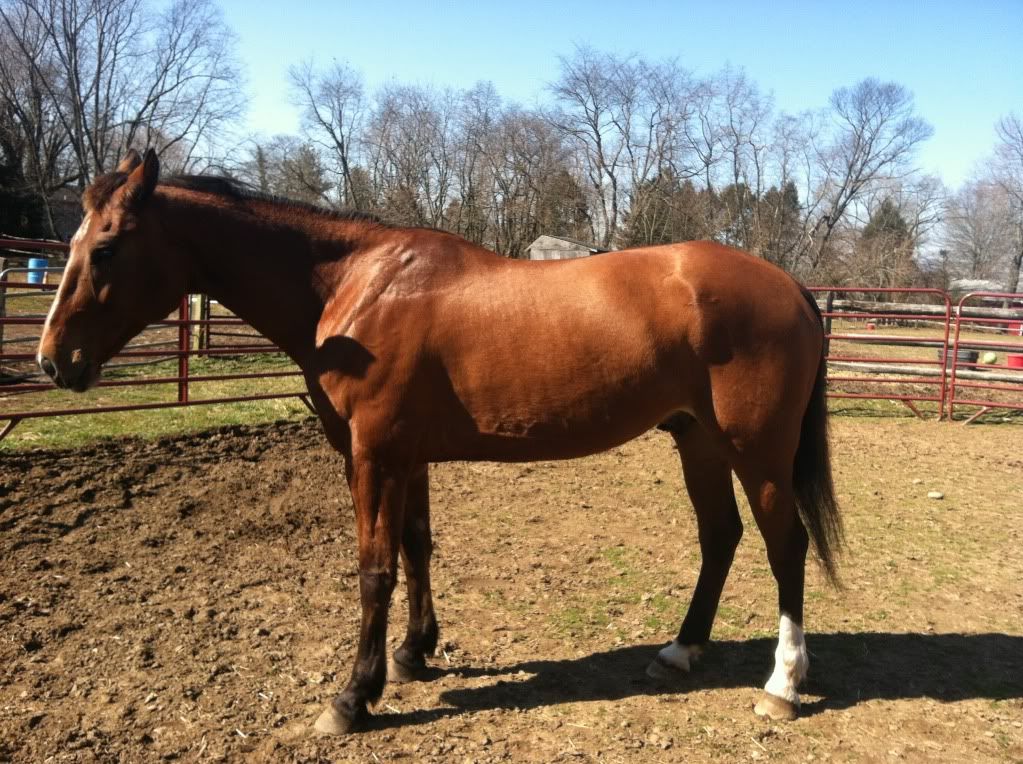 Toothless is a 4 year old 17h American Warmblood gelding. He went through New Holland and was bought by a kill buyer. He was beat up with cuts all over him, a couple of hundred pounds underweight, had a bad upper respiratory infection, terrible feet and was just plain terrified.
He has gained weight, had his feet trimmed twice and has corrective shoes on now and is healthy. He is also much calmer and has become quite friendly and outgoing and is a favorite carrot beggar at the barn where I board him. He is ready to start work under saddle and I will be riding him for the first time very soon!
Quote:
Had to go through my albums on Facebook to find some good pictures...
Your Jaxxon looks So much like my Arya! You wouldn't happen to know if he is a Ronas Ryon grandchild would you?
Here is Rascal. I went to look at a "3 year old haflinger" and instead there were 3 "maybe" haflinger crosses. Rascal was an unhandled yearling when I brought him home.
First day - Yearling May - 2010
Summer 2011:
Feb 2012:
---
All I pay my psychiatrist is cost of feed and hay, and he'll listen to me any day!


OMG
I want Rascal
Posted via Mobile Device
Love Rascal and I am so glad I've had the opportunity to watch him grow and change into an actual horse instead of the scroungy little guy you brought home.
Here's my diamond.
I brought him home as a 3 year old stud. He'd been adopted by a family when he was 2 because they didn't realize that mustangs straight off the range are actually
wild
. Anyway, they had him for about a year and he spent most of that turned out in an arena by himself with nothing but crappy grass hay to eat. When he came home, he was wild and aggressive (from them letting him chase them out of the arena) and he was this gangly, scrawny, little blown out looking curr. He
might
have topped the scales at 700 pounds and stood about 14.1-14.2. We picked up another unhandled stud the same day so when it came time to break them, Dad and I would swap off and ride them both.
This was his first picture with us and it was maybe his 4th or 5th ride. Sorry it's such crappy quality, but it was scanned off a poor quality polaroid. The paint I am on was the other stud we picked up.
This was the best picture I had of him not under saddle
And here he is as he looks now. I never would have guessed that such a fugly, scraggly little horse would have turned out so nice. He's now my main go-to guy for pretty much everything. He's made one hell of a good roping horse and I trust him with my life.
And just because I love this picture of him and my brother....
---
Always remember that feeling of looking at a big, open country over the ears of a good horse, seeing a new trail unwind ahead of you, and that ever-spectacular view from the top of the ridge!!! Follow my training blog:
http://robertsontraining.blogspot.com/