So I may have owned a Thoroughbred after all!
---
All my life the one breed I've sworn against was a thoroughbred. I've always assumed we'd class personalities. (I know, this is one of those weird ideas you get from your cowboy relatives). But the other day I dug up a picture of me riding my first horse, Rebel.
I remember him to be huge, but looking at his photo, I realized exactly how HUGE he was. And in fact, I remember he had a lip tattoo. Now at the time they were tattooing lips for coggin's tests as well, so we just assumed it was an old one of those. But now I suppose thinking back it could have been a TB tat! Who knows!
Some friends have said they think he looks like a draft/TB cross.
Funny...He was sold to my dad, 14 years ago, as an Arabian named Rufus. hehe
Any discussion welcome!!
Sorry about the pic. It is old, and I blew it up because it was also tiny. =)
I was 14 years old in this picture I believe. I stand 5'2, so any guesses on how big he actually was?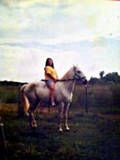 ---
Riding: The art of keeping a horse between you and the ground.