Story of you and your horse
---
There are a lot of beautiful stories of people getting their horses, so I thought we should have one thread for everyone to read the stories!
ROMEO'S STORY:
It was Winter of 2007 and I had been out of riding for about 2-3 years. I was still looking for a horse when my friend's mom gave me a card from a horse sale barn. So I called the guy asking if he had any barrel racing paint mares. He said he had a grey Quarter horse gelding that was a trail horse that would be good for games. So in January I went out to meet this horse. I was DISGUSTED. I thought he was the ugliest, fattest good for nothing horse I had ever seen. (Keep in mind I wanted a registered tobiano paint mare that was a barrel racer). But this guy brought out a fat, dirty, pissy WHITE gelding that hadn't been ridden in 2 years.
I went home that day and I was not that happy.
Then I called again after thinking about it for a while and talking to my mom. I went out and tried him. He was naughty, and really out of shape, but my mom said that is the only horse I could get. (I previously asked the guy about other horses he had).
Since my mom said that is the only horse I could get We went home and thought about it more.
The third time I went out to see "The horse" (The sale guy didn't remember his name) I rode him, he was still naughty, dirty and fat (He sat out in the field all the time) I decided I should get him because he was my only chance at getting a horse. So we set up a time the next day for the man to bring newly named Romeo to my barn.
Well Romeo and I fought so much.... He was stubborn and lazy, and I hadn't ridden in quite a while so he was doing basically whatever he wanted.
He had gotten run through a fence, he picked up naughty habits, and it took forever to get him to lose weight.
But after about a year of working with him and building somewhat of a bond (I still didn't
Like
him. I loved him, but I didn't like him.) He would take care of me at shows, even though he was naughty and we never placed.
But after a year of boarding at one barn, they kicked us out (Personal problems).
SO we moved Romeo to the current barn I am at now and at this barn I have to go and feed everyday (Didn't have to at the other barn) and I can feel so much more of a bond and respect. I honestly love the horse that I hated when I first got him. We show, and ride together. We have our bad days (I think everybody does) but I know his tricks, and luckily he hasn't caught on to my tricks, so we are a great partnership! Romeo will let me do anything to him/on him, he is a great horse that has a beautiful heart and I love him and I think he loves me!
Pics:
These are either the first or second time I saw him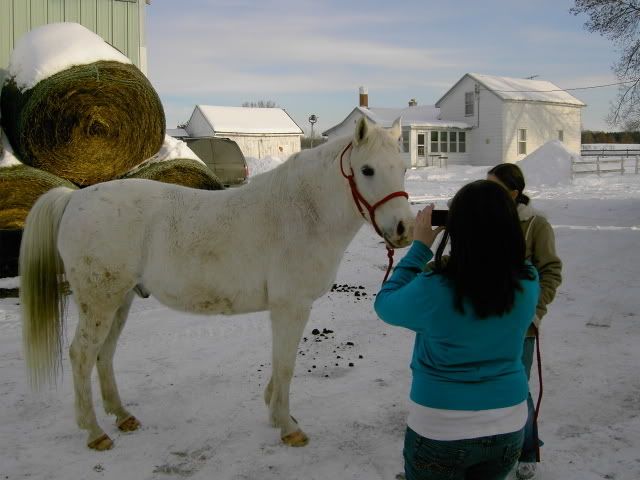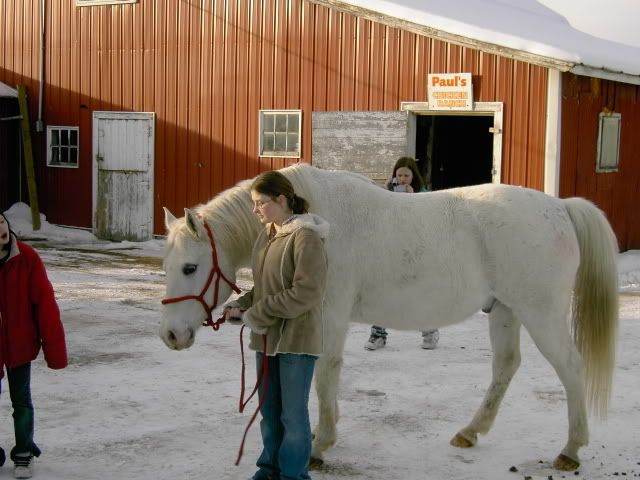 Day before I bought him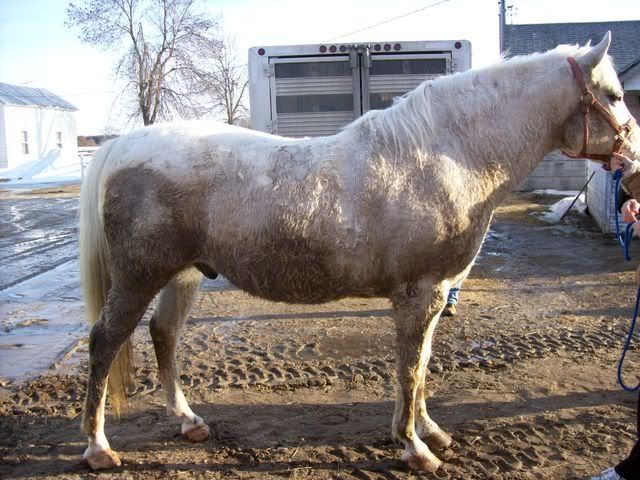 Summer at the first barn I had him at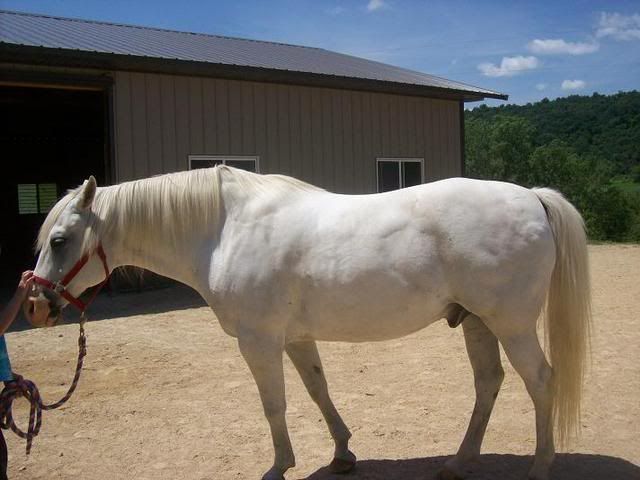 Now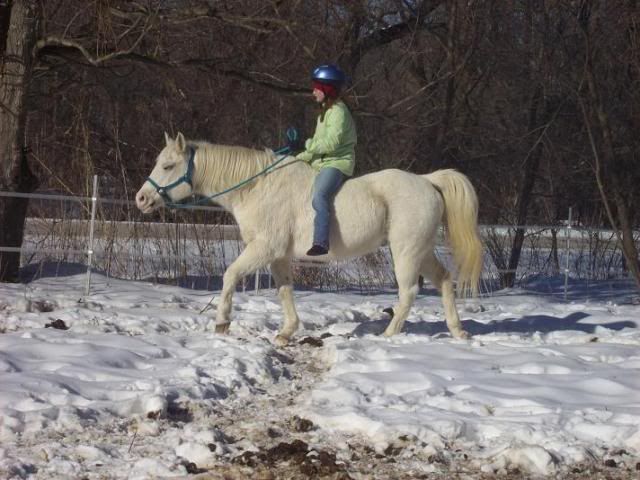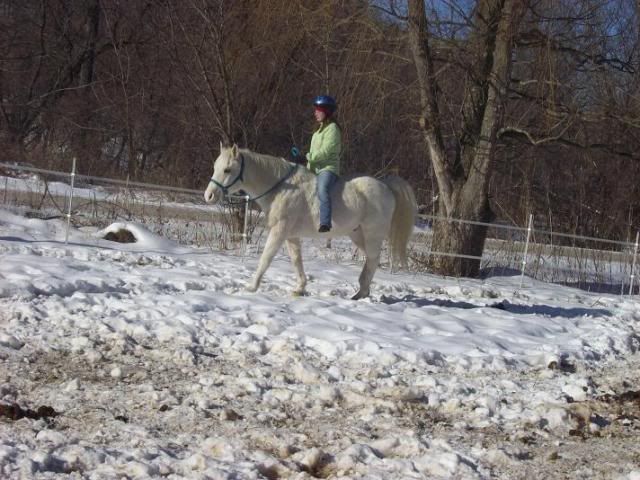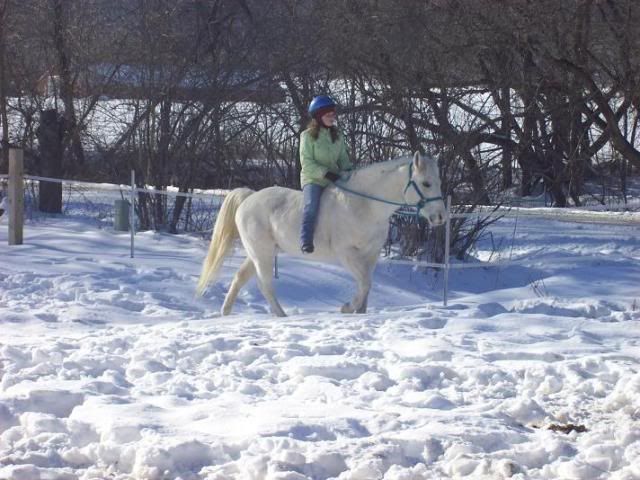 Post your stories!
---
RIP Minnie, 1981-January 15, 2010
RIP Maggie Mae I miss you
That's a fun idea for a thread! I love reading other people's stories. =D

Here's my girl Lacey's story:

My trainer had been wanting to get me a horse for a while because she knew that I didn't really mesh with any of her horses and she wanted to help me out by getting the horse herself and then letting me "adopt" it later on when I was able to.
She has lots of contacts and had about 5 people with around 3 horses each trying to GIVE these horses to her once she put out the word that she was looking. O.o
The ones that it came down to was a man with 5 Mustangs and a lady with Lacey and her best friend Danni. My trainer went to look at the Mustangs but decided to pass on them since they were super calm and really dead broke (and she knew that I wanted a horse with a little more fire) and could probably find homes really easily.

For some reason, she decided to take me with her when she went to see Lacey, maybe she knew that Lacey was THE ONE, I don't know. She was 3 hours late to pick me up and I was really worried that we weren't going to get to go look at horses so I was really bummed out, but then she showed up! We got to Lacey's old house (which was THE MOST beautiful horse property I have EVER seen) and Lacey's owner came out and was telling us about how Lacey wasn't going to go to anyone except for the perfect person.
I went out into Lacey's field, just to stand there, and she was kinda freaking out. She was trotting and trotting and trotting around the field (and coughing SO badly becuase she was so overweight that her fat was constricting her lungs). My first thought was "OMG, she's a unicorn!" and somehow I knew she was mine. Eventually she tired herself out so much that she gave up and came into to visit with me. I stood there petting her for a few minutes but it was kind of surreal, I don't really remember it so well. I remember petting her, and her running around but I don't remember much else.
I guess you could say it was truly love at first sight. I remember my trainer deciding to come pick Lacey up the next evening and it was set.

Only later did I find out that Lacey was about a week away from being put to sleep because of her "special" needs (that she needed an advanced rider and her age and her weight).

I felt (and still feel) really bad for her previous owner because Lacey was supposed to be that horse that the lady owned for the horse's whole life. She bred Lacey from her stallion and her mare and she truly had hoped to own Lacey for as long as Lacey lived. She was really broken up about having to part with Lacey and I can only imagine her feelings of loss after having Lacey around for 23 years, then not at all. She wouldn't have done it at all except that her husband was divorcing her and she couldn't have a horse anymore.

Lacey and I had a tough first year but now we're doing well. I just had to figure out what makes her tick and how to combine our two wishes for our lives.

But yeah, Lacey's my best friend and I really wouldn't trade her for the world. She exactly everything I would want in a horse: beautiful, full of personality, FAST, I always have something to work on with her, brilliant, trustworthy...I could go on forever. =)

And, ironically, when I was little I enjoyed picking out "my horse" from those horse breed books and I decided that I needed a flea bitten gray Arabian mare, no questions asked. Flea-bitten gray Arabian mares were my obsession for YEARS as a little kid. I moved on to other breeds but my first horse is (completely not on purpose) a flea-bitten gray Arabian mare. Heeheehee
---
Fabio - 13 year old Arabian/Lipizzan gelding

~
Rest peacefully, Lacey.

I love these :) They always make me smile!
Honors' Story :
It was October of 2008 when I was only a novice/intermediate rider out at my barn. Middle a session with a new instructor. There was talk of three abused horses comming to the barn, and we were "calling" them as we always did. I instantly "called" the Thoroughbred, Hollywood. A few weeks later the trio came. I was only going out to the barn once a week for lessons so it was the second day he had been there. My friend Shelby took me out to see them and Hollywood was in the first field, I completley over looked him and we moved on to see the other two mares. She continued to tell me that she was going to work with Rainy, the younger of the two. I remember asking "wheres the gelding, thoroughbred". And she told me he was the first horse she had shown me. So we walked back to that field and I remember just watching him. He was so thin and fragile. He couldn't have lived much longer under the conditions he was living in. He was skin and bones with the lonely-est look in his eyes. I felt awful, and just leaned up against the gate gazing upon the horse. My heartstrings were pulled to the max and I hadn't paid this much attention to a horse before. The instructor pulled in and she started telling me about him, she also added that I would be riding him next week if he was good. That was the last lesson I've ever ridden another horse...
That first ride was AWFUL! I honestly had never ridden a horse so bumpy in my life. He was the most un-respectful, lazy, inconsistant horse ever. But there was still something there that made me love him so much. I continued to ride him and he became much better, and our bond became stronger. To shorten this up a bit, a month later, the last lesson before our winter break, the instructor asked me if I would like to try a "trial run" on the showteam. I was so happy! I said yes, and was so suprised. So I started show lessons and started preparing!
Show season came around and we did okay...halter was kind of a waste of time with his condition. He was impossible to put weight on. But equitation and pleasure went well!! He placed in pleasure in every show for some reason, I guess hes just pleasurable to watch! lol But anywho, weve been dq'ed from a halter class ( scary-est backflip out of a trailer, he had a fresh wound on his back leg :( ) and a pleasure class ( fairrer trimmed him too short) But we made it through show season. I leased him the whole summer and worked with him everyday, we were the perfect match.
Toward the last show, I decided to ride western one day. I checked and re-checked my cinch and it was tight before I got on. When I asked for a canter, the saddle slipped and one of my feet fell out of the stirrup, I leaned forward trying to compensate and the other fell out. And of course to OTTB lean forward means "take off" right? so I flew out of the saddle and the saddle completley turned. After that ride, I was giving him a bath and noticed a bump where the cinch had been. I called my instructor and she said it was only a bruise...well that whats we wish it would hav been. A few days later I got a phone call from my instructors sister, my other lesson instructor. They were worms (eww) and it took forever to heal. But that was the problem with his weight. As soon as they dewormed him, he started gaining weight like none other!! Okay comming down to the end of this...
I had been leasing him for two days a week for abut 3 months. When we got the call that he was going up for sale. I wasn't supposed to hear this call...but I did because my mom was sitting right next to me. She then told me he was a part of the family and we were going to buy him.. So about a month after that phone call we bought him and it was my dream come true. We had been through everything, and I loved this horse more than anything! We were partners in crime, so to speak. lol Okay theres my storry, sorry for being so long ...
Some Pix
Summer, pre weight gain....
winter...after weight gain...
---
**Mocha - 4 year old Spotted Saddle Horse Mare**
Wow, I love reading everyone's stories.
Come on people POST!! haha
---
RIP Minnie, 1981-January 15, 2010
RIP Maggie Mae I miss you
I'll make mine short and sweet.

RICCI --
Her previous owner contacted me to work her horse and get her back into shape so she could be sold. I met her and worked with her a few times, and I HATED that horse, HATED HER! She was annoying, we just didn't click. But time passed and without realizing it happened, I was completely and 100% in love with this horse and bought her myself. Nothing traumatic in her life, she was well cared for, and continues to be pampered. I did buy her right out of high school, and many people think it was a mistake, but I simply couldn't breathe without her, Ricci is my heart and soul, and she's going to die in my arms.

GRACIE--
Pretty simple. A friend from work had an "accident" before she got her boy gelded, and a yearish later, out pops Gracie. We talked about her all the time at work, and I was toying with the idea of breeding Ricci or maybe getting a baby and by the time I decided I would take Gracie [she was 8 mos], my friend already had another co-worker coming out to look at her. At that point, I knew that whether I got her or not was the way it was meant to be. A week later, my friend said the other lady wouldn't work out, I went to meet her on a Thursday, and brought her home the next day. It was fate. =]
---
"Great spirits have always encountered violent opposition from mediocre minds."

Nothing dramatic happened when I got Andy. So, here goes...

Our vet, who has been helping us find a good first horse for me calls one day and said some one who works for him is trying to get rid of a horse. Of course i'm all for it and a few days later we go see him. It was love at first sight. Pretty white with looong mane and tail and pink nose. He also has that mischievous look in his eye. ;) So i try him out and he does great. We make plans for him to be dropped off at our place in a week and we all go home happy. thing is our fence isn't up yet so i go out every day and pound in 10+ t-posts every day. (My brother makes fun of my muscles that "mysteriously" popped up one day) heehee. Anyway he comes to his new home and settles in right away. The first few days we make a routine and now every morning he is waiting, complete with plenty of whinnies, ready for breakfast.

And we all lived happily ever after... :)
---
"Courage is being scared to death - and saddling up anyway." ~John Wayne
Green Broke
Join Date: Jan 2010
Location: south of nowhere, north of nothing
Posts: 4,643
• Horses:
6
okay ill jsut do my jiggle lips girl and not Charlie because i talk about him ALL THE TIME...not all of em haha
Josie
We were actually looking for a new horse trailer at the New Hope Ranch. We ended up not liking the trailer but i didnt care. i was already at the stalls for the horses anyways. (go figure 11 yr old horse crazy girl goes for the horses??? what??? really?)
The first horse i saw was this BIG, FAT, but extremely beautiful sorrel mare, with a long mane and tail, and very very mischievous eyes....and we just stared at each other. and stared. and stared. My parents came over and the cowboy told us that she was a 10 yr old trail horse, originally bred in california and that she was....FOR SALE! HALELUJAH! i clambered over the panel and just started petting her and talking to her just totally head over heels in love.
Two days later we had our vet and my trainer come out and give the lookey-loo over her. they totally approved haha. so my parents gave the cowboy the check and we picked her up on our way to a schooling show in CO....p.s. she did amazing! i got her all cleaned up and even took her in the arena and she acted like an old pro....she definitely taught me sooooo much.
She was like my baby sitter. she took very good care of me in the show arena and would run her heart out for me in the rodeo arena. i could do anything on her....except trail riding....which is ironice because she was a trail horse to begin with haha
i have a picture of me and her at a clinic...im sleeping directly underneath her belly in her shadow while she dozes in the sun....it was a really boring clinic.
we difinitely had our rough times though. right towards the end of her riding career she started having major leg issues, would get really antsy in the arena, and got a really cranky bad attitude. but now i can just go home, jump on her bareback and play in the field or laze on her big squishy broad back and read a book haha
To end my rant ill just say thats shes definitely my heart horse.
First year we won highpoint together at county fair!
i think its her right after i retired her at 14? shes 20
(holy cow shes 20 haha) now so yeah sounds about right
Yearling
Join Date: Jan 2012
Location: The woods in the mountains of Appalachia
Posts: 767
• Horses:
5
Our Herd
---
Shadow,
My mom bred her mare to a neighbor of ours stallion down the road. This was going to be her second colt. And when he came i was about 2 going on 3 years old at the time. Boy he was a cutie, my mom decided that this colt was to be for me when i got older. He was such a sweet horse, and he still is at 20 now. And one of the best trail horses i could ever ask for. And he's the spitting image of his mother, but a little shorter. Granted my great grandpap and grandpap were hard on him and used him to plow fields, he turned out to be one of the best horses i've ever owned. My husband even loves this horse.
Leroy,
He is my mom's mares third colt. My pap claimed him because he is out of a champion QH, and he wanted a top of the line cow horse. Well, my great uncle caused him to founder at 3, and pap said he was ruined and worth nothing. And so he was left out to pasture. I decided that he deserved better than that, i began training him in the summer, and by the end (though he had some hoof problems) he was able to be ridden. And i even worked him with the cows, and on occasion he does it himself.
Lunar Eclipse,
Since my geldings are getting up in age, i wanted a younger horse. And after everything that had happened after our wedding i wanted something to get me motivated to keep going again. I was browsing the net, and came across an ad for a 3yo paint mare, not to far from where we live. I called and asked about her, and i went to see her twice. She was somewhat wild, she reared when you lead her, she dug the floor when she had to stand still, and threw feed out of her bucket just for fun. And when turned loose was a real hoot to watch. The woman needed the room in her barn and was not up for breaking her. SO, i decided i wanted her, it was like i knew her from a past life or something, we just clicked, but i wasn't sure how i was going to get her. Here my husband knew i wanted this horse so desperately, and he bought her for me for Valentine's day, though she didn't come home till April. I was so excited and happy. I couldn't ask for a better gift, or horse.
Storm Chaser,
Stormy was born on our farm on a very miserable rainy day(what started out to be rain turned soon to snow/sleet) in March. He was stubborn, rude, disobedient, and loved to bite. Then after being in the barn for almost 4mos, he was turned out to pasture for the summer. Well at 6mos he got strangles, and it almost killed him. My father in law owned him and his mother, and decided that he was sick and put him up for sale. My husband fell in love with this little brat at the time, meanwhile i was giving him the care and meds that he needed, and decided that he was going to take him. Since we were footing the vet bill anyway. After almost a month he finally got better, and was getting back to his rotten ways. In September, his dad finally handed over ownership of him to us because he didn't want to pay the vet bill. He's turning out to be quite the willing partner, and a smart little horse after having such a rough start to life. Husband couldn'tve picked a better one.
---
~Death leaves a heartache no one can heal, Love leaves a memory no one can steal.~
I havent gotten him yet (going to see him, as he is for sale) but i thought i'd tell you my story.
My friend, who i first met by placing an add volunteering to work with horses, owns a horse stud. Lets call her Jan. Jan has a mare who i love and have bonded with, she is not for sale and said she wont sell her (i asked). I was told a while ago that she (hearthorse mare) had had one foal a few years back, a brown colt. I had no other information. All i knew is that she had lent the mare to another stud for them to have a foal out of. Well lastyear in december... I found that colt on Facebook, december last year. He was a '09 colt, is brown with two blue eyes and a wide blaze. Well i have been following his progress, and he has been for sale for a little while, and i have pounced on him now that the time is right. He is not mnie yet, but i am going to see him one weekend to discuss buying him. His owner's mother/breeder is VERY nice and i have a good feeling about them. He will also be reg when/if (hopefully) i get him.
I take no credit for the pictures :)
Soloman *not mine* the horse
< those are him
Wow this is old, but I got a like and it brought this thread back up so I figure I could post another picture of how Romeo is doing NOW!
We still have tough times, but it is better and we both know how each other work.
Don't feel worried about sharing your stories!
---
RIP Minnie, 1981-January 15, 2010
RIP Maggie Mae I miss you