Hope no more of your animal get attacked
---
Country Woman


Green Broke
Join Date: Jan 2010
Location: south of nowhere, north of nothing
Posts: 4,644
• Horses:
6
just some size/shape differences if you find tracks....
Teen Forum Moderator
Join Date: Dec 2010
Location: South East Texas
Posts: 7,157
• Horses:
2
Yeah, the scratches are spanned so that the paw looked to be fairly large, especially for a bobcat. The one that lurks around here is probably on the larger side for a bob, but not big unless it spanned its paws really big.

I havent really ever heard of there being mountain lions in our area but I suppose its possible...I'll call around. Don't they usually have really large territories? We are on wooded land with woods and fields around us but its right on the edge of a fairly large town (Katy). Theres a chance that its been chased this way though by all of the new construction.

I'll go out with one of the cowboys today to investigate the area. Hopefully I'll find something.
---
Everyone in your life is meant to
be in your journey, but not all of
them are meant to stay till the end.
The one thing about a cougar is that you will never see one unless it wants you to.
It's either a large hungry bobcat or a Cougar. Hope it doesn't attack again.
I strongly suggest you talk to your state's conservation department. They track prey animals and have specialists who can ID animals, if there is one in the area. I had something similar happen last year. The conservation guy was wonderful. He told me that every month there are 100's of reports in most states. In most cases, it is not a predatory animal at all. The prey felines, especially cougars are going to kill for food..they are not going to use the energy to take down a horse and then walk away deciding its too much trouble or there is something wrong with the meat. Urban legends are every where. Horses can get injured in so many ways..even a scuffle in the herd and a nearby tree can cause problems..ie lacs & deep scratches. Game cameras that operate off motion are wonderful and can be purchased at any store that sells hunting equipment if that gives you security.
---
Horsepower: the extraordinary capacity of a horse to elevate the human spirit!

My castle is my barn ;)
Perhaps your Arabian was laying down away from the group. The animal underestimated its size and attacked. It is odd. Are you positive he couldn't have gotten hurt from a tree or fencing?
Umm. Let me know what you find out. I'm not far from you (in Grimes County), and would like to know if there's a larger cat around. I'd never heard of cougars in this area either. Mountain lions, to my knowledge, aren't native to this part of Texas? I know in Louisiana we have panthers, but not sure about here. Eek!
---
Riding: The art of keeping a horse between you and the ground.
About two years ago there was a cougar in Wisconsin that was taking out cows and even got a horse. Horse lived but the pictures were just gruesome. But all of the attacks were on the throat and face. I think they eventually killed it. It took a long time to finally find the cat.
Posted via Mobile Device
Teen Forum Moderator
Join Date: Dec 2010
Location: South East Texas
Posts: 7,157
• Horses:
2
Thanks for the different theories/advice guys, sorry my reply was so quick this morning. I was on my way out of the farm right at that moment.
Normally I'd say that it definitely could of been a fence or tree branch, but we just replaced our fencing with electrical fence in that area that is very safe- and it honestly doesnt look at all like a branch wound. I'd take pictures for you all but my camera has bitten the dust (literally. I dropped it in the dirt and got dust in the lense). They're almost perfectly symetrical, there are two sets of lines about two feet apart from eachother (on each side of her back and hindquarters like it jumped, slid, tried to hold on, and fell) with the cuts getting deeper near her butt and ending suddenly. I really don't see how a tree or bush could of done that.
I scouted the area and found a trampled spot with quite a bit of blood near the thicker part of our tree line, but unfortunately couldn't find more than half of a print because hoofprints are everywhere. Its definitely a cat of some sort, but I can't say much else.
I honestly don't feel like it could be a mountain lion because of where I'm located, but I made a few calls anyways and there have been the usual amount of bobcat (not uncommon cat in our area) sightings and a lot of coyotes, but nothing bigger than that. Still, as one of you pointed out, its strange that the cat just gave up like that unless one of the other herd members ran it off or something. We do have a donkey out there with them for that very reason but he has no signs of injury and neither do the rest of the horses.
The best theory so far, is probably bnayc's about the cat underestimating Xcia's size or thinking she was injured/ill. She's not exactly small, and the cat had easier (ish) access to miniatures, goats, cattle, chickens, or even ducks or turkeys. Why attack a 900 pound healthy mare?
We're going to see about borrowing some cameras to set up, but it will be hard considering how large the pasture is and the fact that it isn't all flat land. All but 3-4 acres are atleast lightly wooded. I'm especially worried for my mare, who is a 225 lb miniature and is due to drop her foal any time now :/ not sure what else to do though.
To give you an idea of Xcia's size, here's a picture of her. Not quite 'tiny and vulnerable' looking.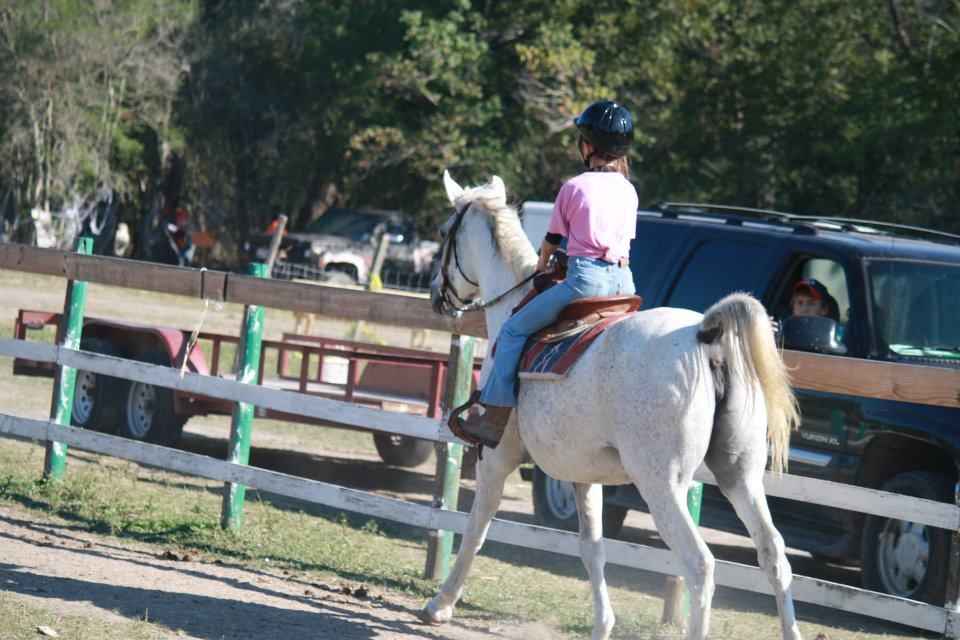 ---
Everyone in your life is meant to
be in your journey, but not all of
them are meant to stay till the end.