Subbing!
---
Intermediate Rider~Learning Equitation and English Pleasure~Interested in Eventing
A horse will tell you everything you need to know about him, if you listen.
-Winston Churchill
Quote:
My colt is 10 months old. If I ever saw anyone on his back I would go ballistic.
I'm pretty limited in what I can do. I board at a facility, so I can't go adding to the fence or anything. It's a metal pipe fence as well. I could maybe put up a sign saying "Do not Feed the Horse." I also can't be there 24/7, so I have no idea when or how many people are visiting. I have no problem with them petting him, it's the treats I'm worried about. The little boy was feeding him some RICH grass which worries me the most.
Said grass pictured here. The picture is not edited, it's that green.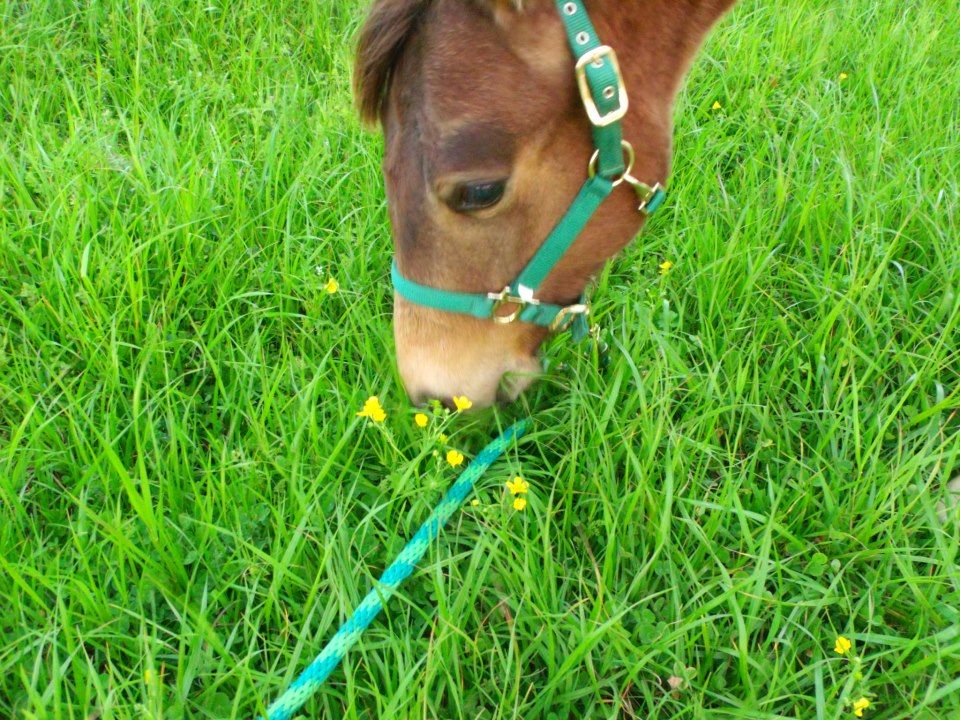 That grass is SO green!
I am so jealous! We had 9.5" of snow in one day last week and rain/snow today. I am ready for the green grass to appear!
---
.*. Let a horse whisper in your ear and breathe on your heart. You will never regret it. .*.

Showing
Join Date: Jun 2011
Location: Cariboo, British Columbia
Posts: 11,737
• Horses:
3
People ignore signs, or don't see them, even if they are right in front of their faces, I have 4 Beware of Dog signs, and live at the end of dead end road, 2 miles up a mountain, maybe 10 residences on the whole road. I still get the odd sales person, religious solitictor (JW), or what have you, come down my long driveway, past all the signs and try to get out of their vehicles with 3 dogs barking their faces off. Go figure?
I am very wary of anyone that approaches our paddock fence when I have the horses grazing next to the road. We live just out of town on a busy road with no footpath so the only foot traffic we get are the local kids that walk up to the swimming hole past our house in the summer time. These kids all come from a pretty rough neighbourhood and I am constantly catching them throwing rocks at the horses, so my horses are pretty wary of approaching them. I always watch out the window as luckily the kids are always so loud that I can hear them coming from a mile away. They smash bottles on the road, graffiti our letter boxes and go through our mail etc. I have yelled at them a few times but its tough because I dont want them coming back when we arent there so I only let the horses in there when I am home. One thing that worked quite well was I started shovelling the manure into the long grass on the street side of the fence, I had heard a few yelling out to each other that they just stepped in something nasty, very satisfying
Bring on winter when they will stop coming up for swims.
In a bit of a different situations, I worked with a company that provided pony rides at fairs and such. All the ponies, when not working, would be in a pen together. People were constantly trying to pet them. One big concern for that was if/when the ponies got riled up and rushed past the fence...they could easily pin an arm, break an arm, break the back/neck of a kid who was climbing through to reach them... Not to mention they were ponies and some were notorious biters.
But, people
don't
read signs. They also don't tend to listen.
I worked at Subway and once in a while we would run out of some types of bread. Once we ran out of all the bread
(kid's tournaments and such). We put a sign face height on the door, a sign over the bread sign and greeted every customer with "We are currently out of all types of bread but can make a wrap or salad. Sorry for the inconvience." and people would reply, oh that's ok, I'll have a footlong on Herbs and Cheese.....
Face palm.
Happy to live on the back of 30 acres with a gun. ;)

The one time someone decided to hop our fence, trek up our loooong driveway, walk into our barn, and then knock on the apartment door, they were greeted with the end of a barrel. Lucky they didn't get shot. Some people are ridiculously oblivious to putting themselves in danger by messing with other people's property.
Yes, there is a woman who apparently lives in the neighborhood where I board, and brings one of those gigantic two-child running strollers through the property and the barn aisles every weekend. I was riding outside one day when she rolled around the outdoor ring in that giant thing, with the kids running along outside it. My horse was fine, but I just couldn't believe the audacity of bringing two little kids onto private property and walking through the barn like it was hers. Another time they ran up to my horse while she was on crossties being groomed and started getting all in her face. Again, my horse is used to kids, she didn't do anything, but geez.

I think people see horses and fields and somehow in their mind they think it's a park, not private property.
you no how you see the posters of "this is what meth/crack does to you". Then has pic's of the people. So, put up a poster " this is what a horse can do to you "lol i thought that was kinda funny. That would make me nervouse and a little p'oed if that was happing to me. Non- horsey people are dangerous un supervised ( or supervised)
---
Last edited by deltadawn; 03-12-2013 at

01:44 AM

.
i have kind of a funny story... at our old boarding facility they kept the horses in pasture surrounded by hot wire. Some young girls thought it would be okay to just climb in chase the horses around... unfortunately one girl was wearing shorts and she legged over the wire and was unpleasantly surprised to come in direct contact with it. my step dad had to run out and grab her, screaming and crying, straddled over the wire, and threw her in the grass. I got a good laugh out of it. Those kids never came back after that. hahaha!
---
Life seems mighty precious, when there's less of it to waste.
I had people begin to touch my horse, people at my aggistment thought they had rights to move her. There were floods here and all the other paddocks drain into my paddock so mine became a swamp and my aggistment owner agreed I could put Smarty out in the paddock with his horses until it dried out (he didnt want me putting her intto one of the free paddocks :s hmm )
Then I went out to find someone had taken off her rainsheet and she was shivering and shaking and i couldnt find it and was heading to work, freaked out I put a status up on facebook and tagged everyone from the aggistment saying if you took smartys rain sheet off please put it back on. I am at work and whoever took it off has left her shaking. Found out one of my friends thought he was doing me a favour but he put it back on her while i was at work.
Week later I went out and found Smarty was put back in her flooded paddock. I was furious, I can't tell you how mad I am as I cannot use those word here but my aggistment owner told me he had not put her in there, she wasn't supposed to be in there and because of some idiot she spent the day standing in dirty water, manure and mud up to her knees in some spots. Considering what I paid for out there I was absolutely furious that every other horse out there was nice and dry and then smarty was all soggy mud everywhere shivering...it just was horrible to see her like that.

My paddock is closest to the road so some people do stop and pat my horse from time to time. I dont like it but if anyone ever started feeding her treats I would put up a sign saying "Horse kicks, bites, spooks and farts. Do not enter without permission." and then i'd put another sign beside it "Horse bites very hard, do not feed treats" (put a little photo of an injury someones gotten from being bitten and put a comment under it saying do you want this to be your hand? .... Don't think many will touch him then.


But seriously, I can really see why everyone stops, He is soo beautiful!! if people are there when you turn up maybe just politely ask them not to feed your horse.
---
Horseriding- The art of keeping a horse between you and the ground.