Yearling
Join Date: Dec 2009
Location: I cant tell, your strangers:)
Posts: 1,157
• Horses: 0
Sum it all up ine one picture!
---
Sum your entire horse life up into your favorite horsey-picture (your pic. of course!). Can't wait to see the responses:)
---
Horses aren't just a pleasure, they are an escape from all evils of mankind.
I have used this picture in a ton of threads but, it's because it's my favorite picture!

It shows how sweet of a horse he is, not only that but, how much of an amazing bond that me and my horse have.

We have our bad days and our good days. We argue a lot when riding but, in the end I understand him and learn to accept the fact that HEY he's a horse he does that sometimes!

I've taught him a whole bunch of things and, he's certainly taught me a whole bunch of things. Without this horse I wouldn't be the strong rider I am today. We've gone through a phase of rearing and bucking and not being able to rein back but, we've gotten over that.

He's my life this horse and without him I don't really think I would have continued my riding career! :)

We've gone to shows and competed. We do our shows for fun and not because we want to be the best. To me, my horse is the best. We've placed 4th, Reserve Champion, 1st, & 2nd and we did the best we can. Our first show we had a bit of a problem and we left but, went back and competed and we took 4th but, it's b.c we tried and that's all I can ask of him. Now we are training level 1 dressage and so far he's doing good. :) Couldn't ask any more of him :)
Me and my big beautiful beast. Taken by a friend yesterday evening after a ground work session
Not much else to say about it.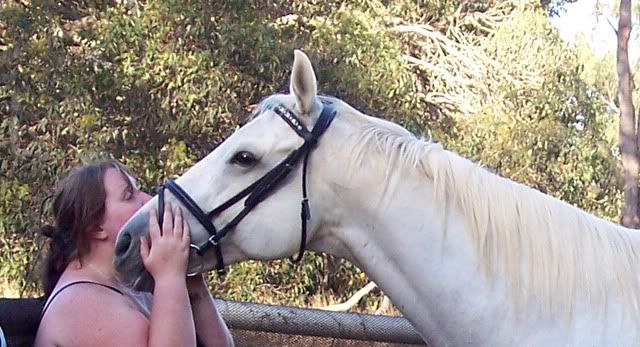 ---
Flirt-Hugo-Phoenix-Romance-Fanta-Nippa-Shiloh

Trojan 09.11.02 - 26.10.10 // Kody 01.09.89-25.06.12 // Rex 05.11.95-21.12.12