Tattoos?
---
I'm hopefully going for my first horse-themed tattoo soon (bit on my ankle) was wondering if anyone else had any they'd like to show off? A little explanation of why etc. I love tattoo stories
Wow, I LOVE that ALottaTrot, the shading is stunning, really well done. Just making me more excited for mine
I think at some point I'll get an actual horse piece done, but I don't know if I'd want it to be like...one of my horses or just a kinda generic one etc.
This is my most recent...the picture quality if poor because I used my phone, but you get the idea.

[IMG]file:///C:/DOCUME%7E1/Debby/LOCALS%7E1/Temp/moz-screenshot.png[/IMG][IMG]file:///C:/DOCUME%7E1/Debby/LOCALS%7E1/Temp/moz-screenshot-1.png[/IMG]
Thank you! I love my tattoo. It's all about finding the perfect artist, who has the best book and best tattoos in the style you are looking for. Good luck! And I can't wait to see it when it's done!
i have my first pony tatooed on my lower back....great was of remembering her but sort of regret getting a tatoo
---
HOME IS WHERE THE HORSE IS.........
I've been thinking about getting one. But two things hold me back...I'm TERRIFIED of needles; and my DH would crap! My friend has one that I absolutely love on the inside of her wrist. I don't have a picture of it, but it's two interlocked horse shoes with Live to Ride written on it in script.
---
Honary "HFA" member...That's right, I'm admitting it!
BTW....That's NOT rain on your windshield!!!!
This is for my boy Swoop! still have him but i wanted to make sure i had a part of him with me always.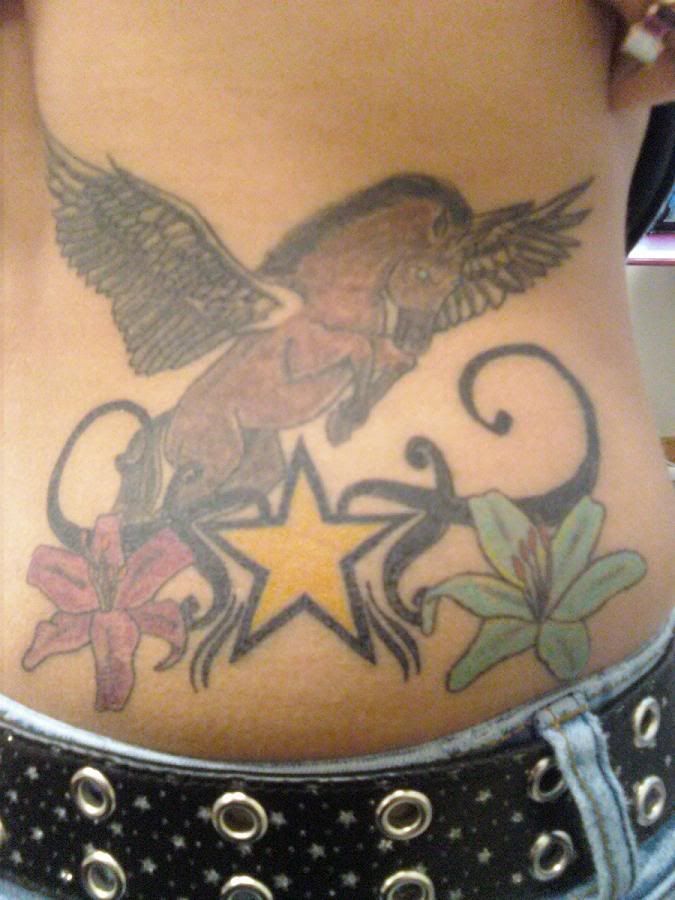 ---
"The horse you get off is not the same as the horse you got on; it is your job as a rider to ensure that as often as possible the change is for the better."
Totally agree with you ALottaTrot, artist is everything. I've gotten work done by the place I'm going to before, but I'm switching up artists for the bit, this guys shading work on metal is just awesome:
and FoxyRoxy I love that <3 I'm sure my guys will be making it to the canvas some day too
Similar Threads
Thread
Thread Starter
Forum
Replies
Last Post
Tattoos!!

IdahoCowgirl

Hobbies

75

05-19-2010

04:38 PM

For those with tattoos..

Lucara

Hobbies

31

05-09-2010

06:35 PM

Tattoos

TwisterRush

Horse Talk

9

11-06-2009

09:53 PM

Tattoos.

dominoschica

General Off Topic Discussion

4

09-09-2009

06:14 PM

yes tattoos again ;)

my2geldings

General Off Topic Discussion

7

05-11-2008

07:10 PM