The first horse I always think about when I hear heart horse would be my half Arabian/half Quarter Horse gelding Zayn. The trainer didn't like Arabians, (mind you he also hated mares and was a bit shady), but he told us that if I paid basically what it would take to haul the horse to the auction and his feed for the past couple of weeks that I could have him. I ended up getting him for $300, and the guy even delivered him (it was only a couple of miles, and boy was he anxious to get the horse off his place). At first the Zayn was spooky and skittish, after all he was only 4 and hadn't been ridden really since he was 2 (his owners were first timers), the first day I took him out on the road he was so happy! I don't think anybody had just let him canter for the fun of it. He was spooking for the fun of it, and as he was cantering he kept swinging his head from side to side. I owned him for 3 years. He loved working cows, (I found out while riding bareback... LOL!), and of course with no training on stopping/turning properly, he did the bounce, bounce, bounce on the front end in order to stop or turn. I learned how to really ride bareback on him. First time to gallop was incredible and so scary too.
I completed my Parelli level one with him, and he was so soft in a hand tied rope halter (If you know how a rope halter and lead rope work, you know that he was responding to pressure on his neck, not his nose). I ended up having to sell him because we were moving to the States again and we didn't want the hassle of bringing horses across the border (or something like that... we didn't question Dad). Anytime I am having to work with an ornery riding horse I always miss Zayn. He taught me so much!
I only threw that saddle blanket on for the picture... I rode with a thicker pad. :)
It took one session of training him to pony colts and then no matter what the horse he was ponying was doing, (biting him etc), he wouldn't even flick an ear at them.
My other heart horse was a Reg QH bay stud colt, CS Muddy Marco (Fury). I bought him as a weanling and went to halter breaking and ground training right away. I was planning on keeping him a stallion, so wanted him as trained as possible. The Parelli 7 games, level two ground work, lots of giving and softness. He always just accepted everything and after learning as a yearling that rearing and protesting did no good, he went along with everything I said. I had him on a lunge line doing up and down transitions, loose line, head relaxed, changing directions, etc. I was just starting to introduce the saddle as he was a coming two year old. He was just laid back about everything. I think he slept most of the time. I had to sell him at the same time as I sold Coyote. I think I shocked the fellow, when he went to back the trailer closer, I took my two year old stallion from his pen and led him over with my hand on his neck. Maybe he expected something different from a horse named Fury. LOL!
This is the only pic I seem to have uploaded anywhere.
I know my boys went to good homes, but I'd give a lot to have either of them back again!
---
I figure if a girl wants to be a LEGEND, she should just go ahead and be one. ~Calamity Jane
More stories guys!
---
I'll play!
My heart horse is definitely my OTTB, Monroe! He is my love.
I have had him for almost 9 years now and it hasn't always been easy. I bought him to event with and he is very bold to jumps...but loves to buck after. And boy can he buck! I've had Olympic level coaches ask me how I stayed in the tack. He just loves to jump and that's how he shows his enthusiasm :)
I did my first rated show on him, and I fondly remember the feelings I had as we jumped the final fences and galloped through the time flags. To this day, those feelings haven't been duplicated (even after getting married and giving birth...sorry, guys!!)
He likes to pretend he's a stud when I bring him back in from turn out...striking out when he walks, prancing, rearing....sometimes walking him feels like I'm flying a kite. But, I've learned getting after him pisses him off and he misbehaves more. So I just let him do his thing and chuckle. He has never, ever come close to stepping on me during his shennanigins. Even when he spooks, he ensures to avoid me completely. He is very self aware and careful, even when he looks "dangerous." Plus, he is pretty easy on the eyes <3 Here he is, in all his glory!!!
BUMPing this up
---
I've only owned two horses, and though I had fun on my first one, I was too young and too worried about the politics of high school to really bond with her. My current mare, if not my heart horse, I think is well on her way.

She is so smart, personable, and so incredibly forgiving. She tries her heart out for me. We sometimes have what seems like a horrible ride...I'll get off and think I've failed her miserably and I'm going to ruin her and she will start to resent me. And then she'll lay her face in my arms and I remember that she still lets me get on her every day, still tries so hard to do what I'm asking, even when I'm not asking correctly. Okay...maybe she is my heart horse. Sigh. Now if only she'd look a little more enthused when I open the gate :P
Oh, alright. I never pass up an opportunity to ramble on about my baby. I think the story gets longer every time I tell it, so I'm sorry in advance for the novel I am about to write!
My OTTB Riley is my heart horse. I can't imagine loving another horse more than I love him. He is going on 7, he's 16hh, dark bay with three white pasterns, and a white ghost shaped star/stripe on his face. He has those big brown eyes that make you want to squish his face and give him a hundred kisses (even though he won't let you). He is a little spoiled, occasionally grumpy, and can be a bit of a hot headed stinker sometimes, but he is also loyal and intelligent and very well mannered. Not to mention, devastatingly handsome!
The story of how I acquired him is kind of interesting, Riley kind of fell in my lap, so to speak. I was barely looking for a horse, more just checking things out to see what was around. I am one of those people who is always on equinenow, or newhorse, or craigslist, etc, etc. I have a weakness for browsing horse ads. So in the summer of 2011, I was doing just that when I found an ad titled "Sweet Gelding - $100". I though there was some kind of typo, there was no way that this "loving", "laid back", "sane and sound" gelding was only $100. So I sent an email to them and it literally read, "Was there a typo in your ad? Is he really only $100? Let me know, thanks."
This was the picture from his ad...
I didn't hear a word from them in over 2 weeks, so I figured he had already been sold, or they were those kind of people who didn't respond to one liner emails. I didn't think much of it. It had been my experience that when a horse is being sold for cheap, there was some kind of problem, physically or mentally, so I figured it was best not to even get involved. I had previously looked at two other horses who were almost as cheap. One was an appy mare who had serious issues riding out alone, the other was an ex-rodeo quarter gelding who just plain had issues. He was way too much work for what I wanted at the time. I was convinced that what I wanted was going to cost twice as much as what I would be able to spend, and that I wasn't serious enough about buying a horse to save that much, and I had better things to do at the time... Yeah, right.
Then, I got a response from the owner of the "sweet gelding." She said that there wasn't a typo, he was actually $100. He was broke to ride, had good ground manners, quiet under saddle, healthy, and UTD on everything. "When would you like to meet him?" Umm... Now would be good. So we made an appointment for me to come visit, and I anxiously waited for the day to come. As happy as I was to meet him, I was also preparing myself for another crazy horse. After the last two, I was feeling rather guarded.
When the morning came, I put on my horsiest looking outfit (which was jeans and rain boots), and away I went. When I got to the barn, there wasn't a soul to be seen. There were a few cars out front, but no people. When I walked in the front door, I passed by a horse standing in cross ties who appeared to be fast asleep. I figured it's owner was fetching a saddle or something and it was just taking a quick snooze. As I wandered, I saw other horses in their stalls, peeking out over the doors. Everyone looked happy and content. I took it a a good sign. Eventually, I found the BO. When she saw me, she squealed "You're Meagan! Hi! So what did you think?!?" At first, I didn't get it. Maybe I was too startled by her tone, but I managed to say "Nice place!" She laughed and said "Thanks, but I meant about Riley!"
Duh... The snoozing horse in the aisle. Patiently waiting for someone. Me, to be exact.
When we walked back to him, I approached him like a car enthusiast approaches a Maserati. I softly ran my hand down his neck, across his shoulder, down his back, around and up the other side. He just stood there, breathing slow, licking his lips contently. When I got to his face, he lifted his nose up a little and looked at me. I knew almost instantly that he was mine. I don't remember asking a lot of questions, maybe just the basics. For the most part, I just remember staring at him and his big calm eyes.
The BO shared his background with me, which was very shocking to hear, not to mention sad. She said that Riley's previous owner was a boarder of hers. She had brought him to her barn a 6 months prior, but then, out of the blue, she just dissapeared. The BO tried to contact her several times, but only ever got a hold of her mother who said she had moved out of state. The BO was shocked, but she loved Riley too much to just ship him off as soon as possible. She kept him around for a while, showed him a few times, but she knew that he needed someone to love. Riley is the kind of horse that enjoys spending time with his person. He is very affectionate and needs that bond
So, I decided to do a 2 week trial with him, knowing full on that I wouldn't need two weeks. I wouldn't need two more hours. I rode him a total of 3 times before I knew without a doubt that he was the horse for me. On the fourth day, the BO approached me and said that she had gotten a few more emails about him and she didn't want to say a word to them before she talked to me. She said she really liked me and could tell that Riley liked me too. Then she said if I was sure I wanted him, she would give him to me right then and there. No money, just plain give. I remember making audible noises, but that is about it. I'm assuming that they sounded like a positive response because she smiled and said "Great! I'll go write up a transfer of ownership!" and she disappeared into the office. Now, I'm not a crier. But I cried.
I have been Riley's owner for almost 2 years now, and even though we have had trying times, I wouldn't trade him for anything in this world. He keeps me honest with myself, that's for sure. He has his sweet as a peach days where we could do anything and he wouldn't put a single foot out of line, and then he has his wild race horse days when everything we do has to be at high speed and with lots of enthusiasm! But I love it. I love his fire. Even though he freaks me out sometimes, I know he would never do anything to hurt me intentionally. He is always very aware of me and helps me stay balanced on his back. He is a great horse, my big furry muffin.
I look forward to spending many, many years with him.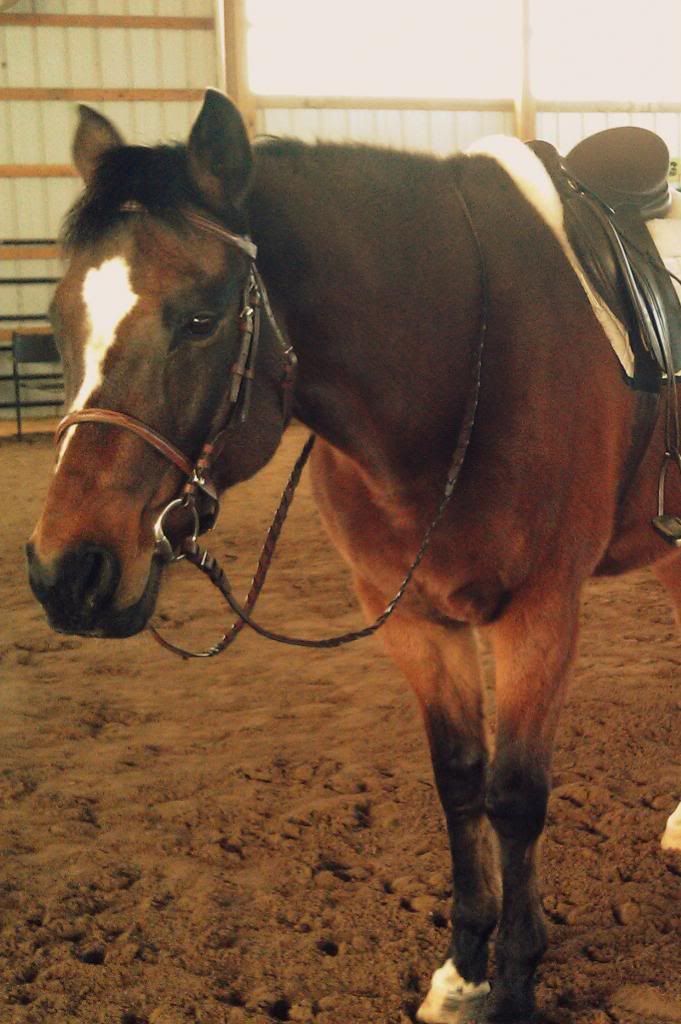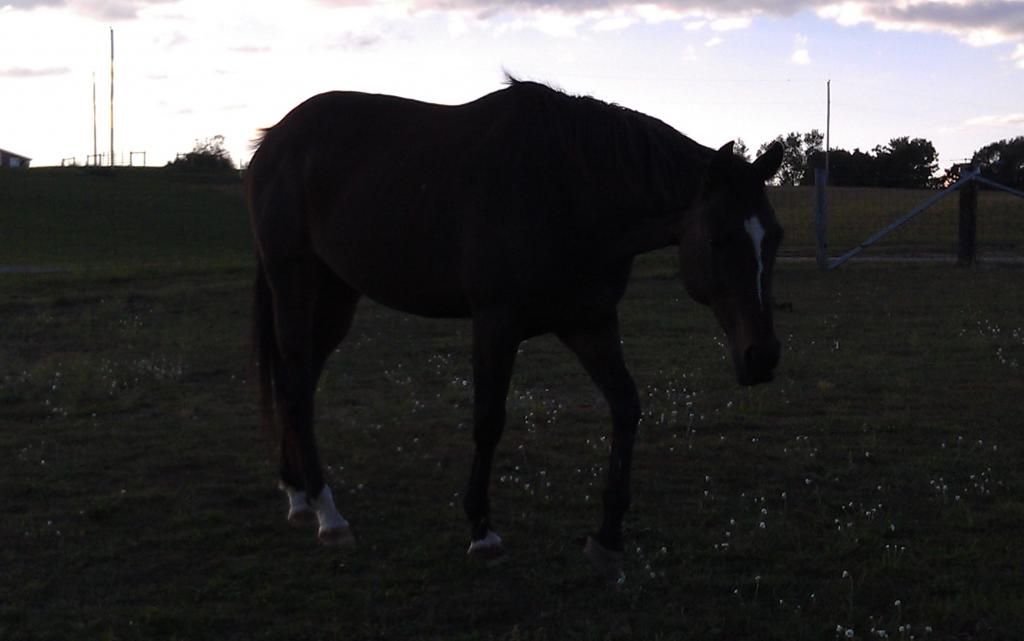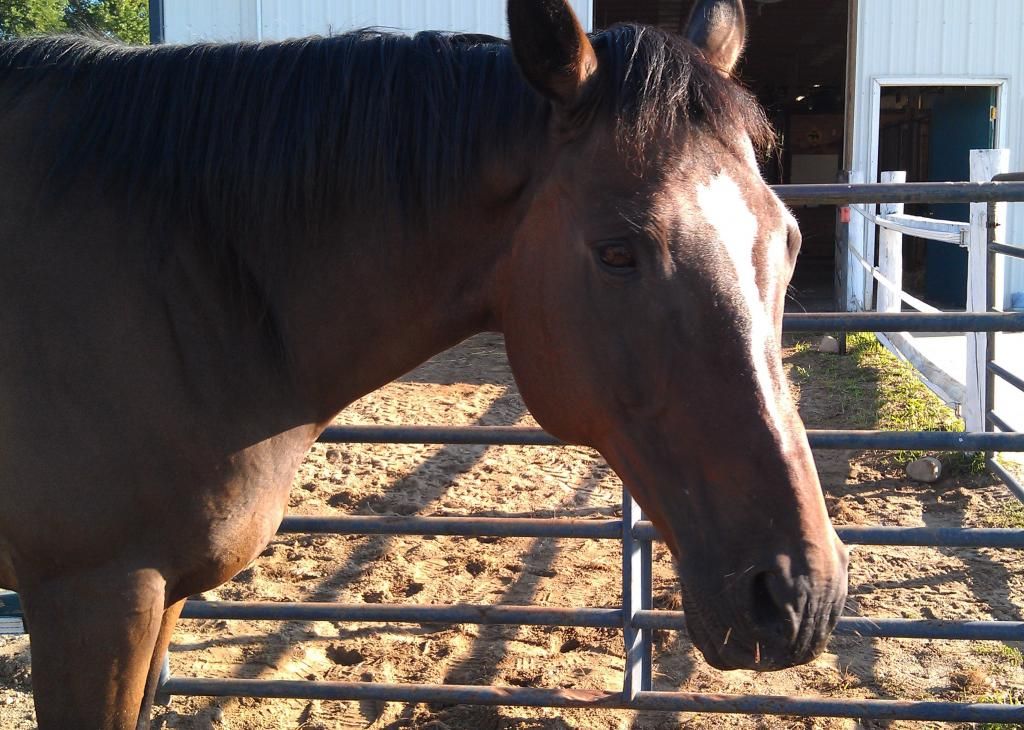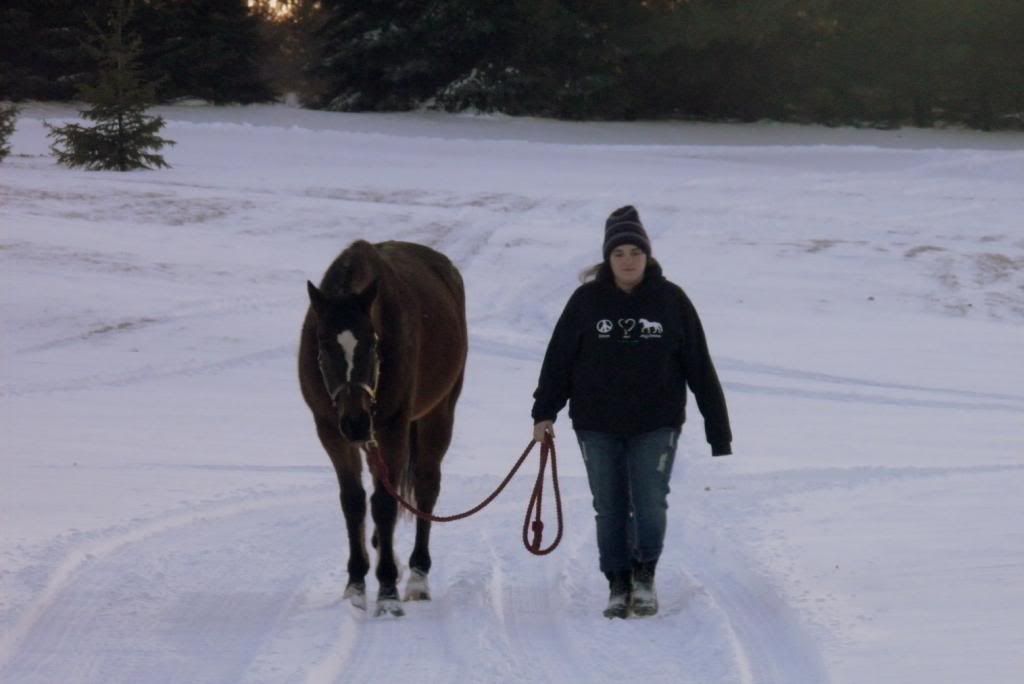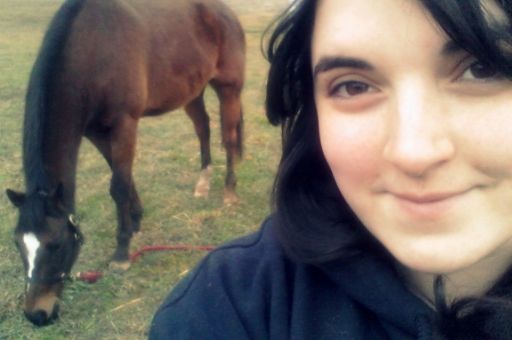 So that's it! I hope you enjoyed my novel!
---
"A rider who would trade partnership for obedience
will have to settle for neither."
My first heart horse was bought for me by my dad when I was in third grade (9 years old at the time). She was a 9 year old 3/4 Arabian 1/4 Morgan. She was my soul mate and we grew up together. I had her for 10 years till I was 19 and got married to a soldier and couldn't take her with me. I gave her to a good friend and neighbor who had her for another 6 years till they found her passed away in the pasture one day. She was a big beautiful bay with black stockings, mane, and tail and a white star on her forehead. Her name was Nimara. If she had been able to talk she would of had some stories to tell about me. She was told all my secrets, laughed with, cried with, and cuddled with. I would go to her stall in the mornings and curl up by her legs as she laid there and read a book or talk to her. She was always careful around me when I was little and took care of me as a little girl with no horse experience, just a love and desire for horses. She will forever be part of me and I am thankful that I once again am able to have horses in my life after being married for 18 years.
I've had two for sure, and a serious bond with my Appy filly. I've owned many horses, and they all gave me something. My first horse saved me from some very bad choices I was about to make at 15, and set me on the right track, but she wasn't my heart horse.
the first was sparky, a hanovarian/thoroughbred colt. I bought him the day he was born. I did all his training and we could pretty near read each others minds. I had such huge plans for him. He was 15hh as a yearling and bright red with two front socks. One day He got running too fast with the other colts, decided to jump a gate at the last moment on tricky footing and ended up landing on his hip, fracturing the hip socket. vets, massage, homeopathic medicine, nothing helped. The day I walked him out of his stall and realized this was unfair to him was the day I had him put down.
My second is my arabian, Pretzl. I have a blast every time I get on her. We are a perfect pair, and I trust her with my life in even the trickiest of situations. she is the horse version of my self, short, oppinionated, occasionally a bit prickly, but unswervingly loyal. I plan on owning her until the day she dies, which hopefully will be years from now.