Tell me why you love your horse.
---
So this is a thread to introduce your beast and tell us why you love them, something quirky, cute, unusual, whatever you feel like! Add pics as supporting evidence he he.
I'll start:
This horse has gone to a new home but I loved him while I had him: His name is Lance, he is a 6yo OTTB and I loved him for his quiet and sweet attitude. You never would have known that he raced as he never acted like it.
The funniest thing he used to do was if he was unsure of something he would stop and stare at it, like he had literally turned to stone. Never spooked or misbehaved but once he was in 'statue mode' he was rather difficult to get moving for a few seconds! He settled into training quickly and easily, in fact the only bad thing I can say about him is that he wasn't quite exciting enough for me! Here is a pic:
Lance 14.jpg
So tell us about yours!
---
All horses deserve, at least once in their lives, to be loved by a little girl.
Aw, and I thought everyone would be keen to show off their pride and joy!
---
All horses deserve, at least once in their lives, to be loved by a little girl.
Jack is my relaxation time, with a very busy job, 2 kids and a hubby to take care of, When things get to be to much I just tell everybody, I need some Jack time!!!
I love my first horse, Patches, because he has taught me about how much you can learn from a horse. How much endurance arab crosses can have, how fast they can run, and how hard they can be to stop! :P He taught me responsibility and just how special a horse can be. :)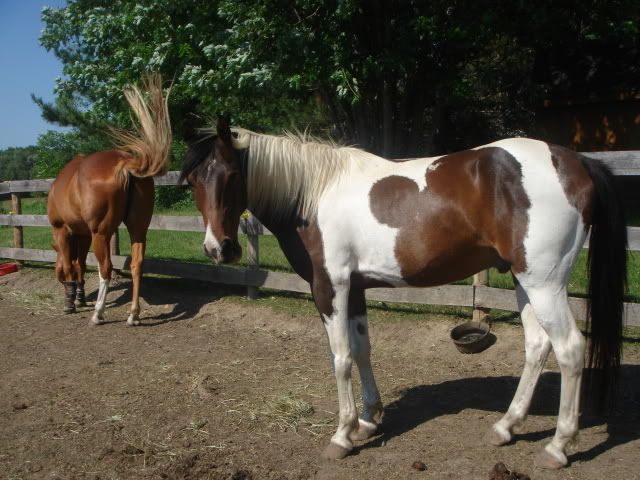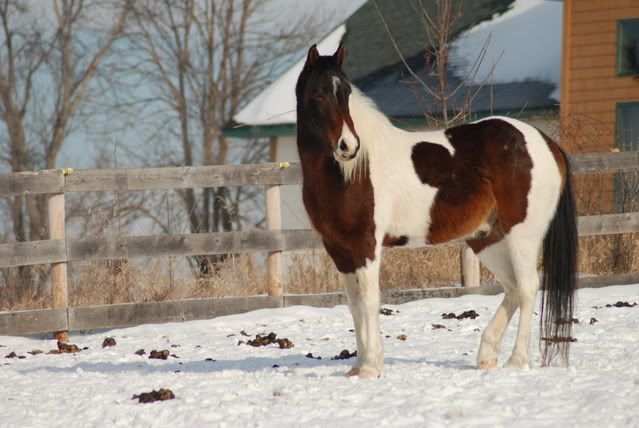 I love Scotch because he taught me not to be afraid of horses. After a few consecutive accidents, I lost all confidence in horses. In turn, Scotch lost all confidence in me. He taught me to be a leader, a good one who is caring, but doesn't let him get away with stuff. He has helped me be able to decipher equine body language and know how to teach horses things. Most importantly, he teaches me to trust. Most people don't think you can trust a horse (and in a way you can't), but that is the most valuable lesson he has taught me. I don't know what I'll do without this him--he is my soul horse. :)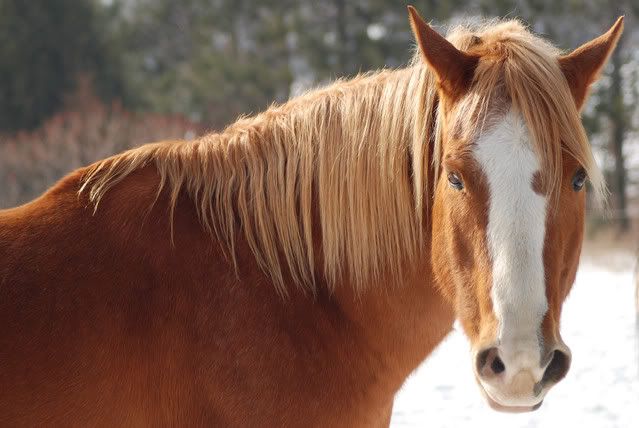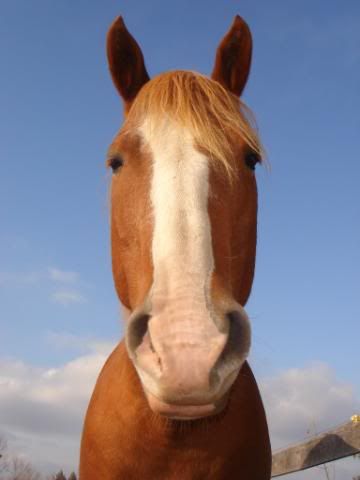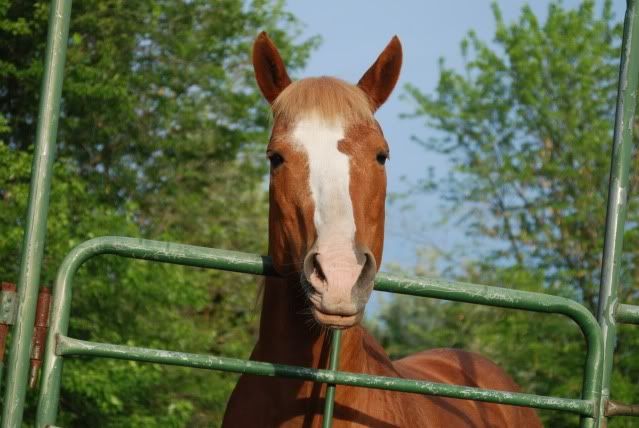 I love my Appaloosa, Kubie, because he is teaching me about how much I can learn from an older, experienced horse. I am learning a lot about equine nutrition and health issues thanks to him! Senior horses are gems--with their arthritis, weight and dental issues, come some of the best teachers of all. I love this guy! :)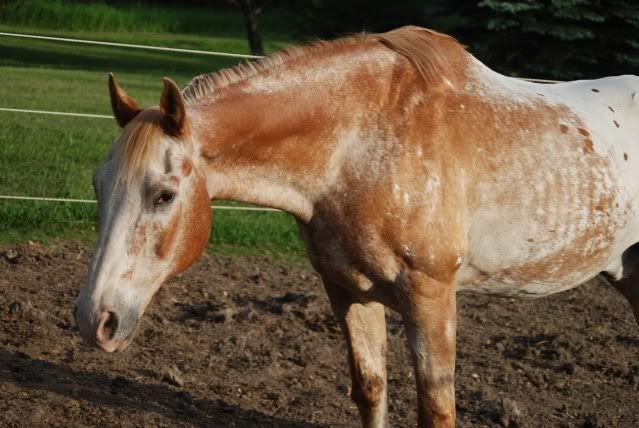 (Blacked out for identity purposes. Such a touching picture of my little brother's first horseback ride on one of the best teachers of all!)
---
| Kubie, Appaloosa (RIP) | Patches, Pinto Arabian Pony | Scotch, Paint Quarterhorse |
---
Last edited by CharliGirl; 09-26-2010 at

12:30 PM

.
I love my boy because if i'm having a rough week or day he is always there. It's my time to focus on him and only him and just relax. He makes me laugh with his goofy faces and i am always happy to see him :] He's am 11yr old arabian gelding with tons of fire and spirit
p.s your boy looks almost exactly like my friends boy accept hes black hehe hes gorgeous btw
And this horse well he was my absolute love. He was a 19yr old thoroughbred gelding named soldier who i could do anything i wanted to. He taught me tons but i totally trusted him with my life. I could ride him bareback or i could saddle up cross my legs and drop my reins on the trail and he would just walk. On his last good day he won almost every class in gymkhana no lower then a 3rd i was so proud.. then that saturday came and i found him shaking and panting...iw as up with him for hours i had on last abreback ride on him to keep him moving he pirked up a bit nd i thought he would pull threw.. but the next morning it was evident that he was to far gone.. i lost my soulmate but he is still my favorite horse for his spirit,attitude and kindness he really was my soldier
---
just a small town girl with a big town dream :]
I loved King for everything he was and everything he wasn't but tried to be because I asked. He was a true champion with a truck load of heart. He taught me all I know about horses and how to truely appriciate a horse.
king.jpg
And this is Scooter. My BO's horse who I adore. He is my barn buddy. He is a chronic spooker but doesn't do it just because...he really is a scardy cat. I love him because he chose me. Hes always there to comfort me. He can be a challenge but its soooo worth it!
I loved my former arab, reggie becasue no matter how bad my world seemed, I could always go to him and everything would just melt away. We chose each other and I trusted him with my life, and he proved that to me. He taught me so much about horses and just 'letting go'. Our last ride together was a bareback ride in the setting sun, I'd never felt closer to him.......
I bought my horse to be my 'respite' from caring for my parents... He's a young ISH, and quite a 'breedy' blood horse, but he's got the cheekiest nature, and he's more like a big pony.
He gnaws on my hand to say hello
and he loves his kisses and cuddles
---
"Did I not just use the word 'puzzling'?"

Love the pictures, I always wanted a horse just like Patches when I was younger!
I knew everyone would have stories and piccies to share, I just love seeing other peoples horses cos I sure broadcast enough of mine on here
---
All horses deserve, at least once in their lives, to be loved by a little girl.
I fell in love with Loki one cool December. He kept following my dad around and nosing in his ear. Then he started following
me
around. I was only 13 at the time but I loved his attitude, the first ride sealed the deal. The first time I ever truly galloped was my first time on Loki, he went so fast my eyes teared up, I trusted him completely.
I remember the night I went up to say goodbye before I went home. I walked clear to the other side of the pasture, all the way to the top. Then he walked me all the way back home, my hand on his neck while the other horses went tearing past.
Our first December together. I was 13 and he was 6. I'm now 18 and he's 11, we've been together five years.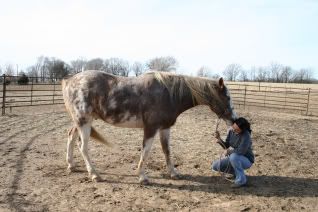 He was 8 going on 9 I believe, I was around 15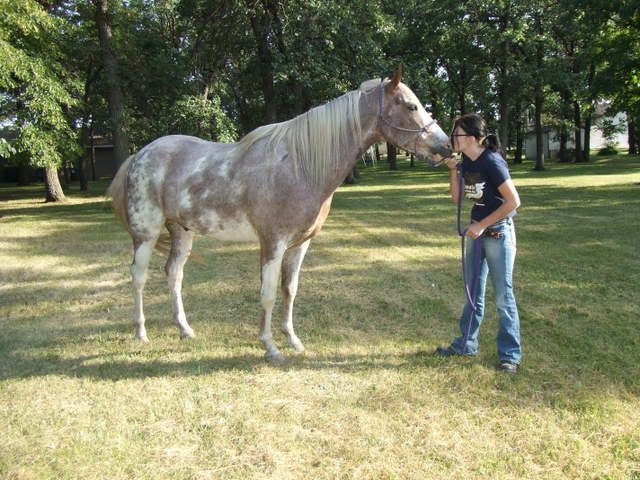 With Divo I just connect, he's just
there
. More down to earth than mischievous Loke. We walk together a lot, just stroll side by side or doze and enjoy the day. :) I love him because he just understands everything somehow, always excited to see me.
No candid pictures of him yet, he's only been hanging around since my 18th birthday (Aug. 8th). We're not riding yet, but I can't wait until we are n-n
---
Wait! I'll fix it....