my boy royal is the best horse ! he fixes the stupid mistakes i make lulz
---
---
He's my bestfriend and he's me in the form of a horse :)
---
Count My Strides - Shane, Bought 2-18-06, Mustang.
"I whispered to my horse, "i'm afraid of falling" and he whispered back, "i have wings".
Thank you Cinny! Her eyes were the first thing that caught me when I went to look at her.

Moores, click the "go advanced" beside of the post quick reply, underneath this window. Click manage attachments and it will bring up the window to either upload from your pictures on your computer, or you can upload from a url.
---
Honary "HFA" member...That's right, I'm admitting it!
BTW....That's NOT rain on your windshield!!!!
Here's my baby Allie
---
Here's my new baby Allie. I am a new horse owner and she is my first horse ever. She is very gentle and has such a wonderful personality! I love her already! She is a 15 year old Appaloosa. She is having a baby in March.
Great pic Countmystrides, you both have an excellent 'game face' so to speak! Cute Appy Moores77 she looks like a doll!

Thanks everyone for posting and sharing your stories!
---
All horses deserve, at least once in their lives, to be loved by a little girl.
Started
Join Date: Mar 2009
Location: Middle-of-Nowhere, Illinois
Posts: 2,225
• Horses:
1
I have no clue why I love my idiot horse so much. He's quirky and temperamental, but for some reason, I find him utterly irresistible. ;D I like the fact that he doesn't spoil me and he challenges me every step of the ride. We have fun, though, and he makes things interesting. He's taught me more than any push-button lesson horse could.
I love Norman because no matter what my day has been like or what mood I'm in, he always makes me laugh. He's also very patient with me, which is wonderful because I make a lot of mistakes.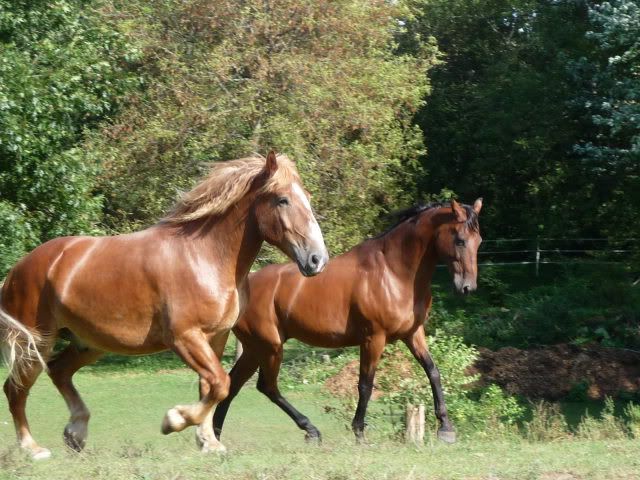 ---
"A musician must make music, an artist must paint, a poet must write, if he is ultimately to be at peace with himself.
What a man can be, he must be." Abraham Maslow, 1968

---
Last edited by Jessabel; 09-28-2010 at

05:43 PM

.