ok, saw my cousin this weekend and he tells me he's got a few horses he needs to dispurse. They do not want to sell them, but just make sure they go to a good home. His wife is having quite a few medical issues with bills adding up. He sent me some pictures but they are not good ones, just enough to see color. I told him I would put the word out for them to help, so if you're interested or know anyone who might be, let me know. They are QH's range from 2 yrs to 20 yrs, no papers. They are all broke to ride except for the 2 yr old but just haven't been riden in a while.
---
"Dream big, Work hard and Have FAITH"
"When my story's told, I hope he'll say well done and welcome home." ~ Templeton Thompson
If you have the time to put a flier together with some body shots and condition, etc, I'd be glad to pass it among my buddies in East TX - I have a bunch of girlfriends over there who are always trying to help place horses - especially if any of them have potential to be good playday or grandkid types, and I have another friend who is always looking for horses to play polocrosse with. I can also post with our 4H group here - they are always looking for inexpensive critters to work with for the ones just starting out - the hardest job they would have is learning to walk, trot and canter both ways in the arena....
Ok i will have him take some better photos. He's got alot on his plate so it may take several days.
Posted via Mobile Device
They are in Blooming Grove in case that helps.
Posted via Mobile Device
Worked the boys tonight. Gunner was still using the thinking side of his brain ... no reaction to ropes flying around .. no reaction to the plastic bag .. and we went up to the garage while land owner was drilling, banging, working metal, air compressor going .... all calm.

Backing exercises, bending and respect on the ground ... then some lunging. I don't really have anywhere to tie them, so all grooming, tacking, etc is done with holding them or standing at the back of my truck ...

They are really good.

Tomorrow... I ride.
Good morning Texas friends!
Posted via Mobile Device
Morning kc!

It's beautiful here today .. (I forgot to put my saddle in the truck ... more groundwork today.)
Morning! High of 85 today. Wow!
On another note, Henny is getting so ridiculously dark. He's definitely a sooty buckskin, or maybe even a smokey black.
Here he is the day after I got him:
Here he is now: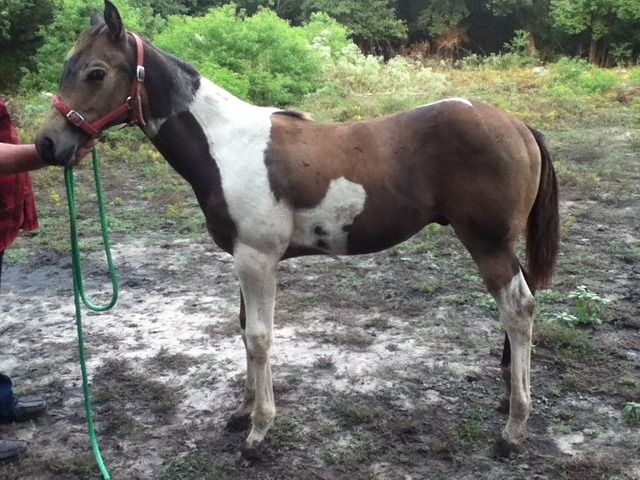 EDIT: Sorry the pictures are huge, I tried resizing them
---
There on the tips of fair fresh flowers feedeth he; How joyous his neigh,
there in the midst of sacred pollen hidden, all hidden he; how joyous his neigh
Good morning everyone. The High Holy days are upoun us and so I am commutting from Dallas to Paris almost everyday to attend services and catch up paperwork at the office and farm. Got behind while my daughter was hospitalized. Shalom