Just thought I'd share a pretty picture (at least it is to me :))
---
"Dream big, Work hard and Have FAITH"
"When my story's told, I hope he'll say well done and welcome home." ~ Templeton Thompson
LOVE your longhorn! What a nice looking animal!
Thanks but she's not mine. She's a pet of the land owner. He has 2 longhorns, a beefmaster and a cross that's only about 2 months old:)
Posted via Mobile Device
Oh, I wanna share a cute picture too! Today marks me owning Henny for an entire month. WOOO! He finally trotted in hand on command yesterday. I am so proud of him.
"You haz treats?"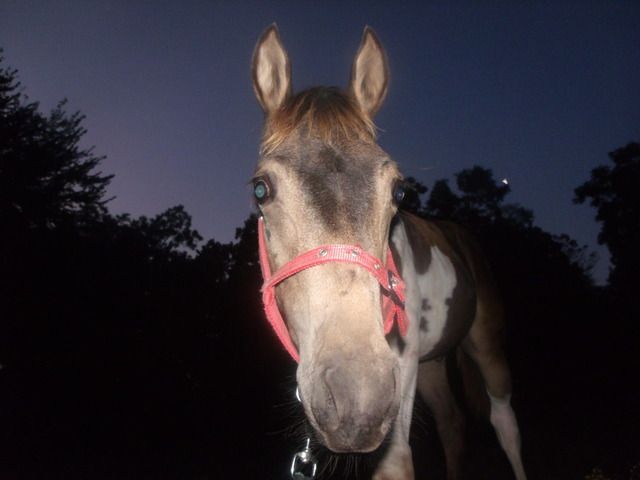 Why do my pictures never resize? Dumb photobucket!
---
There on the tips of fair fresh flowers feedeth he; How joyous his neigh,
there in the midst of sacred pollen hidden, all hidden he; how joyous his neigh
I got to meet a pet longhorn once - quite intimidating until you got used to him -His quiet disposition and lumbering attitude made me really cautious. They are SO HUGE.
GIVE that sweet baby a kiss for me on that adorable little nose!
Quote:
Just got back from Brookland KOA.1st visit there. Really nice campground. Lots of trails same sandy areas, Up hill, down hills. water crossings. Lots of fun.
I had to look this up - Lake Sam Rayburn? Angelina National Forest area, right? If it is the place I thINK it is, I've only been there once. I remember it because there was a part of the trail that went by an old homestead and gravesite in the middle of nowhere in the woods - the graves were ancient old like from the late 1700's. You wouldn't even know there was a homesite there except for the fact that tulips grew in a big square shape that looked as if they bordered a large building at some point.
There also was a higher point that the trail went on that overlooked the lake. My horse actually did a double-take once the lake came into view because it was so wide. I remember my poor horse and I both had to quit the second day of our CTR because the prescribed burn (and smoldering areas left over around the trail) were so bad, we both started coughing and ended up with sore throats for a week afterwards. That place was beautiful!
Yes it is on Sam Rayburn. Down near the dam. Just north of Jasper. The trails were not groomed very well. It made for some cool off roading. I don't think they get to many people on them. The barn was wonderful, huge. Nicer then the cabin I stayed in. I did not see the lake from the trails. I wasn't looking. I would dif go back. I wanted to go to Ebeneezer park this week end but ended up at the KOA. Long haul from Baytown. 3 hours. It got pretty warm even in the woods. The horses were pretty tired at the end of the ride.
Yes they are! Especially wben you're out there trying to get your horse and they have locked horns playing and the bull decides he wants to play with you too!
Posted via Mobile Device
The coolest part about east TX is the Piney woods. Most of the time you don't have to have shoes. East TX and West TX are tied, in my book. They both offer something drastically different. I love the Bandera State Natural Area. We try to go at least once every 1-2 years and stay the weekend. I skip the shoes and go straight for easy boots since the place is nothing but rocks but low and behold there are views that will take your breath away. Plus the natural springs are GREAT to climb in with or without your horse to cool off. They offer trails for every level - very flat and basic to very challenging and technical. I take every green colt I start to that place for the boost of confidence it gives them.

There are group campsites there - some are primitive (with a barn and stalls at some sites) some have w/e hookups, too. There is a lodge that I've stayed at (sleeps like 12) and has a full furnished kitchen, bath - furniture, etc and is private with an arena and stalls/paddocks - that would be a GREAT group gathering place.

Something else to look into for our first initial gathering!

Anyone ever ridden up by the Llano Estacado area?