Good Mornin y'all! Hope everyone has a gret day!. We had a good night of ground work last night. My Katy was yielding her hind quarters and working great! I took some new pics to try and tell the difference in her weight and muscle build up but I can't tell. Take a look and see if you see a difference in her after 1 month.
In August
Last Night
Thanks...
---
"Dream big, Work hard and Have FAITH"
"When my story's told, I hope he'll say well done and welcome home." ~ Templeton Thompson
Ok, 1 more picture to post. Little Miss Apache Moon standing tied, pretty as a picture!
---
"Dream big, Work hard and Have FAITH"
"When my story's told, I hope he'll say well done and welcome home." ~ Templeton Thompson
Both your horses have Zombie eyes. I would check for zombie bit marks. Both are very pretty. Keep up the good work.
Quote:
OMG - that is AWFUL...
The owners are not going to enjoy getting that phone call either - especially if it was a beloved horse or one of their kids' horses!
I hope the people who hit it are okay - that could be a lawsuit in itself.
There are a hundred kinds of 'not good' attached to that.....
UGH - my morning didn't go so great either - nearly got hit head on with my kids in the car on a gravel road - perpetrator(that's my NICE term for him) barely got control of his vehicle going around a gravel corner and missed me by inches - splattered us with gravel - we had to pull over and puke for 10 minutes (well, felt like it anyway)...the guy didn't even stop, just kept going at a high rate of speed.
I HOPE EVERYONE ELSE HAS A MUCH BETTER START OF THE WEEK!!!!!!
I hope your day was better after that! I would have been scared then ticked off. Glad yall were ok!!
---
~Being on the back of a horse is my idea of heaven!~
Thanks! It's that twinkle in their eye, but don't let that fool you, lol.
Posted via Mobile Device
Quote:
I lost a horse to the road when I was in Jr. High. We had just moved back to Texas, from California. Dad dug out the cattle guard, and put the horses in the pasture. The mare walked across the cattle guard, got hit by a car, tore off one of her front legs, she walked back across to go "home" the highway patrol wouldn't shoot her because she was on private property, so dad had to do it. We had had her since she was weined off of her mother, and she was at least 5 yrs old then. He said it was like shooting one of his kids! :( She lay down at the end of the driveway until the large animal disposal could take her away, for several day. I would not go to school, I couldn't walk by her everyday. My parents didn't make me either.

We never depended on a cattle guard again after that!
Aww poor baby! Thats horrible. I couldnt handle seeing my own horse like that. I wasnt even able to contain myself and it wasnt even a horse I knew.
---
~Being on the back of a horse is my idea of heaven!~
Good afternoon Texas Friends! The wheather up here in my neck of the woods has been great the last two days. Its warm but has a great strong breeze. I thought yesterday would have been an amazing day to ride! I hope somebody rode! If your riding today....think of me lol
---
~Being on the back of a horse is my idea of heaven!~
I can see some definite improvement in both, KC! How old is the pinto?
Okay so I'm going to dress Henny up as a zombie football player in a costume contest at a show he's going to. I bought a head bumper to turn it into a helmet. Let me just say, Henny is so tolerant of all the things I put him through LOL. Am I a bad person for laughing at the stud nun?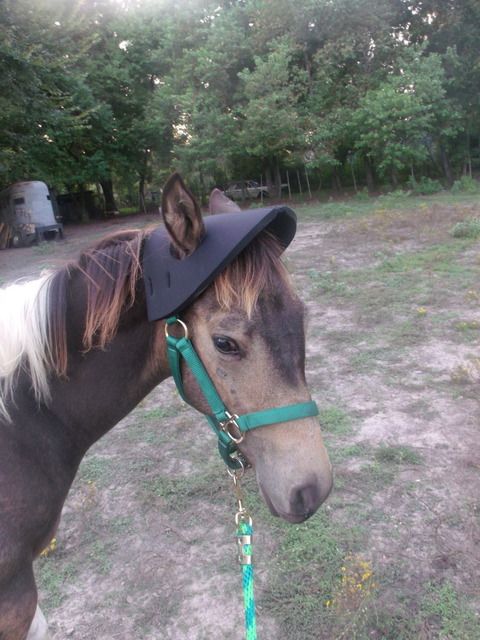 ---
There on the tips of fair fresh flowers feedeth he; How joyous his neigh,
there in the midst of sacred pollen hidden, all hidden he; how joyous his neigh
He is too cute Kay! My pinto is 14;)
Posted via Mobile Device
I LIVE! I feel like I haven't posted on any threads in forever. Gonna trim everyone today. My clever mare keeps escaping my pasture to go to the neighbor's. So we are going to refence the whole back of our pasture. Le sigh. I hate fence work.

Any news on the trail ride?
---
Riding: The art of keeping a horse between you and the ground.