Hey QOS, Could not get a site at EP and the motorhome was not up to date on stickers. KAO has cabins for 60 bucks and real nice stalls. Your right it was pretty warm up there.
And smuffocated is a word. My feet smuffocate when they get hot in my boots.
db .. so true. DH would try to lunge Gunner .. but Gunner would lunge DH .. *sigh* .... so he says "Oh, you wanna try?" .. I said "sure" .. Gunner didn't give me an ounce of trouble. So last time DH was out (we don't have the horses at home) I showed him how to lunge him properly, then I had him come into the circle, take the line and I exited the circle.. Gunner was fine.

DH wants to ride .. so when he goes out there, I usually have Gunner saddled, warmed up, bla bla bla ... so there is NO relationship between them, really.

I agree with the trainer, and if I could find someone to take him while we're gone, I will. If he were mine, it wouldn't be an issue ... but he's DH's. Then I've got to convince DH he needs lessons... lol ... another story.
I have update pics! So I've been trying to pack the pounds these mares for several months now. It's been pretty hard putting the pounds on, but last night I was looking at side by side pics and saw a lot more progress than I can see in person. The vet that boards with me said Abby is in good enough shape to start working her over ground poles (lunging) to help build some muscle. Woo! Sorry for the huge pics
Day 1
Yesterday - (Yes, those feed buckets are way torn up. They were actually being thrown away, but horses decided to nose around in them. lol)
Roux at 3 months
Roux at 5 months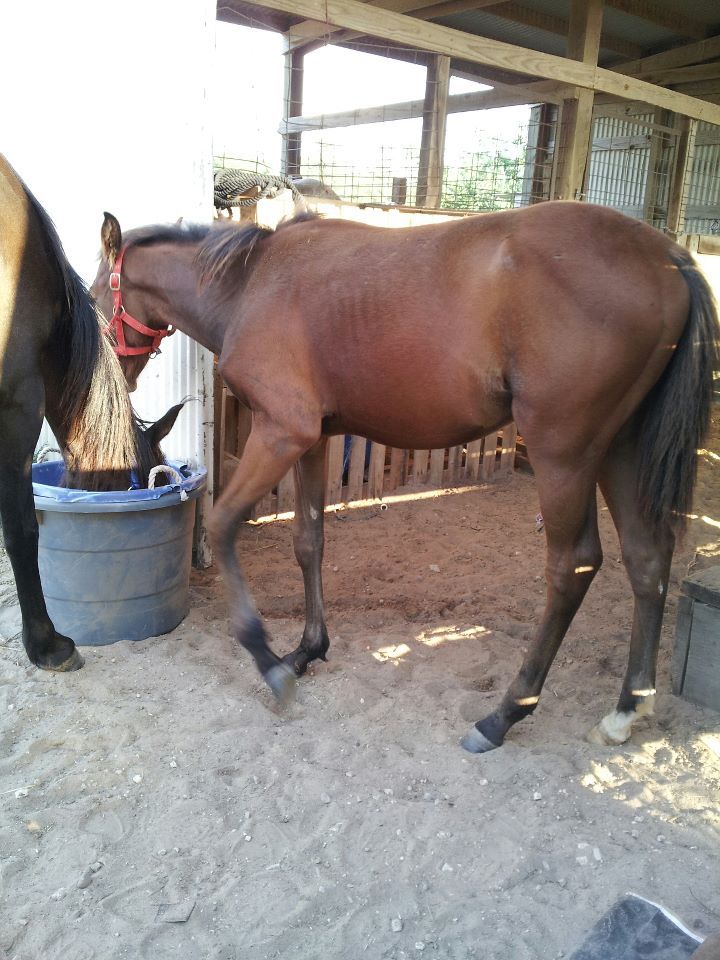 ---
Riding: The art of keeping a horse between you and the ground.
Nice job ta, keep up the good work:)
Posted via Mobile Device
So glad you all are getting riding time in. I spent last weekend aggravating my already aggravated bursa under my achilles (sp?) tendon in my left foot. What was I doing? Clearing up a pig hunting trail along the creek ....
Most people go and sit on their patios at night to listen to the frogs or crickets, or maybe the occasional owl or coyote....but we hear pig squeals and snorts instead. As soon as the acorns started falling, here they come.
I did get to ride a TINY bit earlier this week - started putting the arab through some small jumping exercises. Of course my newly cleared pig hunting trail across fallen trees and ravines has a dual purpose
...I wouldn't waste all of that energy and time (and pain) unless it was horse related in some form or fashion.
TG, sorry the DH isn't having that much fun. So glad that you are getting out and enjoying yourself, tho! What a vacation coming up. That sounds like a blast!
Looks like our trailriding date might need to be pushed to the spring time - LOL! Just remember the national forests are open to hunting in the fall and winter so if we don't go before then, we might be better off waiting until next season. UNLESS folks want to travel over to 7IL Ranch in Cat Springs - little higher price for camping, but not much - but they have showers, bathrooms, w/e hookups. Sandy footing, MILES of trail - no shoes needed- been there several times, lots of fun and trail maps. Are there any other areas not tied to the forest that could be a good middle point for all if we were to go late in the year?
Just more stuff to throw in the pile to think about.
I just realized most of you have Arabs . I have 1/4 horses. Can I still be part of this group? Or do I have to go shopping for another horse?
Quote:
I just realized most of you have Arabs . I have 1/4 horses. Can I still be part of this group? Or do I have to go shopping for another horse?
I have no arabs. I have quarters too!
Posted via Mobile Device
Driggs we are in Texas where the QH developed and out number any other breed. We even have a liberal Jewish guy and a chicken murdering psycho as members. Not to mention the one with the duck suit. We don 't judge anyone except yankees and Okies. Oh and worst of all Aggies. we can overlook the fact that some mebers own inferior breeds. Shalom
Man some of you are up late on the computer. I thought I was the only one that did not have a life. Liberal chicken killers wow. I guess you do take all kinds. I feel much better about myself now. A little worried about the rest of you though. Did you say yankees? ah never mind. I do know a Aggie. Please don't hold it against me.
I am the nonexistant liberal in Texas as well. It is said we only come out every 100 years.
Posted via Mobile Device