My people spent 40 years in the desert and a couple of thousand before that therefore I need my comfort. We dont herd sheep and goats any more so I need a bed and running water.
When manna falls down from above once again then you will see me in a tent. Shalom
Did the tent thing for years also, for NATRC, in S. Calif. and a couple times here in TX, and S. OK. I'm happy with my popup. Would be happier with a horsetrailer with LQ though! Not long after I got my 2 horse. My GF told me, oh, I didn't know you were looking for a trailer, someone near me just sold a 3 horse slant with LQ for $1500! I so wanted to hit her! lol
Hello fellow Texans again! Long time no see on this thread. Guess I should mosey on back from time to time.
Looks my little one might become a little horsewoman after all!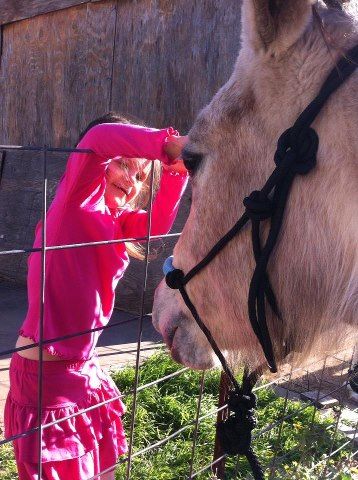 "Hello there, little person!"
---
Riding: The art of keeping a horse between you and the ground.
Hey TG, look who I found this morning!
We went camping a few times. Usually, whenever my DH goes camping it pours and is cold, but our last trip was nice. We crammed 2 people and 2 dogs in our tent and had an amazing time. I do wish that sometime soon we can take our horses with us. It's my dream to ride out in the mountains with my DH and our dogs
Some day.. Some day...
We are open to trying out a camper with a shower though, as "showering" in the river is not my DHs cup of tea (he prefers warm water and such
).
I did have a funny occurrence this past week. In the pasture adjacent to ours, two new horses moved in. I came over to feed my two and looked in the pasture. From afar it looked like mine had gotten out and were in the bottom pasture. There was a chestnut and a seal brown, sunfaded Thoroughbred. Upon closer look, it was the new horses and up close they were nothing like mine. Made for a good laugh, after I showed my DH. He did go
, just like me
. He also rode my old man and they both did well. Yeay! Baby steps towards riding in the Colorado mountains
Now I would just need to be able to ride my young one and have a trailer and time and money. But you know, details
Oh, TG, our BM has a turkey that is huge at under a year old. My DH comments on how tasty he looks whenever he sees him. You might have some competition
This weekend was windy, but nice. Went to the Southwest Classic poultry show in LaGrange on Saturday. Got to see what show chickens look like - visited Rountop where I used to go every year and ride my horse in the Lick the Skillet Festival and parade when I was young and single and had free time.

Today I had to level and drag my badly neglected dressage arena (little size 20x60 meter) and worked in the garden all day. Gave the horses pedicures and braided manes (determined to make an effort at keeping their manes groomed and long this year) and got to ride a little bit. Trying to figure out what to do with my yellow horse.

My yellow horse (avatar) is a grade TWH. He has a gorgeous trot and other than a fast walk, doesn't gait at all and we did LD and dressage for a good while and I just let him trot the whole time. He's been on vacation for awhile (b/c I've been on vacation for awhile) so when I would find time to get on, we just mosey around at a walk and sight see. Every now and then he gives me something that feels like a foxtrot or rack so I've been working him at it, and he's actually picking it up.

Now I can't decide - do we keep this new gait or do I let him go back to trotting? His trot is really nice - he has movement that will make any dressage judge drool - but this new gait is fun, too..........I wonder how far he'll go with developing it if I just keep working him at it every time I get on? That means I have to keep him from trotting - and teach him I only want the gaited movement..

hmmm........decisions, decisions.....
---
Clippityclop is finally getting to spend some time in the saddle!
Koty doing his little foxtrot - freeze frame from video - blurry when I enlarged it - but anyway, look at that reach in the front! Nice big walking gait in the front and a little trot in the rear - my rear thinks it is super nice!
koty learning foxtrot 3-3-13.jpg
---
Clippityclop is finally getting to spend some time in the saddle!
Hey TA!~! How's it goin' girl??
Top o'the marnin' to ya .. my Texas friends!

We spent all of yesterday outside burning and doing "tractor work" ...

I have to tell you .. that little mutt we picked up at the pound last May is sure a nice farm dog. He is annoying as heck inside, because he's so mischevious, but outside he is WONDERFUL!

Never messes with the chickens, rabbits, horses .. always within eye shot .. stayed with us out back for over 6 hours .. just playing or laying around watching us ...

He's a great little dog!