Trailer accident!
---
NOT a good day.
Today I was taking Confetti to the vet's for coggins/ health cert. She didn't want to get in the trailer, figured she's had it with the vet stuff ;) But maybe she knew something?
I was about 4 miles from home when there was a noise and the trailer started swaying. I was in the left lane of a 2 way freeway where the speedlimit is 75 and I was prob doing 70. There was a huge semi truck immediately next to me, and a big dirt median to my left, which dips down.
I was trying to keep the trailer under control and slow down (without slamming on breaks) and praying I dind't bump into the semi. When the control just was not coming I knew I had to keep it away from the semi, so just slightly towards the median I went and next thing I know all I see is dust and we're spinning. I was trying to stop the truck and praying it would not land on either side of the freeway, that it would stay in the median.
Soon as it stopped I ran out to the trailer. The door swings open to the side, and that side was down on the ground, with teh door open like a ramp. Confetti was in there standing, the lead rope broke so she wans't hanging thank God, and she was ok. A few people stopped to make sure we were ok, so I had the one lady help me get Confetti out and she held her whle I grabbed the spare lead I always keep in my truck.
Fire dept was just up the road on another call on teh freeway so they came over. I have a little bruise/knick on my shin but nothing else, Confetti bumped her eyelid or something it was bleeding but quickly stopped and she's ok other than very shook up.
Fire dept called police so I called Craig to tell him and he came down. I called friends to come get Confetti and take her home.
The truck was rigth side up but it was lifted off teh ground in the back because the trailer, on it's side, held up the back end due to the safety chains. We think a trailer tire blew and that was the cause? BUt the truck has tire issues: passanger front is flat, driver rear tread came off, and passanger rear the entire WHEEL broke off! LOTS of body damage, especially around teh bumper. LOTS of damage to the front of the trailer and the tack room door. I think the rest of the trailer is fine but hard to say. They were towed.
Now, I JUST bought this trailer two weeks ago, and hadn't yet remembered while they were open to insure it :crying: It was literally the perfect trailer for me. I had my other trailer up for sale and someone VERY serious coming to see it and most likely buy it tonight. I called and canceled since now I don't know what will happen and I might need to keep it! Not sure if the truck is totalled or not, either.
But I do thank God that Confetti and I are ok!
Here are photos from my phone and Craig's phone.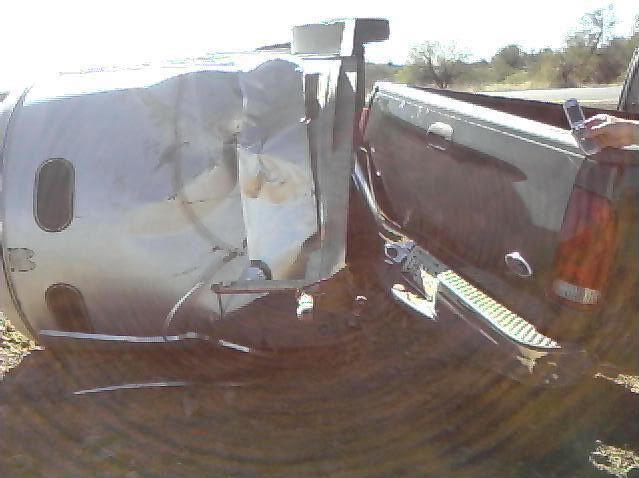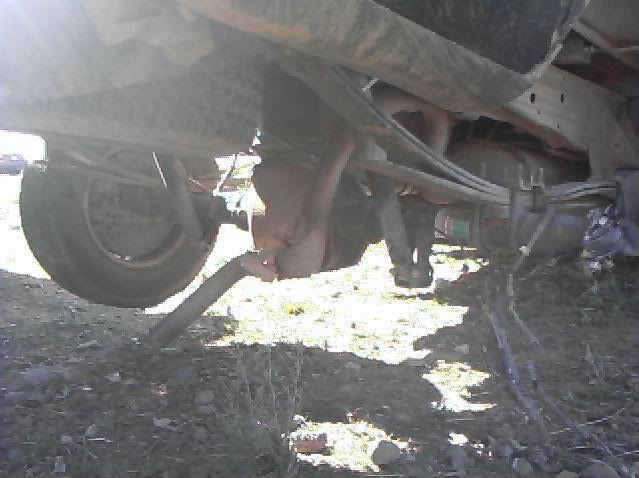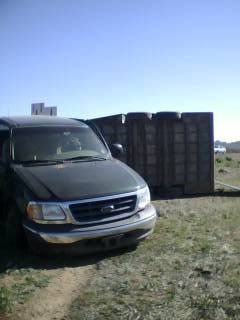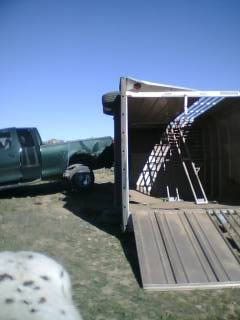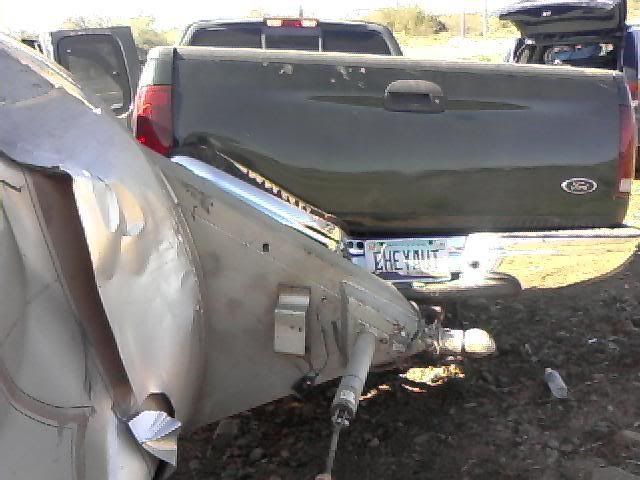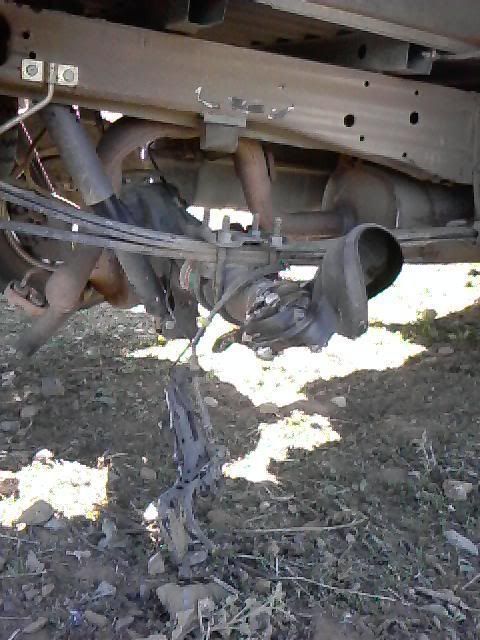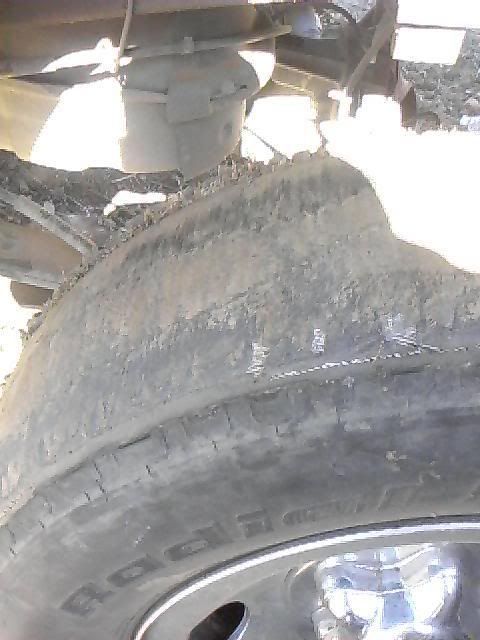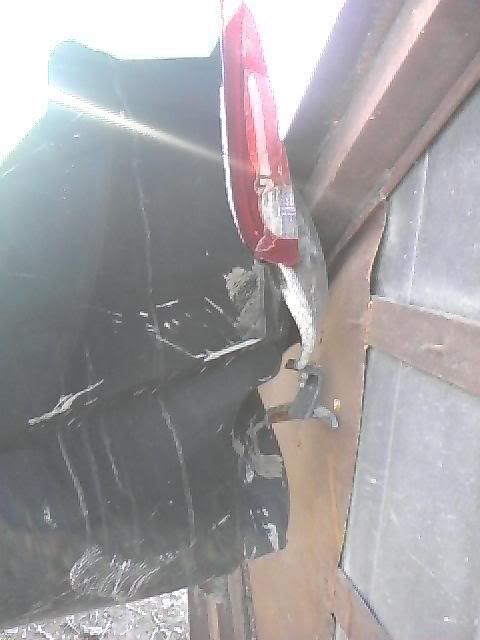 WOW!!!!!!
At the least, you and your mini are OK, the rest can be replaced.
---
I'm not arguing with you, I'm just explaining why I'm right.

Nothing sucks more than that moment during an argument when you realize you're wrong.

It's not always what you say but what they hear.

omg! i am so glad you are ok.. god was with you and her!
---
katies loves duke so very much!!
WOW!! Someone was watching over you. Can't believe no one, including your horse, wasn't seriously injured if not out right killed. Glad you're okay.
What a horrific accident. You are very fotunate that neither you or your horse got hurt. The truck tho looks like it's going to be a write off. I see some axle damage that is likely to be far more expensive to fix than to replace. Can't believe that your horse came out unscratched. Going to take a lot of time and patients for that poor thing to adjust loading and travelling again.
Glad both of your turned out ok.
good grief. that is scary.
---
"Be a best friend, tell the truth, and overuse I love you
Go to work, do your best, don't outsmart your common sense
Never let your prayin knees get lazy
And love like crazy"
Wow. Glad you are all OK. Good thing you were prepared with spare stuff too.

Like already said, material things can be replaced. Check with your truck insurance -- they may cover the trailer -- some policies will cover it, esp. if just purchased... maybe there is a clause about things being covered for 30 days or something... worth asking. I think CacheDT is right about the truck, between the body, the axle, the spring, the "minor" stuff and I'll bet the frame is bent between the box and the cab -- it's not worth repairing. If it's bent, it'll never drive the same again, no matter what anybody tells you.

Good luck getting Confetti into another trailer! That's gonna take some training!
Woah!! Thats so scary!
Glad you and your horse are okay!
wow, thats scary, I'm glad your both ok!
---
"If you don't like dressage it's because you don't understand it."
thank goodness you all are okay!