Very first horse..
---
Hi! I'm Kandice from Texas.. A friend of mine just brought her horse home the same weekend and gave me this link. Rosa and Sundance! =]
I brought my very first horse home yesterday. She's a 12 year old paint and her name is Spirit. I fell in love with her over a year ago and my husband and I dreamed of bringing her home and learning everything we could about her and just having my dream come true of having her with us. She was in a very small corral, with no grass and not a lot of attention. She was with my husbands aunt/uncle. My husband passed 9 weeks ago today and they figured she would help me stay occupied and maybe help heal me someway so they let me come get her. I'll be honest, I don't know much about horses, but I figure I can learn just like everyone else and I know I'll take very good care of her. She flinched everytime I touched her but just in a day she's found out who I am and she walks with me well, and no longer flinches and is very calm and relaxed around me and she wasn't that way with them. I think she just knows I won't hurt her. She's just been wormed and we'll be having a ferrier come out soon. I'm going to take it slow with her getting used to me before I ride her, I don't want to stress her anymore than she probably is, although she is very calm natured! Here's my girl!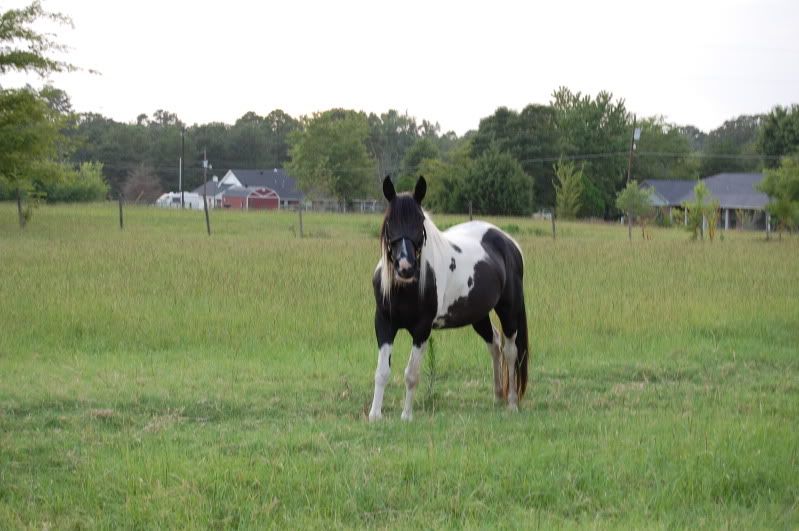 I'm very sorry for your loss.

She is an absolute beauty. Horses are extremely social animals, and I'm sure you'll have many good times together.
---
On the sixth day, God created the Quarter Horse.
On the seventh day, he Painted the good ones.
Thank you very much. It's been tough, but I know I'll get through. She's done exceptionally well, especially because I was worried about her and our bull being in the same pasture. We have 10 acres but two seperate lots and our neighbor is running his cattle on it right now, but it took them all of 20 minutes to establish who rules the roost, and that would be her! =] They graze together now. I don't know, I guess it was one of those things, I feel she's connected to my husband in some way so she'll be completely pampered and showered with so much love and affection.
Here she is with our Jersey Bull - Moo Cow. =]
Green Broke
Join Date: Mar 2009
Location: Kansas in the summer, Kentucky most of the time
Posts: 3,028
• Horses:
3
im so sorry about your loss. Your mare is stunning! hopefully she will help you heal =]
---
Look like a SUPERSTAR, Ride like a FOUR STAR, Win like a ROCKSTAR
Eventers: Making BAD Dressage look GOOD!
Very cool. I am so sorry for your loss and I am sure that Spirit will help you deal with it better. Horses make amazing therapists (plus they don't charge an arm and a leg just to ask redundant questions) LOL. She is such a stunning girl and I am sure that the 2 of you will have wonderful times together. I LOVE all that hair. Hairy horses are my favs.
Don't ever be afraid to ask a question here, you will get tons of very informative answers and we will help any way we can. :)
Thank you all very much! I'm already completely in love. =]
Horses can be amazing healers for the soul. She is a beauty!
She's gorgeous...good luck with her!
---
"The ideal horseman has the courage of a lion, the patience of a saint, and the hands of a woman..."
Thank you so much! She's doing so well!
Wow she's a looker! I love the last picture. I've never heard of a bull being kept with a horse.