Whoo! Rushed out of work to the barn and got in a very productive ride on little O!!! Such a good day! Yay! The sunset was beautiful too!
Finished my riding lesson at noon today. Discovered I'd locked my keys in the car (and I ALWAYS leave my keys in the door of the car just so I won't do that). However, my lesson stable is about 1/4 of a mile from home. So, back home. Unfortunately, all my tack for my own horses is locked up in the house. The house keys are locked in my car, along with my phone.

So. I cleaned out my run in, worked on moving the hay elevator to the barn so I could set it up.

I did manage to borrow my neighbour's phone to leave a message on my husband's phone. Unfortunately, he never got it.

I got a lot of work done today.
Ugh how frustrating!!
I lost my car keys this morning after getting home at 6am after getting back from the ferry, I had spent the night in Seattle with my boyfriend and it fell out of my purse and onto my very messy bedroom floor hahaha my mom had to drive me to work and pick me up cause I was so frazzled and could NOT find them!
---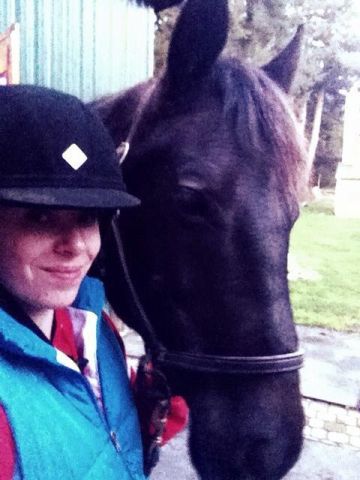 Ollie sure loved the sun today...he was covered in mud when I arrived
like his whole freaking face was caked on mud!! He was ready to rock an roll when I got there, came trotting up to me when I grabbed his halter and shoved his head right in and lead me to the gate!
At least it didn't rain today! i got grooming done. Foxy is snowing hair. So much hair!
---
I may seem small, but if you mess with my horse, I will break out a level of crazy that will make your nightmares seem like a happy place.
So are the horses I care for! I come home COVERED in hair! Just rubbing their neck I get a hand full of hair. It getting warmer! I didn't have to crank up the heat in my truck today
.
---
Sit tall in the saddle, hold your head up high. Keep your eyes fixed where the trail meets the sky. And live like you ain't afraid to die. Don't be scared, just enjoy your ride - Chris LeDoux
Annie decided to roll RIGHT after I spent an hour brushing her...and got as muddy as possible... *sigh*
I'm just glad the weather has broke for our equestrian team meets thus far. A little rain in the night during the last meet, and cold as all sin, but as long as I'm not soaking wet it's a plus. I hate being wet then going and riding, getting hot in the warmup, then having to be sweaty under my polo shirt and freezing outside of it!
---
Pssh.I didn't pick up the wrong lead
It's called a counter canter...
...A very advanced maneuver.
FYI love this thread and idea and I'm a born and raised Oregonian! Today's sunshine was so amazing! I was going to try and sleep in, then I saw sun!!! I grabbed my boots and car keys and went straight to the barn. The sun was shining in everywhere, trigger was in an amazingly wonderful mood, and afterwards we went outside and I let him out in one of the pastures to let him nibble some grass. It felt sooo good to have sun on my face and see how beautiful trigs color is turning with all the TLC (note: he was a pasture horse for 5 years, never brushed or anything, now he has this amazing shiny red coat!).
Posted via Mobile Device
I LOVE that with Spring in the air, everywhere I go I see horses napping happily in the sun! Sooo adorable.
But, I feel terrible when I go out to get my horse and she's snoozing.
She's so spoiled, I usually just let her snooze and then come back in a bit to get her. But, sometimes, we're meeting up with others and can't wait for her slumber to end. Jeez, I feel BAD waking her!!!!

THREE days of sun in the forecast for the East side...Giddyup!!