Waylon Cut Himself Today
---
He cut under his eye in his stall this morning. So lucky he didn't harm his eyeball. But he got all stitched up, pretty good stitches too, and the thing that cut his taken care off. The reason horses aren't cheap, they get hurt and the vet bill breaks you lol. They always get hurt on Sunday or after hours -.-
But he's all good, I had stitches put in even though she said it would heal without it. No point in risking infection. My yearling colt....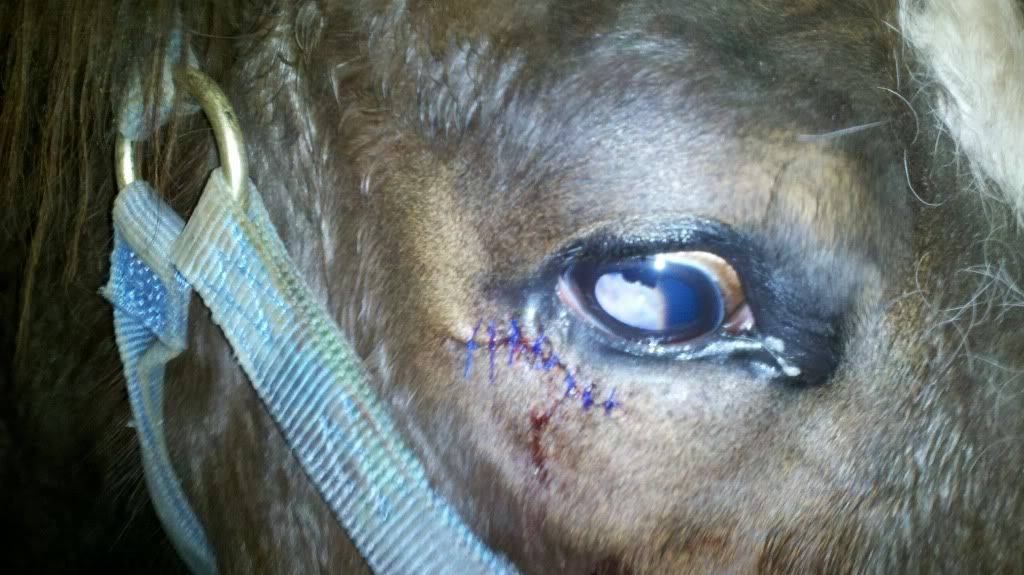 Posted via Mobile Device
Wow! That sure was close....they just seem to find ways for you to spend more money on them dont they?! LOL
Accidents just waiting for a place to happen, that's horses. Glad he is okay!
wow so close to the eye
---
Country Woman


Yep:) I'm just glad it wasn't his eye. Hopefully he can keep the stitches in for 10 days without rubbing them out. He doesn't act like it's bothering him right now.... but when they began to itch... he can't stand being itchy :(
Posted via Mobile Device
Showing
Join Date: Jun 2011
Location: Cariboo, British Columbia
Posts: 11,936
• Horses:
3
What molecule of air did he cut himself on? Poor little guy!
There's an old salt block holder in his stall by his feeder, a screws head had come off in it. My guess is when feeding started my big horse went at him from the other stall and he jerked back and hit it, there's bars inbetween them but he still jumps sometimes . The whole thing has been taken out now.
Posted via Mobile Device
---
Last edited by BarrelRacer23; 02-05-2012 at

11:49 PM

.
Similar Threads
Thread
Thread Starter
Forum
Replies
Last Post
So today...!

Dani9192

Horse Talk

1

01-11-2010

01:17 AM

Had so much fun today!

Flyinghigh12

Horse Training

8

04-04-2009

08:37 PM

Today

BluMagic

Horse Talk

5

07-13-2008

05:36 PM