We went, We showed and we won!
---
Today has been such a great day. A great experience. A great day to step up our training. A great day to hug my horse and say thank you!
I exceeded my goals to the max, bringing home two ribbons, not only two ribbons but great scores and those ribbons being 1st & 2nd place😝
I'm going to keep this short and simple as I'm fried! Toast! Done! No mas!
Ollie was trooper, no rude behavior, no spooks, no snorting and no talking to horses when he was the only one in the arena!
Our first test, just like I predicted was a little wiggly, more tense than the second test and our free walk and stretchy circle where not all the way there.
Also I had to add in a extra circle because my injured foot popped, causing instant numbness and then my hip to completely lock and cramp like all get out! But it all turned out just fine and it actually made my trot circle at B more balanced and supple 😊
Our second test, bam! Wow! Our free walk! Holy hay!! Never gotten a free walkout of him like that before, he almost stepped on his nose!! He was much more evenly in both reins but a little heavy due to the fact that he was so tired!
Test #1 we got 63.92%
Test #2 we got 63.21%
It was an amazing feeling to be able to realize "hey shoulders back, chest up" and "push more here, now!" Or " fallow him, breath". This is the first time in a show setting where I could think like this, before I was so young it was just go do the movements, no contact no nothing really hahaha
Today has not only pushed me to ride harder and really demand new things but made me look back at how far we have commas a team and where we are going as a team. I Amos blessed to have this little horse in my life, it's just such an honor to have a partner to learn with, move forward with and succeed with!
Our next outing is a one day clinic without wonderful Beth AndersonNess in July and then another two day clinic with Charlie from California
Onto the footage, enjoy!
our prizes!
test #1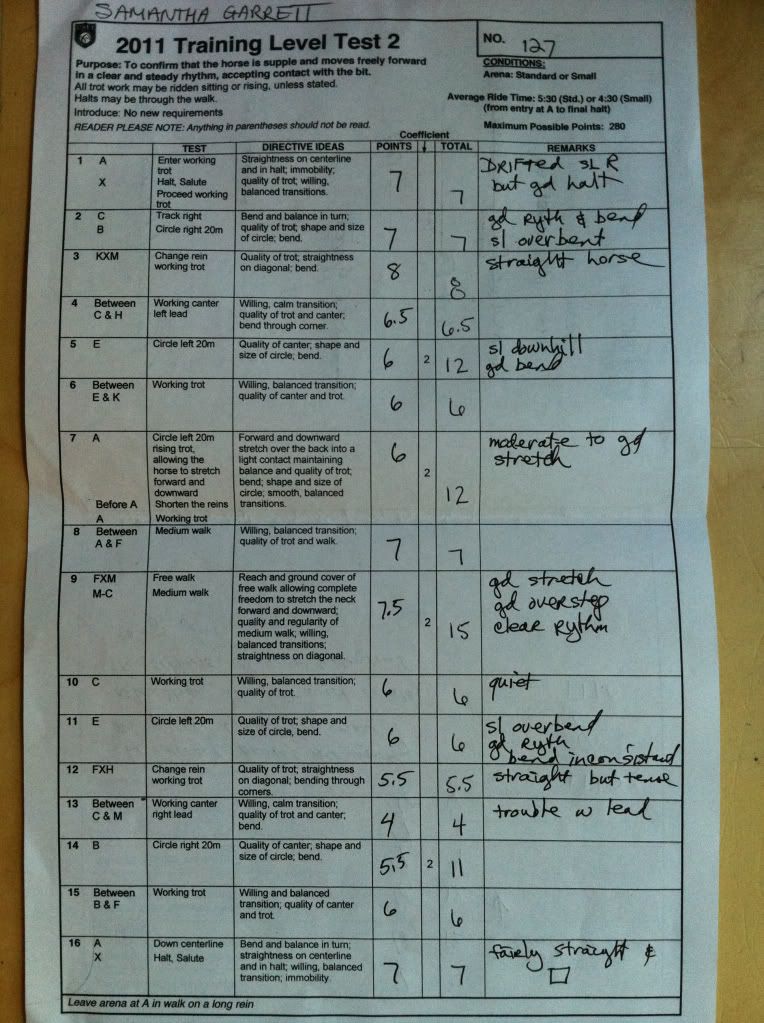 test#2
More photos and video shortly!
Yearling
Join Date: Aug 2012
Location: On the golden coast of Michigan
Posts: 918
• Horses:
3
Congratulations! Its very exciting to train your butt off and win! (:
---
For the wretched of the earth there is a flame that never dies.
Even the darkest night will end and the sun will rise.
Big Congrats!!!! You earned this!
---
Life seems mighty precious, when there's less of it to waste.
Congrats!! But no pics of the stunning Ollie yet?? Don't care how tired you are haha! Kidding, you deserve a long hot bath first... but THEN pics of Ollie ;)
---
Satin Reign aka "Misty"... my life, my love, my everything.
Ugh it's not doing the photos!! I just spent hella on trying to upload pics lol
I'll try again, then it's bedtime!
Haha I'm only teasing you, I just think Ollie is gorgeous :) Go to bed and relaaaax, then stress with technology tomorrow *giggles*
---
Satin Reign aka "Misty"... my life, my love, my everything.
Aww, he's beautiful! I love his movement. You guys look great together :)

NOW you can go to bed ;)
---
Satin Reign aka "Misty"... my life, my love, my everything.
Congrats- it's so great to accomplish that kind of goal. I've followed your threads on Ollie over the years, and am so happy to hear how well you're doing together.