Quote:
Well, I was just thinking about this earlier today at the barn. I was looking at a few of the other horses, thinking to myself, color wise, thats what I wanted. LOL
But I learned quite a few years ago from a close friend that color/markings is the last thing you need to worry about when getting a horse. She loved dappled grey TB mare's, she ended up with a chestnut Morgan gelding, and after he passed away, she got yet another chestnut Morgan gelding!!
I know when I was getting into the market a year ago, a lot of people, including many of my friends thought that I was interested in Rodeo due to his markings, but like I said, markings were my least favorite part of him. And Im hoping that hes not too flashy when I go out on group rides, and eventually low level shows LOL
Thanks for the reply!! Funny how you can be into breed, or discipine for so long, but want to try something else
Ive gone almost all Western! lol, although I am planning on riding Rodeo both when that time comes
While it's nice to get the color you want as a bonus, it doesn't seem to work out that way too often. If it did, I'd have a pasture full of blacks & blue roans
I openly admit to sorrel being my least favorite color but my only sorrel is the go to around here for a relaxing ride for kids and lots of motor for any adult that asks, she's the smartest but ugliest one I own, bossiest alpha mare, yet very willing to please. I'd not take a million bucks for her. Had her for her entire 24 years and she'll always call the farm home.
It is funny doing something for so long but always wanting to do something different. As a kid I dreamed about the Rolex cross country course but riding cutters, reiners & speed horses was fun too.
---
Life is like a camera. Focus on what's important, Capture the good times, Develop from the negatives and if things don't work out, Take another shot.
Me! I couldn't have gotten a horse better suited for me if I tried for another 10 years, and he's a dark bay to boot! He's perfect.
---
You just have to see your distance...you don't have to like it.
Yep. Link is exactly what I wanted to a tee. A well bred 4 year old colt with color and athletic ability. I got a pretty dun with solid conformation, more athletic ability than I could ask for, a temperament that suites me perfect spunky but willing, and he learns very quick. Not to mention he's becoming a nice barrel horse. =) as for Waylon he's a nice colt but to young to say much about
Posted via Mobile Device
LOL, when I was a kid, I only ever got to ride sorrel horses, though there was one buckskin thrown in there too. I don't know why, but I always wanted a dark bay horse.
When I was 14, I fell in love with a horse that belonged to one of my Dad's customers so I started riding him. At 16, Dad traded the training bill for the ownership of the horse and he was my 16th birthday present LOL.
Then again, when I was 9, I came off a gray horse and broke my arm...badly. I swore that day that I would never ride another gray horse
. We all know how that turned out LOL.
smrobs, I love the bubble butt!! That's how Aires' butt looks. lol
Anyway, when I was younger, I wanted to own a paint horse farm. I loved the uniqueness of paints. I loved all horses, but just something about the paints drew me. I even had a name and brand/logo picked out for my stable (Wolf Ridge Stables...the brand/logo was a W with the R attached to the right arm of the W). Then I rode my grandma's neighbor's paint mare and swore I would never own a paint because she was the most stubborn animal I had ever encountered. I also swore I'd never own a mare (this is before I came to experience the stereotypical mare witchiness).
Then I read "King of the Wind" by Marguerite Henry and I fell in love with bright bays. My dream horse became Sham, the Godolphin Arabian.
I got to live the Godolphin Arabian dream for a little while with my old gelding, who was a 14.1hh bright bay arab/saddlebred cross (although he had two white socks, a coronet band and a crooked blaze). He had all the fire, spirit and loyalty I had come to associate with arabs through that book.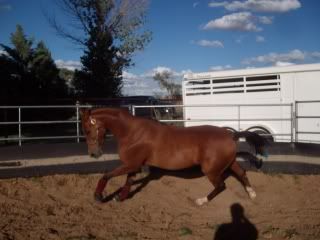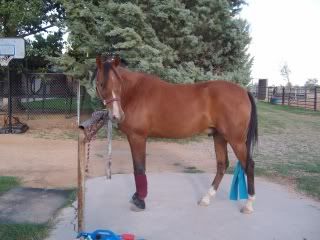 I will say that I've always preferred either really short horses (like around my old gelding's height) or really tall horses (16+hh). And I prefer geldings to mares, still...especially after working the GS horse camp, where all we dealt with were mares.
Then I lost my old gelding to his former owners (messy story there) and several months later, Aires came into my life. He was younger than I wanted and he was a paint (still didn't have positive associations with paints), but something about him drew me to him. I've fallen head-over-heels for my boy in the relatively short seven months I've owned him. He is everything I've ever wanted in a horse...and he's gonna be BIG (he's right about 16hh at the withers right now and 16.2hh at the butt and he's just about 31 months right now).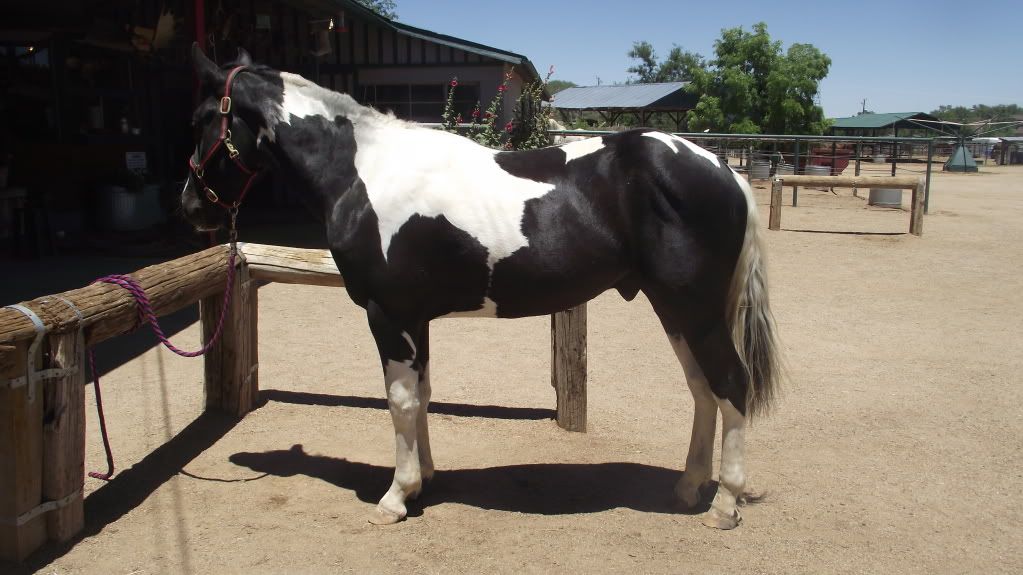 ---
Do not tell me I can't...because I will
show
you that I can.
My shopping list:
1. Well trained/experienced trail horse/babysitter, probably a QH due to stereotypes
2. Older (10-15ish)
3. Gelding
4. Sound
5. Not a flashy colored horse that got by on looks rather than being a good all around horse

What I got
1. Not so much... good foundation of training and some trail experience?
2. Er... nope. 6 year old
3. Hooray, gelding, now batting one for three!
4. Sound, check!
5. Nope. Red dun was flashier than I was going for. I was thinking sorrel or bay.

Wouldn't trade him anyway though. We're not quite green on green... maybe just two stupid teenagers still though. Teal on teal? I loved him from the start because of his personality, and waited for all my more experienced friends to talk me out of him due to #1 and #2. When they didn't, I got little butterflies and internally did a little happy dance. It was like permission to get the horse I wanted rather than the horse that fit the list that I "should" have as a first time owner.
I definitely got JUST the horse I wanted.

When I was really little (and reading every horse book I could find), I locked in on the Arabians in my books and knew that I HAD to have one. Then, since all the animals I was around were females, this Arabian was OBVIOUSLY going to be a mare. Also, in those books they do a terrible job at representing colors, so the prettiest out of all the colors was the fleabitten grey.
So, I decided that my dream horse was going to be a fleabitten gray, Arabian mare. This mare was going to be to be fiery, yet safe, and a whole lot of fun to be around. I wanted to go everywhere possible with her and have grand adventures.

I had moved on to appreciating other breeds/colors/genders (still loved Arabs though!) for what they were by the time I first met Lacey. After I had owned her a year, I remembered and realized that I literally owned the horse of my childhood dreams.

My only complaint is that she's older. I wish she were younger so that we'd have the next 20-30 years together instead of just the next 10-15. However, I figure that there's a reason for her to be this age while she's in my life and I figure that her age helps me not take her for granted.

Anyway, so heck yes, I totally own the horse of my dreams. And she's just the horse I need: a major confidence stretcher with a little confidence building mixed in.
---
Fabio - 13 year old Arabian/Lipizzan gelding

~
Rest peacefully, Lacey.

---
Last edited by Wallaby; 01-03-2012 at

01:59 AM

.
Well I thought I would NEVER have an ugly white arab and thats exactly what I got. Boney wide hips, narrow chest, big ol' guppy belly, high withered, U neck. When I first got him he was so underweight his hip bones stuck so far out they were all scabbed up and raw from him laying down. Was it what I thought I would end up with, no. But I love the goober and feel blessed to have found him and to have had him in my life. He has been a truely amazing horse for me.
---
"Sorry don't get it done, Dude."
John T. Chance (Rio Bravo):
As a typical "dark fairy" type of girl, I dreamed of a Friesian or something alike, definately black or, if not, then something flashy - dapple gray or buckskin maybe, NOT ordinary bay or chesnut, if not Friesian then maybe an Arab or an Arab cross...
It somehow happened that I fell in love with a bright bay Latvian warmblood gelding with a white star. At least, the star ir a bit flashy - it is in a perfectly square shape, so I sometimes call him Pixel.
And his character is most definately flashy - he's a playful, narcisstic trickster, very proud of every silly thing he might imagine.
---
I have come a long way, to surrender my shadow to the shadow of my horse.
/James Wright/
I'm one of the lucky ones who got exactly what I wanted. A big ol' lap dog pretty much.