What to do, major dilemma and some Willow pics.
---
Wills has been down at Ace Ranch all summer getting some riding hours on her, and the plan was to sell her from down there. She has been advertised for a couple of months with only a few nibbles, but now things are getting serious. Now she has done more she is getting to be a more attractive prospect, and I'm again double guessing myself on her future. She is SUCH a nice mare, and I can't get away from the sheer joy that I felt riding her the couple of times I have been on board, but the physical challenges remain.
When I test rode her with Cassie, her assessment was I should keep Wills as we are suited apart from I am too big, and at the time she said 200 pounds and I could do what ever I want, that scared me, 70 pounds is a lot to lose (AGAIN)
Talking to Cassie last night she thinks I should take her ads down and either keep her or price her up according to her new achievements. Cassie is saying that she weighs in at 220 and she wouldn't hesitate to ride Wills at that weight now she has seen her working more, and I could probably start walk trot work at 250 pounds, a stupid little 20 pounds away.
I'm so torn again, having made the wrench and sent her away, as I say I'm second guessing again, I love these pics...
Extreme right heading out on the trails
racing
Chilling
Looking good, and looks great with a smaller person on her eh?
Different to this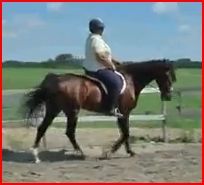 AGHHHHHH I don't know
Considering what the horse you kept did to you, I'd keep her and sell him.
---
I'd keep her, too. As you'll be losing the 20 lbs she'll be getting fitter anyway. She doesn't seem to struggle with you on board.
I, personally, would put her in western tack. To help her with the weight and make everything look a little more proportionate, until the lbs are gone.
If you love her and you are motivated to lose the weight, keep her. Or don't sell her yet. You can always relist her later. And she would be a great motivator for recovery from your injuries too.
And you are not THAT big, don't imply you are, cut yourself a little slack.
Quote:
Originally Posted by
Dreamcatcher Arabians
View Post
Considering what the horse you kept did to you, I'd keep her and sell him.
He needs to go for sure, I was selling the pair of them, but wavering on her again
LOL! Well, I sure wouldn't waver on him.
---
If your not jumping her you could ride her.
I think you could do shorter rides at a walk at your current weight. If you eat at a 2-300 calorie deficit (super easy even when not trying!) and go on a walk every evening you'll be down to 250 in no time. Groundwork is good exercise, too. :)
what about un-named Gray Gelding? (did you name him?)
With you laid up and doing what you are doing, I'll bet you'll be surprised at how much weight you lose while you heal.

Also, I don't think you'll be doing hard riding for a while, with the injuries you had. My thought is, the amount of riding and the level of riding you'll be doing, there is no reason why you can't keep her and enjoy her.

It might even help you with incentive to lose weight which will make you a healthier happier person.

Something I did when I was thinking I might need a new horse is... I searched for one. I could not find one under $50K that suited me. You know why? Because I wasn't ready for a new one. The one I had was perfectly fine for me. Lameness issues and all...

So... Why don't you come join me in my quest to lose weight? You too can become a nasty angry whiny cranky wicked girl.... That's what my co-workers said about me today anyway... and it's only day 2 of the major diet....
---
"Be a best friend, tell the truth, and overuse I love you
Go to work, do your best, don't outsmart your common sense
Never let your prayin knees get lazy
And love like crazy"