What I have to do?
---
Hi everyone!

So let me explain my problem...
My sister is selling a foal... and the mare was my first horse, so I don't know what I have to do because I'd like to buy her... My biggest problem is that I have next year and for three years, maybe I will live with my husband in his country and I can't bring the horse with me. So I thought that I can let the foal and my pony in a friend's field to take care of them, and let the baby grow up... But I don't know, is that a good idea?
I don't know what to do, it was my first horse and the sister of my current pony so...
I put you photos: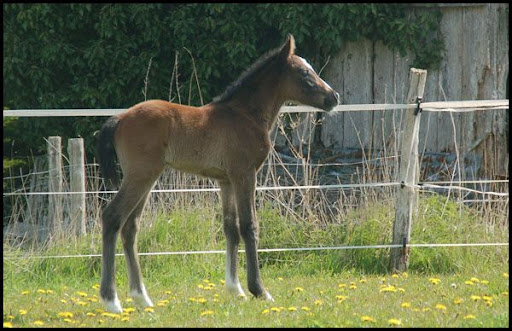 ---
"
Ce n'est pas une liaison, c'est ma raison de vivre
"
What a gorgeous baby!!

I think that if you have somewhere really good to leave the baby where you will be happy that it has the best care, and you can afford it, why not?

You need to realise that you won't have control over the sort of things baby learns or how it is taught things whilst you are away. (For me, that has been the thing I enjoyed most about having a foal from birth. He has never known how to do things any way except my way.) But, if you can accept that, then I reckon go for it.
---
Only As Old As You Feel - Sometimes I Feel VERY Old