What Makes a Horse Ride Rough?
---
This is just out of curiousity. I know the obvious bad rider, rough hands, ill fitting tack, lameness issues, etc. Rulling those out, what in a horses conformation pre disposes it to being rough to ride? I know a steep shoulder tends to, for one. I would like to learn to better identify how a horse will ride based on conformation.
My mare is one of the roughest horses I've ever owned, trot, canter and gallop. She is very energetic, and seems to move "big", but her trot is like trying to sit a jack hammer. What in her build makes her rough to ride? I have very soft hands and under saddle or bareback makes no difference.
I would love to see pictures of any horses you may have that are less than smooth under saddle.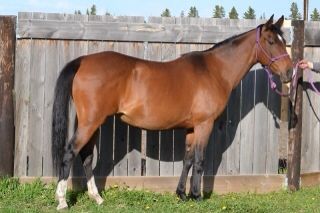 and at a trot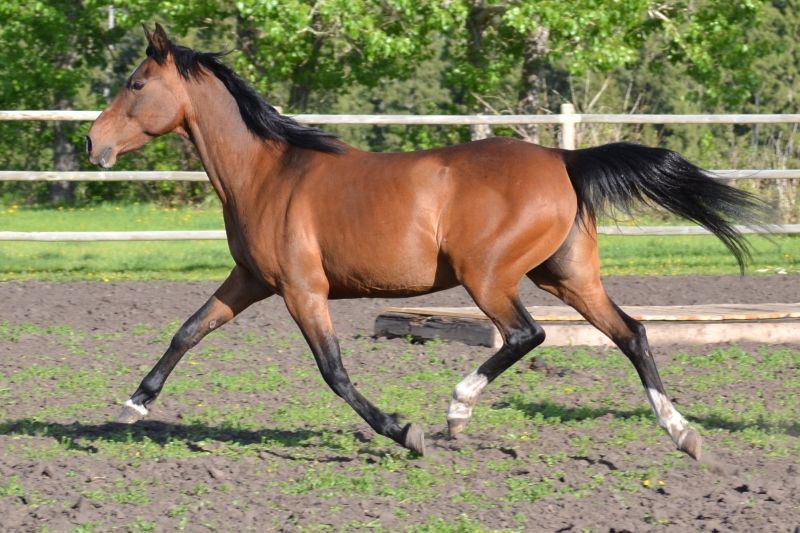 How old is she?
Posted via Mobile Device
I would say that her fairly upright shoulder is contributing to her rough ride.
---
Do not tell me I can't...because I will
show
you that I can.
Yup, as DAM stated, her upright shoulder is definitely part of the problem, if not the main issue.
---
You want the truth? You can't HANDLE the truth!
Is she rough at all speeds? I assume she is an Arab, and most of the Arabs I have had can be rough at the trot at certain speeds but have an individual speed at which they are very smooth...usually if you keep them in a trot and give them their head, they will settle into a speed at which they "float".

I don't see her shoulder as being that upright - nothing jumps out at me in her conformation. Is she a paddler? Paddlers can be rough at the trot, but most Arabs don't paddle...
She is 15. I thought I had a great seat until I got this mare. I've never had to work so hard to ride a horse in my life. Combine her natural roughness with being athletic, flexible and energetic and she sure isn't an easy horse to ride. Her personality, stamina and the fact she is a fantastic trail horse make up for it though:)
She does not paddle. I've had her in a trot for half an hour without stopping and it never gets any nicer. Still enough to rattle the fillings out of your teeth. Her canter isn't " rough" exactly, more like " big", rocking horse kind if canter, until she gets excited, then you really have to work because she bounces all over.

She is pure bred registered Egyptian Arabian.