5'6 110pounds, my horses have been 17HH, 15HH, and current one is about 15HH
I'm 5'9 and I ride whatever I'm paid to ride! I love them all.
Having a "discussion" with a fractious little haffie
On a 17+ hand WB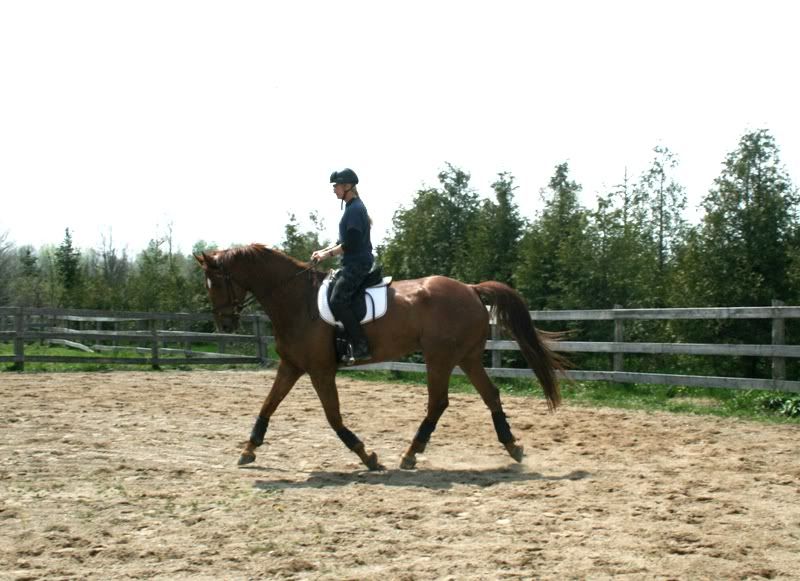 I have to admit I'm partial to the tall ones.
I'm 5'4" and ride a 14.2 quarter horse. I didn't have much choice in the matter, since she was free :) We're a good fit, though, and I can (almost) indian mount her when I want to go bareback. I did ride a painted draft this summer for a couple of days, and though I don't remember her exact size, she was huge compared to my Sheena. I definitely enjoyed riding her, too, but needed a hand up into the saddle. I think I'll stick to horses I can mount unassisted.
Just started riding but I'm 5'10" 200lbs and I ride a 15.2h Paint mare.
I'm about 5'8 110lb. and ride a 16.2hh Thoroughbred. I used to ride my little 13.2hh pony until he passed a few years back. I'm definitely a fan of tall horses though lol. I'm still waiting for the day where I get to ride a 17 or 18hh horse :)
Personally, I will take a horse that I can mount without ripping the crotch out of my jeans any day. My horse is 15 hands and I am 5'7. If a person is buying a dressage horse for the move it has perhaps there is a reason for a tall horse but many people ride horses that do not fit them well. I could never understand why 5 foot tall women are drawn to 18 hand warmbloods.
im 5'3 and i ride my 15.2 hand Appy
---
Star Buster SNC "Buster"- Haflinger Gelding.
Rupert- Belgian John Mule
5'3" riding a 15.1 QH. I would be happy with shorter, but he was the right horse, so it works out. I CAN get on from the ground, but I prefer to use a block of some sort. Not sure I'd ever be able to get on him from the ground bareback though. I'll take a pass on the tall horses. :)
i'm 5'7, and i ride%
---
Last edited by allisonjoy; 11-16-2011 at

08:42 AM

.
Im 5'3 and ride a currently 13.1hh 3yo welsh cob, my previous horse was 14hh and my future horse will mature around 15.2hh. No real discipline at the moment but in the future will be jumping/low level eventing