What would you prince her at?
---
I've been thinking about selling my mare Abbey. It's not a set decision yet because I've had her for almost five years so it's difficult for me.
I bought her four years ago for $1000 (CND dollars), she was priced at $5000 but she was fresh off the track and the seller needed her gone asap. She is an insanely athletic horse but I only use her for pleasure/trail riding. As most of you know, feeding a thoroughbred costs quite a bit, plus farrier visits, vet bills, etc - it's a lot of money to put out on a horse I don't do much with but has potential to do so much. I am only considering selling her because I need something cheaper to maintain since I only ride pleasure.
She is a 16 hh, 10 year old chestnut off the track thoroughbred mare. I don't have her papers because most OTTB's are not sold with their papers so they are not raced again. Her registered name is Had a Kitten if you want to look her up on pedigreequery.com
She is pretty rusty because she hasn't been in consistant work. She gets strong over fences and at the canter, but is overall an elegant mover. She has a BIG scopey jump, and is very honest. When I rode her consistantly in an arena before moving onto my own property, she was good with her leads, did her flying changes, and had done some leg yeilding, turn on the forehand, haunches, shoulder in/out. She was quick to respond to anything you asked of her, would come to a dead halt from any gait with very light contact. She was beginning to work with a fairly consistant frame but I then switched to pleasure riding for the past two years doing trails and what not so she is really rusty, but does know the works. I feel like if she went to someone who was patient and could work her consistantly she would pick everything up again fairly quickly. This girl can really jump. She will jump anything you put infront of her, I've taken her over 4'3" fences under saddle, and she has free jumped 5'. I've showed her a few times in the jumper ring and she's quick, honest, but her big jump can be hard to stay with sometimes. She tends to over jump by almost a foot everytime, but her form is flawless. She's become pretty good on trails with others or alone, she's just a wee bit on edge on her own.
As for her medical history, she's never been unsound except for once when she pulled a shoe. She coliced 4 times last year, but was scoped, diagnosed, and treated for ulcers. She has not coliced in over a year. She's UTD on all her shots, her teeth were done in the spring, was dewormed this month, farrier was out at the end of Sept. She has no vices, does chew wood occasionally though (no cribbing, just chewing it). She's never kicked, bitten, or been agressive towards me. She's a dream to work with on the ground, clips, ties, trailers, bathes, you name it. She does get a little moody when she's in heat but she's a chestnut thoroughbred mare, I would expect nothing less
Very sweet, level headed mare who only gets hot under saddle.
So what do you guys think I could possibly price her at? If you have any other questions feel free to ask. Like I said, she is rusty but has TONS of potential, especially in the jumper ring. Insanely athletic and with consistant work she is a really great ride.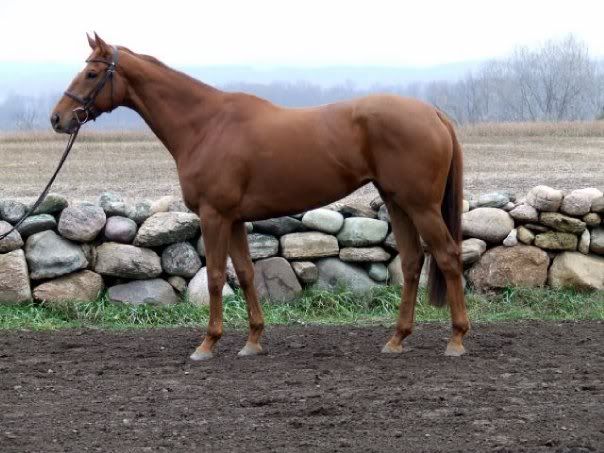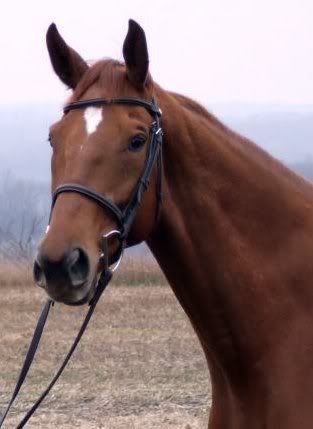 She is a very pretty girl. However, if you want to even attempt to get your $4k, you will need to spend the winter polishing her skills, IMO. Even so, it may be difficult, given the market and her history of ulcers. She is not, after all, an "easy keeper", plus, OTTB's are pretty easy to come by. Either way, I personally wouldn't try to market her right now, since here in Ont and Ny it is the end of the race season, and trainers are cleaning out the barns to head to florida. I had one 18 months ago, very similar.....very athletic, but needed work. I GAVE him away, and lost my $5K, but I wanted to move on, and I wanted him in a good home.
---
Signature undergoing edits. Please standby.......
lots of "need some work" OTTB's out there. Most people want geldings, be a tough sell this time of year especially with the medical problems. The previous owner let her go for 1000, I am sure thee are plenty more like her for that.
I havent been around horses long, but I have seen horses that not to long ago were worth 5k, not go for 5 hundred. People are broke, and lots and lots of horses out there flooding the market for those that have money.
if you spend the time to get her back up to par, so to speak, with her training then i think you could ask a few thousand for her but idk that you'd get it. as others have said, horses are going for a fraction of what they would have been worth 5 years ago. also, given her breed, age, health history and location it may make it that much harder to find a buyer.

good luck - i personally like her based on what you've said and the pictures. sadly i'm no where near you nor could i afford a third horse. boo. :(