What would your horse's sale ad say?
---
This is just for fun! Not for real at all.
This is what Romeo's ad would say:
ROMEO
Romeo is a 13 year old grey Quarter horse (Might have some arab in there somewhere). He is SUPER smart, and he loves to think. He can do barrel racing and trail riding. I am going to try him on pleasure, halter, and cows this summer.
Romeos only fault is that he doesn't load. He is getting better everytime, but he is not easy to load.
But he is a great horse otherwise, he tries for you. He is a very safe horse, I have had my 2 year old cousin ride him before and he just babysat her.
For his barrels he normally runs about an 18-20 second run ( I know, not fast, but he is getting better with practice.) And since he was just started on games when he was 12, he is doing pretty well for a horse that was a pasture puff before I bought him.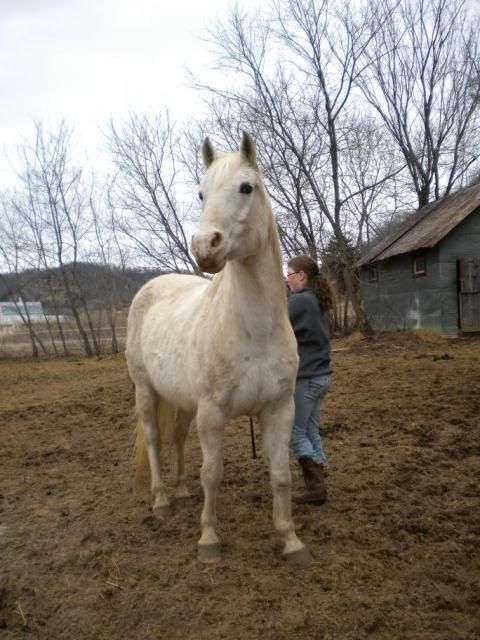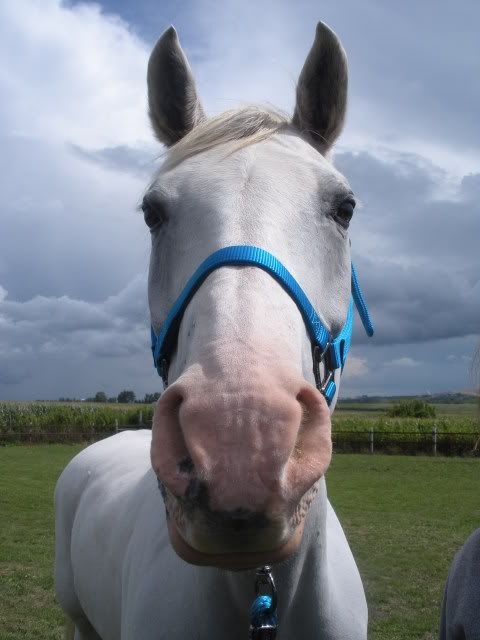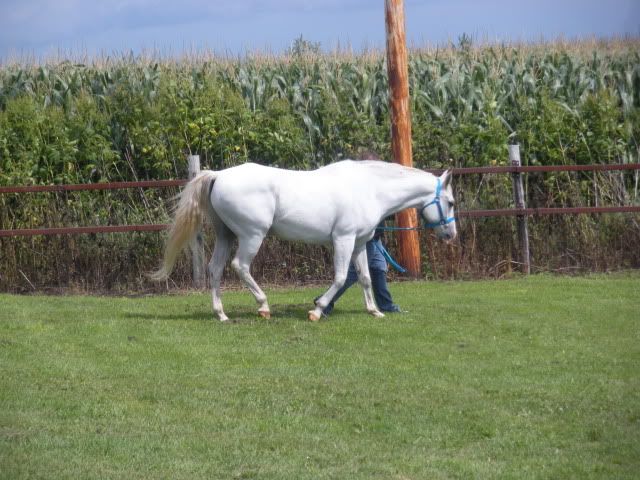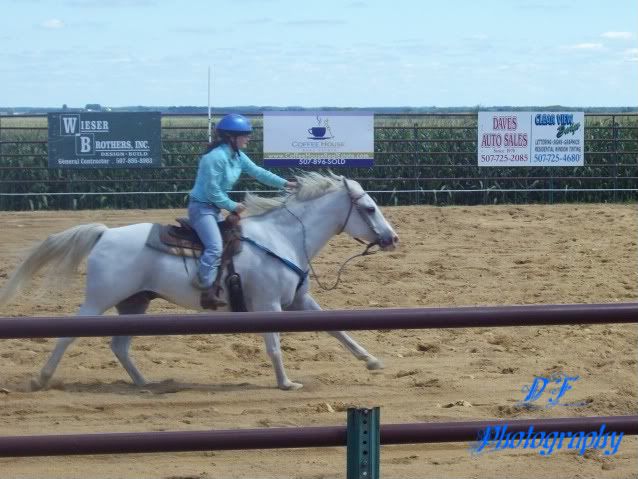 DEMI
Demi is a 7 year old bay Quarter horse mare, she is grade, and currently lame. She is not broken, but it isn't going to take much to break her, I have patted her down with the saddle blanket, and threw it over her back, and she was fine with it.
I have only had her for 3 months, but she is the calmest untouched 7 year old I have met, she is another horse that likes to think, she is brave and honest. She takes everything in stride.
She is going to be in training very soon, and I hope to show her in pleasure, and games; depending on her leg.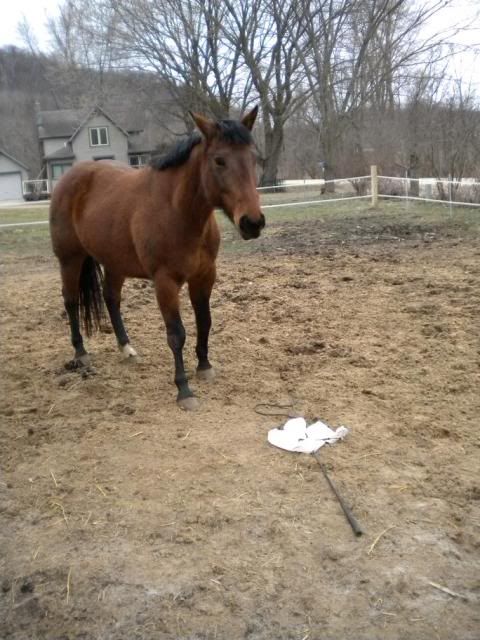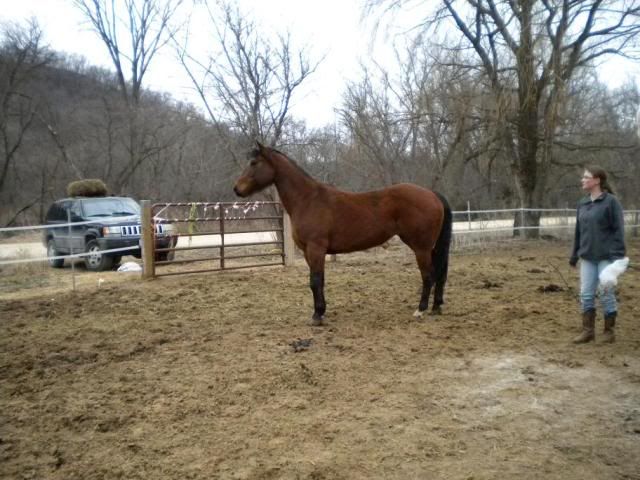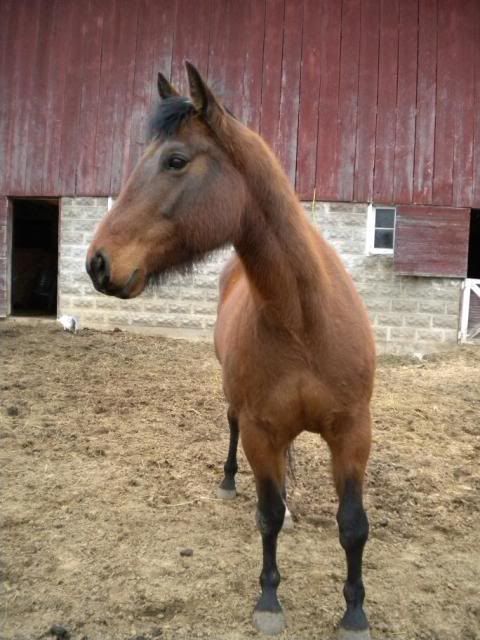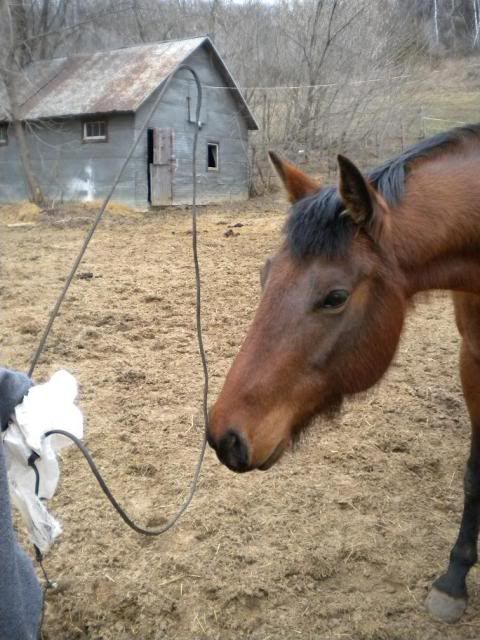 What is your horse's sale ad?
---
RIP Minnie, 1981-January 15, 2010
RIP Maggie Mae I miss you
Mi Vida Loca
color-Black
Sex- Mare
Age- 11
14.3 hands 990 lbs.
RMHA and KMSHA registered.
Been there done that, well traveled trail horse. overnight camping, will stand on high/picket line or hobble. Strands for bathing, farrier and mounting.
Nice gaited all around horse for anyone wanting a steady trail horse.
---

"Until one has loved an animal, part of one's soul remains unawakened..."
- Anatole France
Started
Join Date: Jan 2009
Location: USDF Region 1, USEA Area 2, USEF Zone 3 - Maryland
Posts: 1,903
• Horses:
3
Beau- 10 year old bay Quarter Horse gelding, registered with AQHA as Dolly Observer. 15.2 hh. Has competed heavily in jumpers/eventing/dressage the past 6 years. Solid novice, but has evented to training. Finishes on his dressage score most of the time. Solid training level dressage, scores 64s+, schooling first and moving up soon. Has won jumpers to 3'3'', money winner. Good manners around the barn, but can be strong at shows. Good for farrier, vet, dentist, bathes, stands, doesn't clip, needs a few minutes to load. Best suited for a intermediate rider. $11,000, flexible to right home.

Daisy- 17 year old dark bay Throroughbred mare, registered with JC as Quick n'Icy. 15.2 hh. Had 44 starts, then became a broodmare as a 10 year old. Daisy is in the Main Mare Book with the GOV. She has 4 foals on the ground that I know of, all registered with the GOV, last one went premium. She would be well suited as a companion or broodmare. She prefers to live outside. She is going back into training soon, price will increase from there. $1,500.

Cavalina- 11 month old bay Oldenburg filly out of a TB mare. Sired by Coromino (Cor de la Bryere/Ramiro Z lines), inspected & registered last August with the GOV, awarded premium and was put in the OS book for jumpers. She cross ties, loads, stands, good for farrier... loves to be around people. Working on clipping. She's currently 14.2 hh. Should mature to about 16.2. Very level-headed for her age, should make a great event prospect (jumped a 4' fence as a 7 month old!). Will be showing Future Event Horse and a local circuit this year, price will increase with age and experience. $7,000.



Something to that effect for all of them... Rough estimate on the prices, I'd have to look at what the market's doing right now.
---
-Melanie
Mom to 3 bays: Beau, Daisy & Cavalina
---
Last edited by My Beau; 03-29-2010 at

11:48 AM

.
I honetly LOVE where you are. The arena is absolutely gorgeous and the area you live in is STUUUNING. What area are you in?
mine would say teddycob type dark bay 4yrs old going on twenty, ride and drive not a speed merchant pulled everything from an exercise cart scrap waggon to a hearse,1 weeks free trial no messers or dreamers
Lone Pine Josh - 'Bundy'

8yo, 15.2h, Brown ASH Gelding.

Bundy is one for the whole family. He's as quiet as you can get on the ground and can be handled by anyone. Picks up feet, stands to be clipped, drenched, doctored, etc. Good to catch and loads himself into the float.

Has done a bit of everything - PC, SJ, Dressage, Polocrosse, Mounted Games, Stockwork, Trails, Sporting, but excels at and focusses on ASH showing and Campdrafting. Strongest in a working class with numerous wins and placings at local, branch and national level. Will poke around all day on a loose rein for pleasure, then get up and go to win a time trial. Placed at his and his riders first campdraft. Has won champion working ASH with rider under 18 with a girl who got on 5 minutes before class. Will pack a kid around safely all day, trails, showing, then get up and go for mum and dad.

Great jumper, has super scope. Always calm and unfussed. Has ponied breakers, given begginer lessons, etc. Has had back issues caused by ill-fitting saddles before I got him so needs a well fitted saddle to perform to his best.

Bundy is a much loved boy and will take any level rider to the top of the discipline of their choice.

*

Wantley Wildcard - 'Wildey'

13yo, 14.1h Chestnut Arab Gelding.

Wildey is as close as you can get to the perfect pony. He has done it all - Polo, Polocrosse, Dressage, SJ, Equitation, Eventing, Stockwork, Tentpegging, Trails, Endurance, Mounted Games, Sporting, Vaulting. He is super quiet and full of personality on the ground - Good to c/s/f, loves an itch, fine with clippers, worming, etc.

He has an extensive MG career - Been to State 3 times, been used by the NSW training squad for 2 years, was used by the Danish team at World MG 2008, and recently has taught a begginner child and nervous mum the ropes of MG. Solid in every race, mount or vault, fast or slow.

Excellent sporter, especially the tight, twisty races. Was Zone 16 Sporting Champion for half a decade straight. Always unbeaten in Bending, won open bending at Bungendore show 2 years running. Again he can go fast and tight with an experienced rider or babysit a begginer through the races.

He jumped up to B Grade but is happier at the lower grades nowadays. He will jump anything you point him at out on XC. He is super at jump offs, will jump from any spot and with super speed.

He absolutely loves trails, farm riding and stock work, and has completed a 40k training ride with enough energy to go out and do it again, in minimal fitness. Would make a great endurance horse as he goes all day and never spooks. Crosses water, bridges, ditches, cavaletties. Has ridden through the city, on footpaths, through drive-throughs. Absolutely unfussed about everything.

Has carried flags, had a whip cracked off him, been used as a vaulting horse, he will turn his hand to anything and give you 100%. Very well educated, lengthens, shoulder in, travers, leg yeild, impeccable simple changes. Has won numerous ridden classes and was sashed reserve champion ridden Arab/Derivative at his only arab show.

He adjusts to suit his rider, he babysits begginners and performs for the experienced. He is currently being used in lessons at a Riding for the Disabled School - A testament to his great nature and adaptability.

We have owned Wildey for 8 years and he has given us everything in that time. A much loved boy who will only go to the best of homes.

*

Aw, makes me sad to even think about selling Wildey! Lol!
---
Dallas
Unregistered
11 yo
Palomino
Quarter Horse
Gelding

A tad bit barn sour. Takes time to trust you. Great ride. Nice coloring and built like a tank. Does everything you ask him to do. Loves to be petted. Loads, leads, stands for farrier, clips and ties. Has had everything from beginner to advance on him with no problems.

Annalie
Unregistered
5 yo
Chestnut Flaxen Mane and Tail, Socks, Star
Haflinger
Mare
Very flashy nice little mare. Built like a brickhouse. Adult riders no problem. Beginners no problem. Used for lessons. Has a lot of personality. Lots of hair and feathering. Had one foal and was a great mother. Needs some ground manners.

(This made me realize what I need to work on, lol)
Summer Storm

For Sale
9 yr old QH x SH gelding, gray, 15hh. Has jumped 1.3m, has massive potential. Trained to Prelim dressage. Needs advanced rider with experience in retraining. $1000 neg

Bacardi Breezer

For Sale
Fleabitten grey Arab x, 14hh. Heaps of energy. Great sporting pony or endurance horse for those starting out. Done pony club. Good to shoe, float, catch, worm, rug, etc. $1000 neg

(First two really are for sale, for those who live in Australia!)

Promise Me This

Eventing SH 15.2hh bay mare. Done everything. Great horse for beginning eventers. Easy to shoe, catch, rug, worm, etc. $2500 to good home

(I'm never selling her!!)
---
Kind, Confident, Consistent Leadership = Trust, Obedience and Respect
There is no such thing as natural horsemanship, because nothing we do with horses is natural. There is only good and bad horsemanship.
My Lady Livermore, registered Thoroughbred filly. "Sunny" is a two year old, chestnut filly with a good, solid head on her shoulders. She has all basic ground manners (leading, tying, loading) and can also be saddled and bridled. Sunny will follow you around like a puppy, and loves attention (and treats). She loves her jolly boll, or anything she can chew on. She is nearing 15 hands, and should mature around 16hh. She has a babydoll face with a star and broken stripe, her nose and legs fade to blonde. She has animated movement, lovely trot and canter. 100% sound.
Posted via Mobile Device