Trained
Join Date: Sep 2011
Location: Hour and a Half from Town!
Posts: 6,324
• Horses:
2
When we were young....
---
Yep, the good old days!
Allison did a thread on this a while back but sadly it's long gone, thought we'd start a new one! It's my favorite, so many good care free memories... No such thing as fear or worry, just a horse, a kid, and miles of trails to conquer!
Here I am at 11 on my first mare Sky. Got her at the sale barn for $505 ($5 more than the meat man would pay), 18/20 month old "green broke" Arab/QH (Yeah, I know! And NO way I'd get my kid a mare like her!!!). I didn't know much more than hang on, took her back down and restarted her myself. No helmet, no real training, and if I complained my Bob would chase me around the field with a 2X4 till I got it right! Sky ate grass, had a mineral block, and was never touched by a farrier. Supplements what? Oh the carefree days! This horse carried me over a million miles, never put a foot wrong, we jumped off cliffs into a creek, climbed steep cliffs like mountain goats, usually in just a lead rope and bareback with me in cutoffs and a bikini top. I wish I had a thousand more horses like her. What I lacked in training I made up for in can do!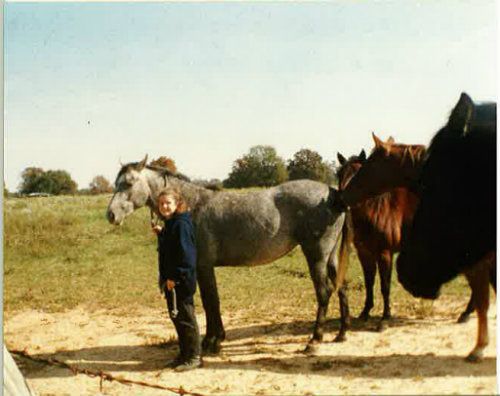 Surprised I wasn't in puff paint tight rolled jeans but WOW this is still pretty bad! Nice saddle fit huh? LOL!!
Please share your "Good Old Days" photos! How any of us (or our horses) survived I'll never know!
---
You can get a lot further with a ladder than you can with crutches!!
What do you mean what do I mean?
---
Last edited by FlyGap; 10-18-2012 at

09:25 AM

.
This was my first horse, Blaze. He was a TWH/belgian cross. I wasn't too terribly young. Probably about 13 or 14. I was dropped off at the barn and told to have a good time...so I did. Off went the helmet and bridle and up went the jumps!
I didn't have a saddle when I got my horse, so I was always bareback. I was strictly western (and not a very good rider back then, either!) but he took me over jumps and kept me safe the entire time. I don't think there was ever a time where I fell off of him.
Good old boy got me back home through thick snow cover and in the middle of a storm once when I had gotten us lost. He was limping when we returned and had pulled a muscle, but he never stopped when I had dropped the reins and asked him to get us home, because I couldn't.
---
And those who were seen dancing were thought to be insane by those who could not hear the music
very nice stories of you and your horses
---
Country Woman


My scanner hates me, so these are photos of photos.
I clearly remember the name of this pony in the first photo was Cuddles.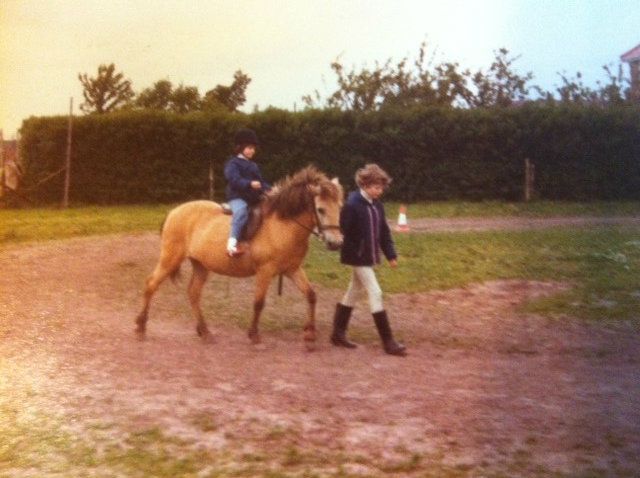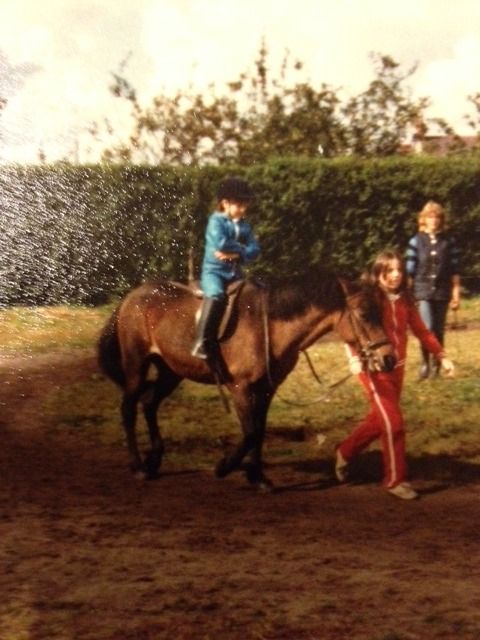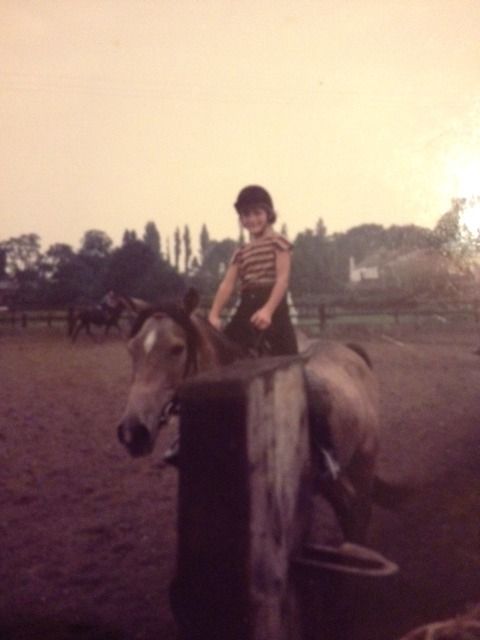 I will have to scan my picture of my first Appaloosa named Judge. When we got him he was terrified of men because the guy that had him was mean to him and he wasn't even broke. But I got on him and just rode off one day when I was 5. I competed in barrels on him with a saddle that was way too big. When I would come into the arena for barrel competition I would spin him and then take off like a rocket. He was the horse to beat back then at our tiny fair. :) I rode him everywhere! My parents sold him when I was 8. Right after he was sold we went to a parade in a surrounding town and he was in the parade. When he saw me he walked up to me and didn't want to leave. It broke my heart and I looked for him for years when I got older and never found him. I am sure he is gone by now. :( Sorry didn't mean to make this sad.......
I am so jealous of these stories and the memories! My first experience with horses was when I started cleaning stalls at age 16!
My first ride on Casey!! I have some adorable pictures of young me riding that I have to scan sometime.
And me now for some comparison
---
"Good things come to those who wait… greater things come to those who get off their ass and do anything to make it happen." - Unknown
---
Last edited by caseymyhorserocks; 10-18-2012 at

09:04 PM

.
I just found a couple photos and scanned them. I look very.. serious!
---
"Good things come to those who wait… greater things come to those who get off their ass and do anything to make it happen." - Unknown
Subbing so I remember to scan in some old photos.
We got my first pony when I was two :) He was some old Welshie cross. My brother (4 at the time) named him Blacky Mountain Hopper. My grandpa would always tease us and call him Blacky Puddle Jumper..hehe. Some of my earliest memories are on the back of that pony making him gallop as fast as he could. Of course no helmet and often no shoes
---
Is all that we see or seem
But a dream within a dream?-Edgar Allen Poe